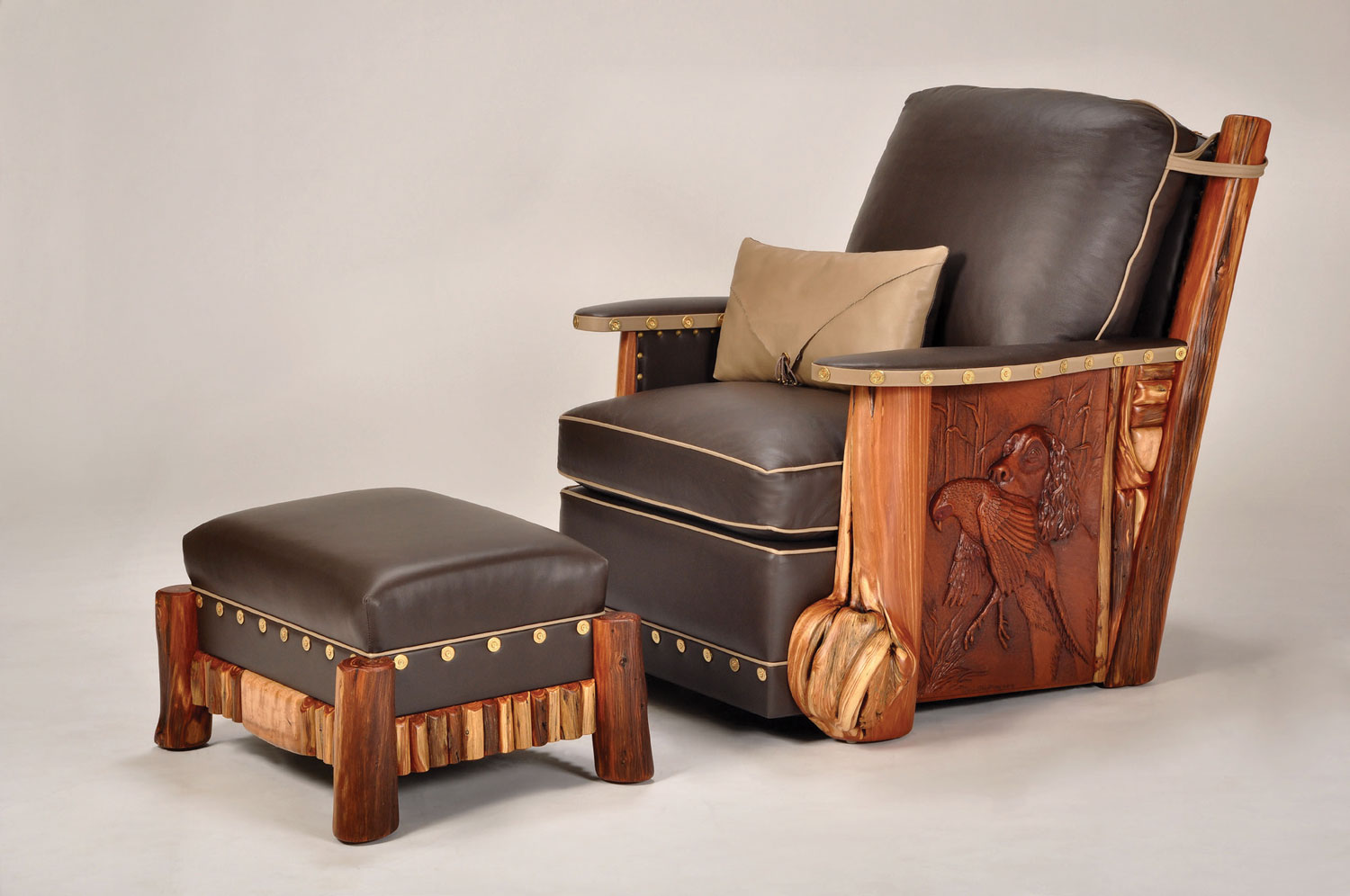 Hunting/Shotgun Shell Chair and Ottoman
12 Sep

Artist Spotlight: John Gallis

John Gallis contentedly lives with a waiting list for the custom Western furniture he and his two coworkers — son Ian and shop foreman Tim Goodwin — hand fashion at Norseman Designs West in Cody, Wyoming. "We build 12 pieces a year, and we don't rush it," he says. "I really pamper my clients." That means sending frequent in-process photos and offering options. "I'll do six legs for your table, and you pick the four you like," he offers as an example. "That way, you're involved with the creative process."

The 70-year-old native of Syosset, New York, has long been drawn to dexterous activities. "I liked building, from birdhouses to forts in the woods," he says. Following high school graduation, he took adult education courses in practical subjects from bread-making to welding. Around 1980, he enrolled in workshops taught at the Anderson Ranch Arts Center near Aspen, Colorado, by famed furniture designers and woodworkers Sam Maloof and John Nyquist.

Gallis' well-honed skills eventually led to 14 years as a chief custom cabinetmaker for Bloomingdale's department store in New York City. He crafted pieces precision tailored to high-rise penthouses, working out of the Long Island shop of Norseman Designs, a business he named after visiting the Viking Ship Museum in Oslo, Norway. "I was so impressed with the graceful lines and curves of their ships," he says. "They were the first great woodworkers."

 In July 1994, Gallis and his family moved to Cody, Wyoming. "I longed for the West," he explains, "because I love when things are done on a handshake." He launched Norseman Designs West two years later, and soon found that the nature-inspired contours he loved in Art Nouveau furniture and the streamlined Shaker and Craftsman styles he also favored translated perfectly to the regional vernacular.

An even greater influence, Gallis found, was Wyoming's trees. "The Cody area is very windy, and it creates natural twists in the wood," he says. He's grown especially fond of junipers, which he hand-harvests for their "spirals and great colors," and complements the wood with other stock, such as "regal walnut" he sources from Amish suppliers on the East Coast and "incredibly beautiful" imported African pearwood.

Those materials, accompanied by such detailing as panels painted with Western scenes and pulls made from antlers or locally hand-forged iron, distinguish the wide range of furniture Norseman now makes. Their multiple award-winning creations include everything from desks and sofas, to dining sets and lamps.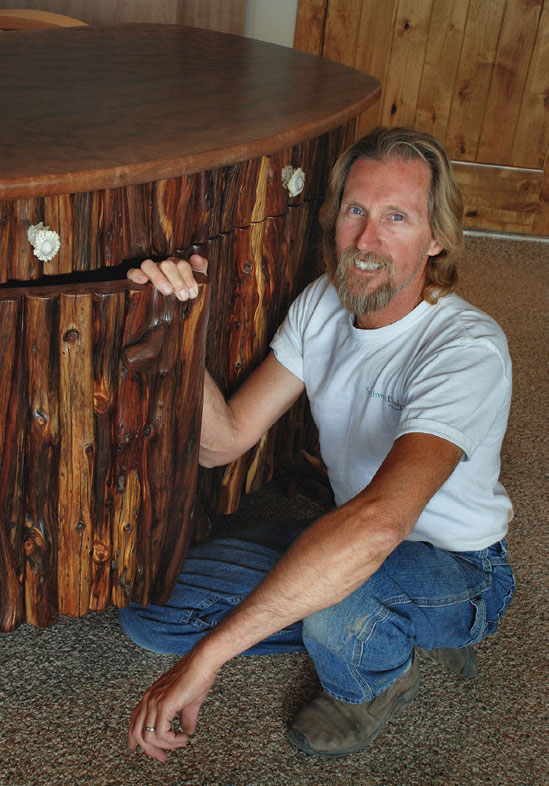 Gallis and his team have also gained special renown for their fly-tying desks. Replete with myriad small drawers for organizing hooks, feathers, fur, weights, tapes, glues, tools, and other materials and equipment angling aficionados require, they range in price from $3,200 up to $25,000. "I really like impressing and wowing people," Gallis says. "I never want to be stuck doing the same thing, so each piece is original and explores new ground."
Find Norsemen Designs West in their Cody, Wyoming, showroom or online.