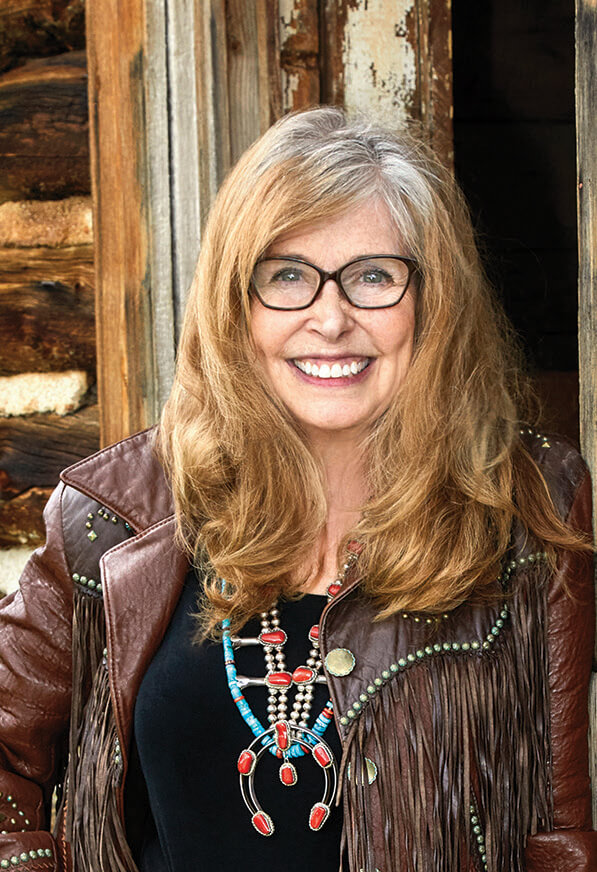 06 Sep

Artist Spotlight: Karen Vance

One autumn afternoon in 2016, Karen Vance set out on a painting jaunt from her home in Winter Park Ranch, Colorado. Her destination was 40 minutes north in Rocky Mountain National Park: Bowen-Baker Gulch, where snowmelt-fed headwaters of the Colorado River flow beneath Baker Mountain. "I've painted it at least 10 times," Vance says, "and it's magical in all different seasons, at all different times of day." Dusk there brings a particular visual appeal. "With so much depth, you get a lot of atmosphere" — an effect she captures uncannily in her works. With the setting sun hitting the snow, the leaves burnishing, and mist hovering in the foothills, Vance completed a three-hour "memory piece."

Days later, she received a phone call from the office of then-Governor John Hickenlooper. "They were asking 13 artists for paintings of Colorado to display in the Governor's Mansion," Vance explains. Based on her study, she created the ethereal High Country Autumn. When Vance arrived for the exhibition's debut, she found the governor standing in front of her work, admiring it with his wife. "He told me that Bowen-Baker Gulch was a special place for him. He first visited it when he was 8 years old, and returned there to think whenever he had important decisions to make," Vance says. Hickenlooper recommended the painting as a permanent acquisition for the mansion, where it still hangs.

Such an uncanny ability to convey the spirit of a scene — and in the process, touch viewers' souls — is a hallmark of Vance's work in a career for which she was destined. She grew up in Skokie, Illinois, in a home filled with art by six previous generations of her family, including her father, David Swartwout, a talented painter, woodcarver, and graphic artist. He was Karen's first art teacher, and she went on to study at the Art Institute of Chicago, Lincoln College, Northern Illinois University, and a distinguished local atelier.

Yet, for years she resisted her talent, working in a series of jobs, including as a town clerk. "But, in 1985, a year before my father passed away, he said to me, 'Karen, you need to get back to your painting.' And I promised him I would," she says. Vance quit her day job in 1992, studied with modern masters — including Scott Christensen, David Leffel, Quang Ho, Clyde Aspevig, and Richard Schmid — "and just painted, painted, painted."

Those efforts paid off. Numerous career highlights include winning three of the five major awards at the 2009 Buffalo Bill Art Show & Sale in Cody, Wyoming. In 2019, she was chosen as an Inaugural Signature Member of the American Tonalist Society, which celebrates present-day artists who focus on mood and emotion as the 19th-century Tonalist movement did.

During the past decade, Vance has dedicated herself to commissions, the largest being more than three dozen Colorado landscapes for the new Devil's Thumb Ranch Resort & Spa in nearby Tabernash. Still, she never takes success for granted. "I evolve with every single painting. I'll keep doing what I do best, see where it takes me, and hope it conveys to other people the peace I have in my heart."

Vance's work is represented by Astoria Fine Art in Jackson, Wyoming; Bozeman Trail Gallery in Sheridan, Wyoming; Saks Gallery in Denver, Colorado; Wild Horse Gallery in Steamboat Springs, Colorado; and Karen Vance Studio & Gallery in Winter Park Ranch, Colorado, where she plans a Holiday Open House from November 22 through January 3, 2023. She'll also be participating in the Brinton Art Museum's small works show, Brinton 101, in Big Horn, Wyoming, November 5 through December 23; and the American Tonalist Society's Shades of Gray II Biennial Show at the Salmagundi Club in New York City, April 28 to May 7, 2023.