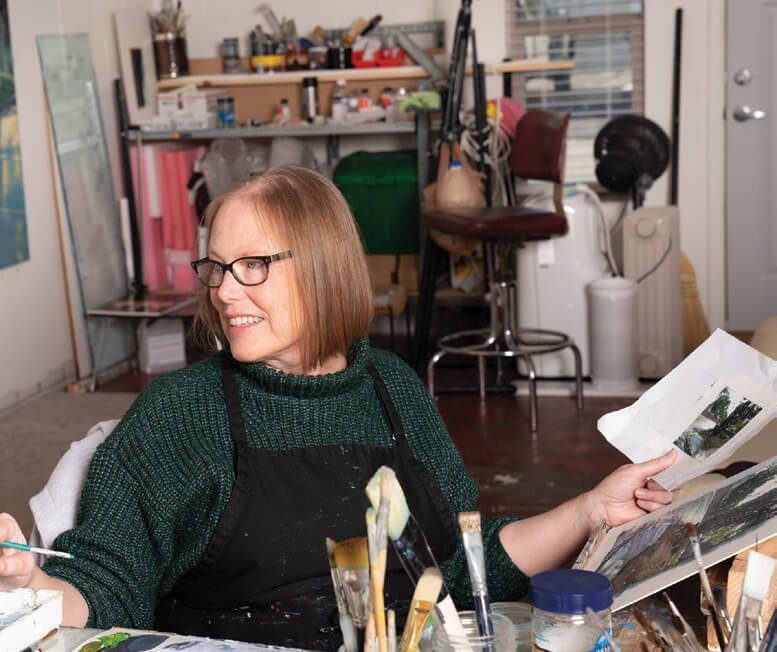 American Beauty | Bronze | 5.5 x 20 x 7 feet | 2012 | Edition of 5
12 May

Artist Spotlight: Karen Woods

The mesmerizingly detailed and realistic oil paintings by Karen Woods resonate with anyone who's marveled at the beauty of the ordinary world when transformed by the blur and refractions of a rain-streaked car windshield. Such altered views have never had greater impact than in her recent larger-than-life triptych Serenade. "It's a serene image to me, with a timeless quality," she says of the painting, which is based on photos taken on a freeway near her Boise, Idaho, home.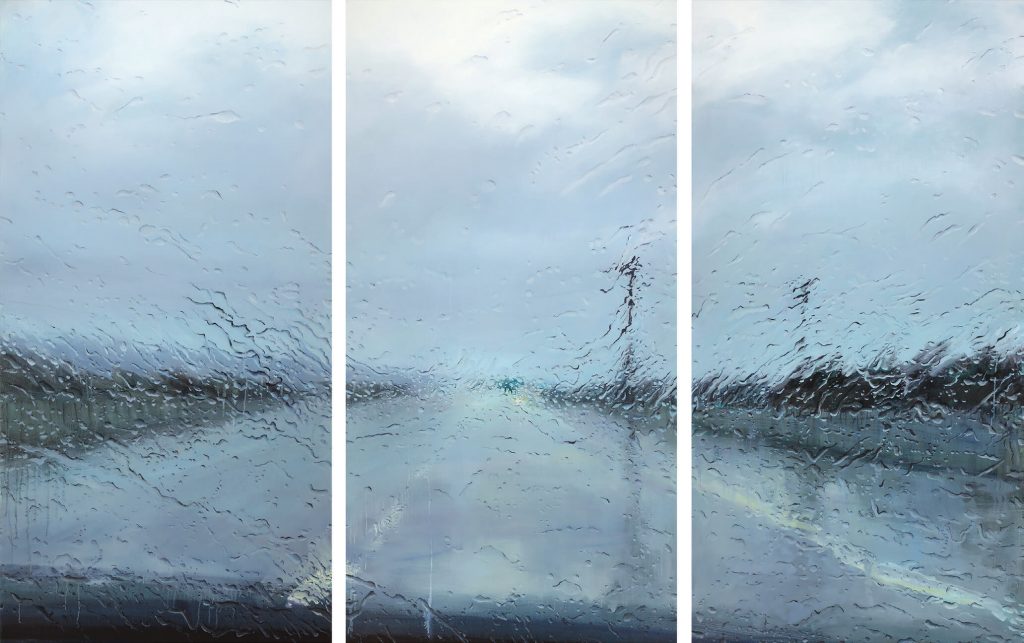 Wood has traveled a much longer road than that to reach this point in her career. Raised mostly in southern California, she followed an early love for art into brief studies in architecture and drafting before finally fulfilling her passion with a degree in 1987 from Oakland's California College of the Arts. Her move to Idaho came in 1994 with her husband Shelton's professorship in Asian history at Boise State, and raising their son, Damon, now 32, took priority for several years.
Woods picked up a brush again, "just barely," around the turn of the new century, painting small-scale, hauntingly beautiful scenes of empty lots and solitary trees around the city. A nearby restaurant that showed the work of local artists agreed to hang 20 of her paintings, which all sold. Soon after, a local gallery offered to represent her and brought her works to a Miami art fair, where someone in a neighboring booth with galleries in New York and Los Angeles also took her on. "I went from the starving artist corner to three galleries," Woods marvels. "I lucked out."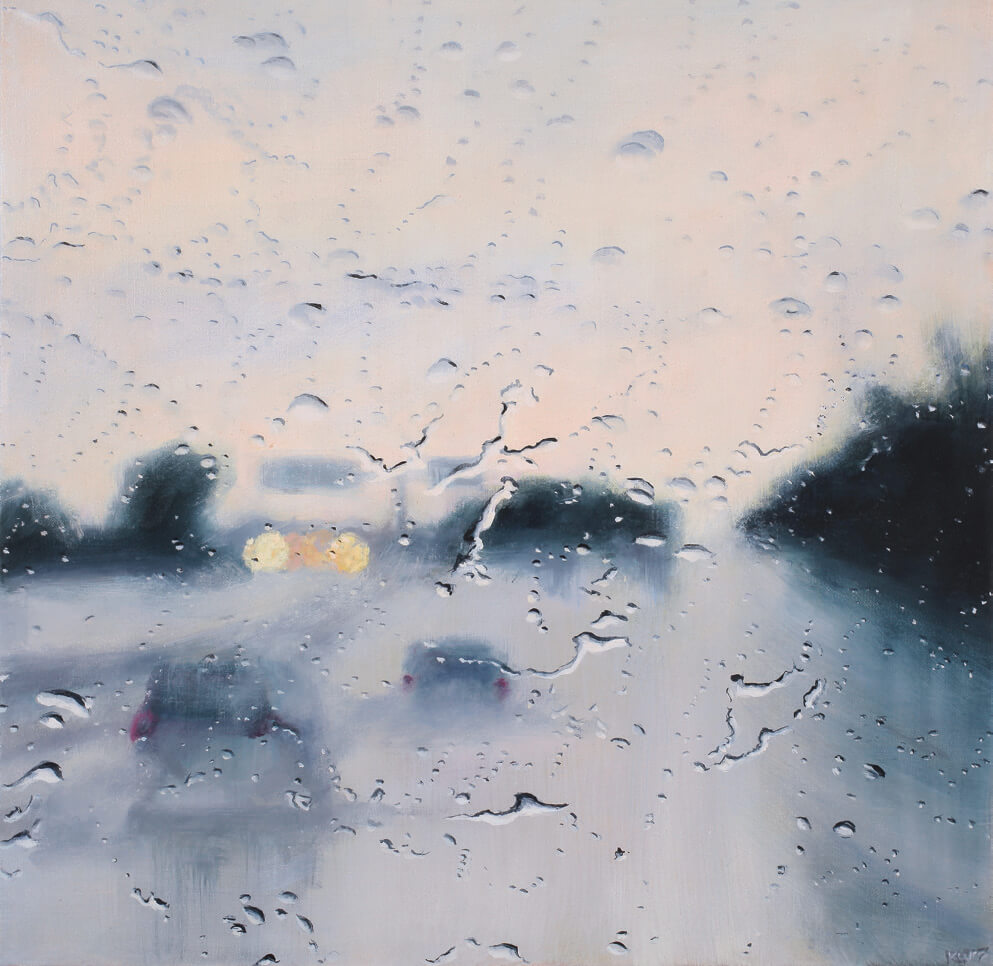 Luck may have played a part, but sheer talent brought her success. The subject matter that has garnered her greatest attention came from her habit of snapping reference photos, coupled with sitting in the front passenger seat while Damon was learning to drive. "I took pictures through the window partly to distract myself," she admits. "But when I picked up the prints at Walgreens, I loved the images of overpasses." She continued to photograph these scenes after Damon got his license. "I especially loved an image driving into the sun with a dirty windshield," she adds. "And then one time it rained, and I have never been so excited by the pictures."
A single painting can take Woods one to four months to complete, depending on the size and complexity. She first roughs in the composition in "one color I see reflected in the photo, sometimes purple or pink, yellow or umber." Then she builds the scene layer after layer, establishing the background before "laying in where the raindrops need to go." From a distance, the results seem almost photorealistic. "But I really like to leave parts that show some of the work, especially if you take a step in and see the brushstrokes and drip marks."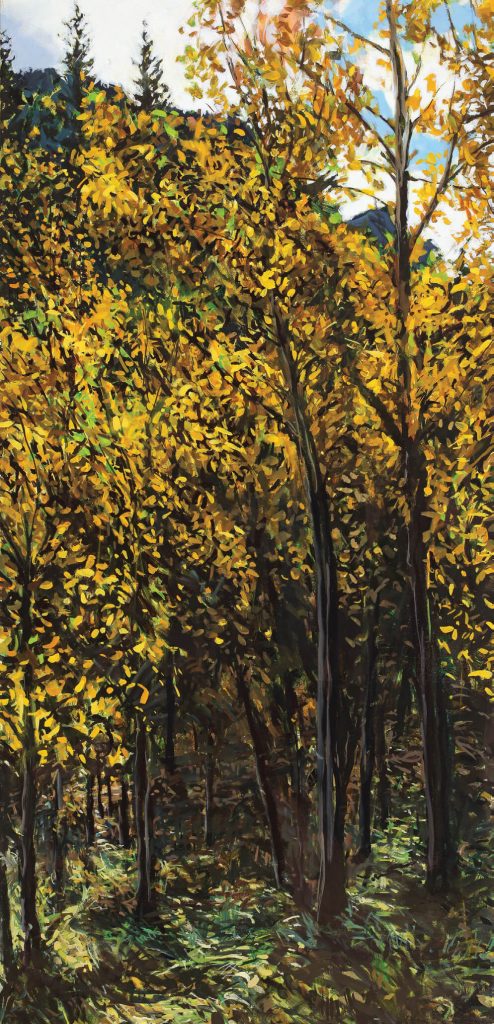 Lately Woods has ventured into other subjects, such as the lushly rendered aspen and pine forest in Golden. But she considers such works to be momentary departures. "Every time it rains, I get inspired all over again. I always know there's the road literally to get back to," she says.
Woods is represented by Stewart Gallery in Boise, Idaho; George Billis Gallery in Los Angeles, California, and Westport, Connecticut; and Quidley & Company Fine Art in Nantucket, Massachusetts, Westport, Connecticut, and Naples, Florida.