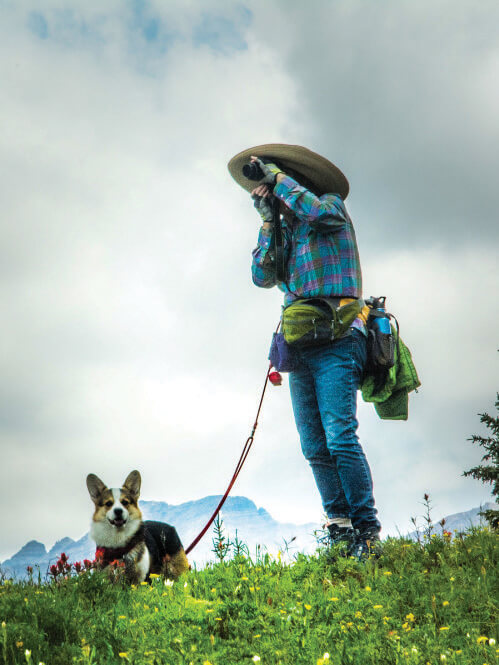 09 Jan

Artist Spotlight: Kathleen Frank

Kathleen Frank's oil paintings portray the natural world with lively patterns inspired by her training in woodblock printmaking; exuberant color rooted in a love of Mexican and Central American culture; and a heightened sense of drama derived from her familiarity with the geography and weather of the West. Add her longtime passion for hiking to uncommon, remote vantage points, and the results are artworks that literally make viewers feel as if they are observing these landscapes for the first time.

Take Into the Valley, a southward-gazing early autumnal scene of the Sierra Nevada's east slope. Starting with her own reference photo, and using a grid system to transfer the composition to a primed 5-foot-wide canvas, Frank blocked in the entire painting in red-orange acrylic that adds an overall warmth to the finished work — not least because she deliberately lets that vibrant tone subtly show through as she meticulously paints the final jewel-like oils from bottom to top. "I'm getting a lot of detail in there, and I don't layer my brushstrokes," she says. "I want each one to show, and I'm not going in and smudging over things." The finished paintings, which bring to mind stained-glass windows illumined by the sun, frequently strike awe in viewers.

Though her style may have been different back in the 1950s, Frank recalls her work first eliciting such responses after field trips as a second grader in San Rafael, California, north of the Golden Gate Bridge. "I painted the cows on a farm with their udders prominent," she says, laughing. "Or we'd go into a bakery, and I'd paint it with all of the accouterments all over the kitchen."

She went on to study design in college, eventually becoming a certified art educator and teaching at the elementary school on Southern California's Edwards Air Force Base. That's where she met her husband, Bill Frank, a flight test engineer who later earned a graduate degree in meteorology in Colorado, where their two sons were born and where Kathleen also learned to carve woodblocks.

The family later moved to Pennsylvania, where she earned a master's degree in printmaking at Penn State, deploying newly acquired screen-printing skills to make masks and costumes, "writing poetry to accompany them and having people perform in them." She was eventually inspired to turn those vivid designs into paintings, which began selling at La Posada in Santa Fe, soon after she and Bill moved there in 2008.

Since relocating, the couple has delved ever deeper into the glories of their natural surroundings, making the most of not only New Mexico but also a cabin her family has long owned in the Sierra Nevada. "We've always traveled and hiked around the West," she says, noting that there's also a deeper, more melancholy aspect to the landscape. "I'm married to a meteorologist, and climate is really important to me. I'm celebrating what is there right now, and may not be there much longer."

Frank's work is represented by Christopher-Clark Fine Art in San Francisco, California; Jane Hamilton Fine Art in Tucson, Arizona; La Posada de Santa Fe in Santa Fe, New Mexico; Saks Galleries in Denver, Colorado; and J.J. Gillespie Gallery in McMurray, Pennsylvania. Her work will also be on view this summer at the Northwest Montana History Museum in Kalispell, Montana.