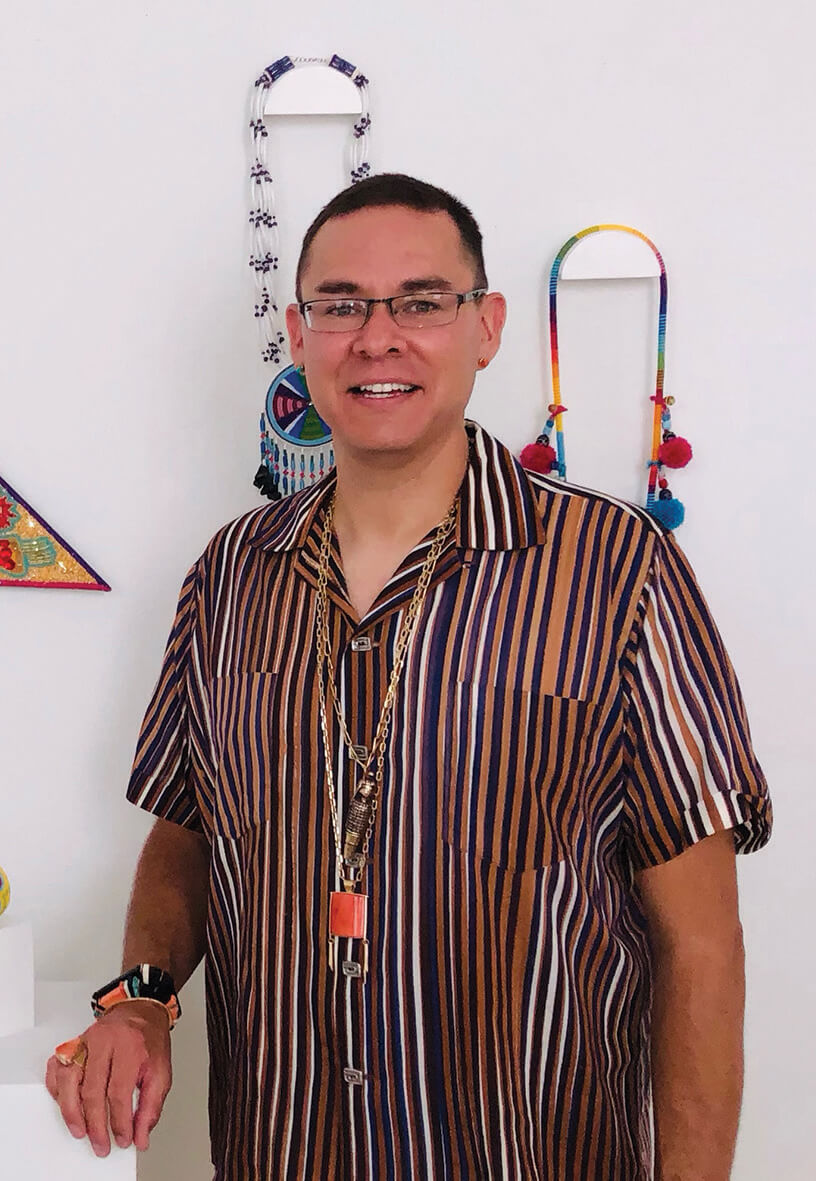 09 Jan

Artist Spotlight: Ken Williams Jr.

For as far back as he can remember, Ken Williams Jr. has loved collecting artwork made by Native peoples, including those of his and his mother's tribe, the Arapaho of Wyoming, as well as his father's Seneca tribe, on whose reservation he grew up near Buffalo, New York. "And when I was about 5 years old, I started making little beaded necklaces and earrings and things," he says, "to sell so I could buy for my own collection — not just beadwork but also jewelry and pottery, baskets and paintings." That interest in not only making Native art but also collecting it has led Williams, now 39, to a dual career. He runs the gallery-caliber Case Trading Post within Santa Fe's venerable Wheelwright Museum of the American Indian in New Mexico, and is also avidly collected as one of today's most innovative artists in his medium.

"I come from a long line of bead artists," says Williams. "So I guess it's a gift that has flowed through me." Another gift he received was a dedication to working hard. "My parents taught me that nothing in life is free. Anything you want, you have to earn through hard work."

As a student at the Institute of American Indian Arts in Santa Fe in the early 2000s, where he earned a degree in museum studies, Williams took a course taught by Kiowa bead artist Teri Greeves. "She already knew that I could do the work, so she'd tell me, 'I expect more of you. Think outside the box.'" Her challenge to make a pair of beaded moccasins portraying both contemporary Native American life and Williams' own story led him to transform SpongeBob SquarePants and his pal Patrick Star into undersea Natives. "And I thought, wow, I can do more with beadwork!"

A survey of Williams' recent beaded creations dramatizes just how much more the artist has been doing. While he still enjoys referencing pop culture in such pieces as his  Ice Cream Cone Cupcake Yumminess or a pizza-wedge-shaped beaded handbag called Hungry Cat, emblazoned with the face of his own feline, Valentino, he also plumbs more serious depths. The shoulder bag Shoshone Family: The Beauty of Past and Present, for example, transforms a photo of a Native American family into a deeply moving tableau; and the two-sided sculptural piece From Your Adoring Fan 2 pays homage to the Hopi jeweler Charles Loloma. "I've had idols like him since I was a little kid," Williams says with hushed respect.

Another idol unexpectedly surprised Williams in 2018, when Supreme Court Justice Ruth Bader Ginsberg stopped by the Wheelwright to see an exhibition he'd curated on Navajo jeweler Norbert Peshlakai. "I gave her a walkthrough. And though I don't boast or brag, one of the docents told her I was a well-known artist and had a show coming up in town." A few days later, Williams got an excited call that Ginsburg had stopped by the gallery and bought one of his beaded necklaces. "She told them she was actually going to wear it with her robe."

Williams' beadwork is represented by Shiprock Santa Fe in Santa Fe, New Mexico.