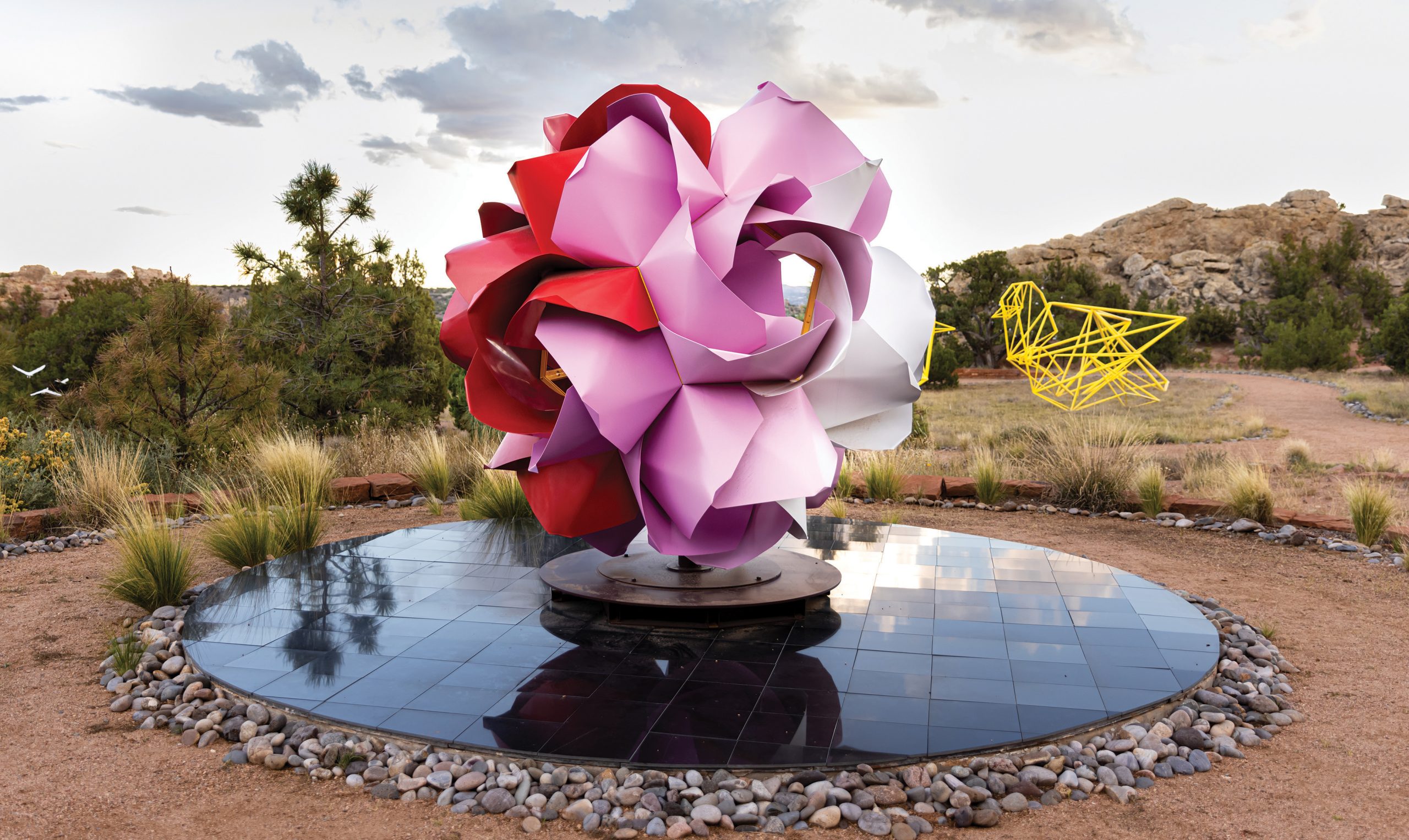 Kevin Box, Robert J. Lang | Scents of Sincerity—Rose Kusudama—Opus #75 | Powder-Coated Fabricated Aluminum | 90 x 90 x 90 inches 2020 | Photo: Tira Howard
07 Jan

Artist Spotlight: Kevin Box

A first glance at any of Kevin Box's collaborative sculptures almost invariably leads to a second, longer look in astonishment. How does a folded piece of Japanese origami paper manage to withstand the elements and remain perfectly still outdoors at a monumental scale as large as 21 feet? In fact, works by Box and his team at Kevin Box Studio are made of materials like aluminum, bronze, and stainless steel, fashioned to look as if they had been folded by giant hands. "We are much more like a band than a single artist," he notes of his studio's process.

Wandering through the sculpture garden on the 35-acre property south of Santa Fe, New Mexico, where Box and his wife, business partner, and fellow artist Jennifer have made their home and studio, visitors might behold one fantastical sight after another: a pair of life-sized bison, their crumpled-looking white surfaces suggesting shaggy hides; a giant butterfly taking flight; two cranes assembling a nest atop a rocky spire; brightly colored ponies prancing across a lawn. "Even though we use some archetypal origami subject matter," says Box, "we're pushing ideas back and forth in the studio to create something new."

Now 44, Box came to his current artistic practice through an education and training that destined him for innovation. He was raised in Bartlesville, Oklahoma, near the 19-story Price Tower, Frank Lloyd Wright's only skyscraper, and he took art classes in that building. "I grew up hearing things like, 'If you design a beautiful space, it will inspire beautiful work," he says.

Starting at 14, Box spent summers in Atlanta interning at the studio of his uncle, respected graphic designer Frank Golley. He went on to study graphic design before switching to fine art at Manhattan's School of Visual Arts. Then, with the goal of sculpting, he learned his field from the inside out by working at foundries in Texas before he met Jennifer at a Santa Fe gallery opening in 2005, "immediately fell head over heels in love," and moved there a year later.

Gradually, Box came up with the idea of trying to cast origami in metal. "I realized I wasn't going to teach myself to be an origami master, so why not ask the best masters to collaborate?" He's worked with Te Jui Fu, Robert Lang, Michael LaFosse, and Beth Johnson — as well as Jennifer, who creates forms inspired by her passion for dance. Each sculpture begins as actual origami, folded from a single sheet, small enough to sit on an opened hand. Then, Box painstakingly adds wax, infinitesimally strengthening the delicate piece to hold up during mold making and casting. Sculptures can then be produced at three scales: one-to-one for limited tabletop editions; digitally enlarged for larger molds; or, for the largest one-offs, fabricated from sheet metal. Powder coating endows finished pieces with their paper-like surfaces.

ORIGAMI IN THE GARDEN, Kevin Box Studio's traveling Cowboysshow, has dazzled more than two million visitors at outdoor venues nationwide since 2014. The latest edition, a colorful exhibit of giant floral and botanical origami sculptures, debuts this spring at the Atlanta Botanical Garden and runs through October 15, 2022. "With probably 18 completely new pieces, subject matter, and colors," says Box, "we're taking it to another level."

Box is represented by Kay Contemporary Art in Santa Fe, New Mexico; ÆRENA Galleries & Gardens in Healdsburg, Yountville, and Saint Helena, California; Ramey Fine Art in Palm Desert, California; SmithKlein Gallery in Boulder, Colorado; The Vickers Collection and Vail Village Arts in Aspen and Vail, Colorado; A RARE Gallery in Jackson, Wyoming; and On Center Gallery in Provincetown, Massachusetts. ORIGAMI IN THE GARDEN will also appear at the Museum of the Shenandoah Valley in Winston, Virginia, from May 28 to November 13.