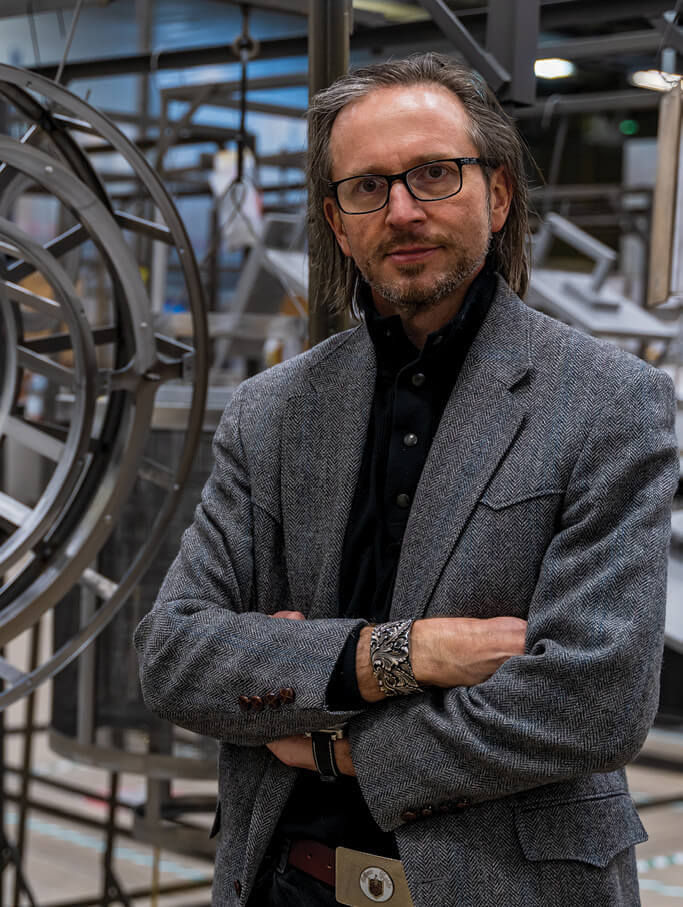 09 Jan

Artist Spotlight: Levi Wilson

Levi Wilson founded the respected decorative lighting company Hammerton in Salt Lake City, Utah, back in 1995. Today, as its vice president of design, he's spearheading the effort to rebrand its high-end Hammerton Signature series as "a true couture line" of home lighting products. The company offers fixtures "built for the individual client," with a range of styles and finishes in various configurations to suit a home's specific needs. The result, Wilson adds, "is something that's more of a sculpture than a light fixture."

Now regularly crossing the nation and circling the globe to research new ideas and connect with interior designers and other industry professionals, Wilson finds he's come a long way from Hammerton's beginnings as Mountain Moose Designs. The "side project" he originally started while studying to be an architect involved crafting "miscellaneous accessories, like candlesticks, fireplace screens, you name it," by drawing on skills he learned from his blacksmith father and sewing teacher mother. He and his first business partner soon realized there was a "hole in the market for custom designer lighting," and they began fabricating massive "luxury rustic" chandeliers for second homes in the mountains.

Fast forward to the present day through a company name change and an expanding range of products and styles featuring different metals, kiln-formed sheet glass, blown glass, and — since 2018 — cast glass. Hammerton now features three different brands: Heritage, for classic homes, whether rustic, traditional, or nautical; Studio, offering artisan-craft lighting solutions of exceptional value; and Signature, which the company proudly describes as the "art of light."

Designed by Wilson, these thoughtfully curated and crafted products are, indeed, works of functional art, taking their inspiration from both nature and classic jewelry. Pyrite, for example, is named and shaped after the iron sulfide mineral that emerges from the ground in boldly sculptural cubes, which Hammerton casts in glass with striated surfaces that "double as light diffusers," Wilson notes, adding that the option of a custom metallic finish makes the light shimmer. Fixtures in the Totem style, by contrast, evoke the bezels, crowns, and crystal lenses of luxury timepieces. It combines glass, metal, and wood in a way that "can move this fixture into whatever décor style someone wants, whether casual, formal, or modern."

In the end, regardless of the style, Wilson's ultimate goal for Hammerton is for its products and the settings in which they appear to feel timeless. "When you are building a home for generations," he says, "you want to make sure that the details are just right."

See the full range of Hammerton's custom light fixtures at hammerton.com.

Based in Los Angeles, Norman Kolpas is the author of more than 40 books and hundreds of articles. He also teaches nonfiction writing in The Writers' Program at UCLA Extension.