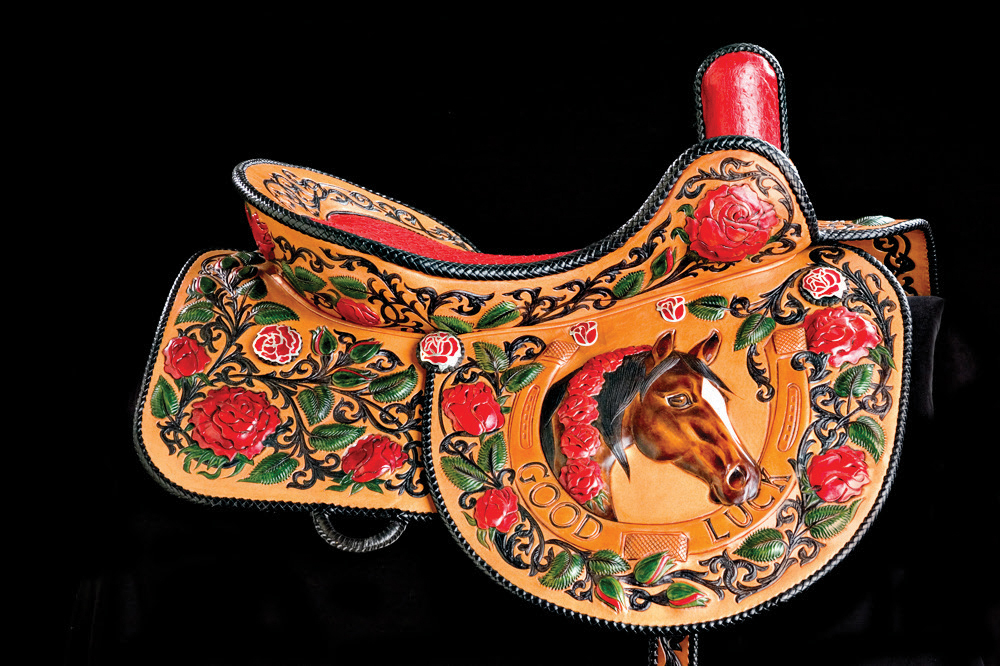 A classic visage of a horse wearing a rose garland is framed by a horseshoe and more high-relief roses on Good Luck Sidesaddle. The horns, seat, and linings are padded with red, full-quill ostrich leather.
10 Sep

Artist Spotlight: Lisa and Loren Skyhorse

Lisa and Loren Skyhorse design and craft uncommonly intricate saddles and collaborative works of leather and silver that's prized by collectors and horse enthusiasts alike. "Every single saddle we make is not just decorative," says Lisa. "It's also a rideable piece," which, being less bulky and lighter than most Western saddles, makes for "a more elegant ride."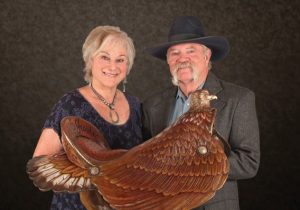 The Skyhorses have been practicing their artistry together since 1977, four years after they met amidst the coastal redwood forests of Humboldt County, California. Lisa, a UCLA fine arts graduate, was a leatherworker who had taken up saddle making. Loren was working as a wildlife biologist. "Our common ground was our love of horses and riding in the woods," he says. "So we decided to join ranks." They setted on 45 acres, living in a teepee while building a home for themselves and eventually their daughter and son. "We did the literal hippie, back-to-the-woods, off-the-grid lifestyle for 16 years," Loren adds. Along the way, they adopted "Skyhorse" as their family name, gifted to them at their wedding by a Native American medicine man. "We are not Native Americans," notes Lisa, "but we loved the concept, and our children love the name, too."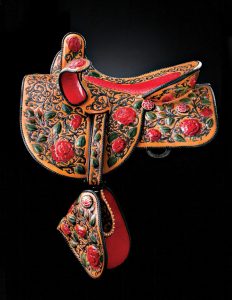 Lisa trained Loren in her craft, and he came to specialize in cutting and sewing the 16 separate pieces that make up a saddle, along with crafting the exquisite silver and leather braids. Lisa focuses on the leather's ornate hand-tooling, carving, and painting. "It's almost 50-50 in the time we spend," says Loren.
The couple begins by brainstorming each piece they make in the workshop adjoining their home on 40 acres in Durango, Colorado, where they've lived since 1998. "Every single saddle is completely different," says Lisa. Though most are commissions satisfying each clients' needs, the Skyhorses make 15 to 20 percent of their saddles as artworks following their own vision. One such creation is The Golden Eagle, a breathtaking saddle with a bird's-head sculpted in bronze on the horn; 36 feet of gold lace braided by Loren for the forks and cantle edge; and a skirt, seat, and fenders that feature 700 feathers hand-carved and painted by Lisa. The piece was exhibited from 2015 to 2017 at the Booth Western Art Museum in Cartersville, Georgia — and, in a first for the couple, a mold made from it is now being used to cast a limited edition of nine bronzes.
In a new creative departure, Lisa has recently hand-tooled and painted 18 leather panels to illustrate a children's story entitled Ghost Horse. With words by her brother, author Daniel Will-Harris, the book should be in print soon. Another recent, deeply meaningful part of the Skyhorses' work is a form of cultural outreach they've embarked upon in recent years, visiting and sharing their skills with horse-centric communities in the Andes Mountains of Peru, northern Mongolia's Darhaat Valley, and in the Altai Mountains of southern Siberia. "Lisa and I," says Loren, "have decided that you spend the first third of your life developing who you are, the second third being productive, and the last third as mentors. These trips have turned out to be among the most emotionally satisfying, profound things that we do."