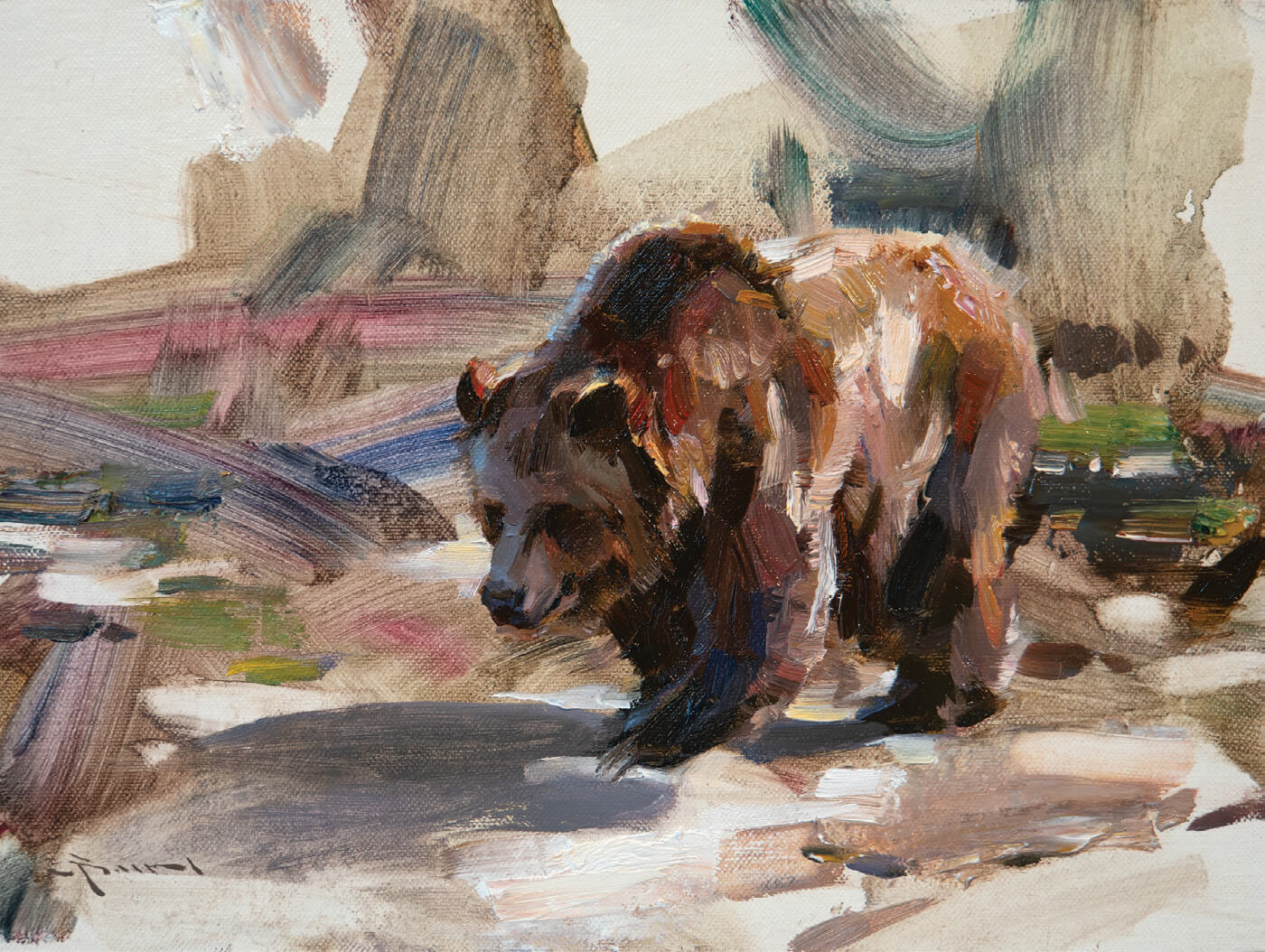 The Rambler | Oil on Linen | 9 x 12 inches | 2022
06 Sep

Artist Spotlight: Mitch Baird

Mitch Baird's paintings offer two distinct, pleasurable viewing experiences. See them from 10 feet away and they appear as wondrously realistic scenes of the Western landscapes he passionately loves. Come nearer, however, so a single scene like Bluffs of Navajo Sandstone almost fills your field of vision, and they become bravura compositions of expressionist brushstrokes. Such a dual impact fulfills a principle he was taught by the late legendary painter Ralph Barksdale, who mentored Baird in his BFA studies at Brigham Young University and took him to workshops taught by revered painter Richard Schmid. "Ralph was so keen on the idea that a painting has to read from across the room," says Baird. "And, up close, it should be loose but simply stated and done with intention."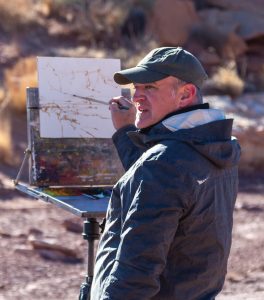 Now 51 years old, Baird first displayed his prodigious talent as a first grader in Murray, Utah. "The teachers came to my parents with a drawing I did with roads and buildings and mountains getting smaller in the background. And they said, 'We don't know any other students doing perspective at this age. You need to get this kid some extra help.'" His mom and dad enrolled him in evening art classes for adults. "It was intimidating," Baird recalls with a laugh. "But I learned a lot and it helped me move beyond kiddie painting. By junior high, when Baird's family moved to Seattle, he knew he wanted to be a professional painter.
After graduating college, Baird first worked as an illustrator for an educational software company. By his mid-20s, having moved to Portland, Oregon, he steeled his resolve to become a full-time fine artist, dedicating himself to plein air painting. "It was way more complicated and challenging than I thought it would be," he says. "More than half of the process is getting out there and observing. So, I dived headfirst into the landscape. There is so much mystery and challenge in capturing what nature offers." 
A year and a half later, he found his first gallery representation, and his skills and professional recognition have continued to grow to the point that he now is a much-sought-after teacher himself and currently serves as president of the prestigious Plein Air Painters of America.
About 11 years ago, Baird, his wife Emily, and their three children moved to Mesa, Arizona, bringing him closer to the Southwestern landscapes so many collectors prize. "Summer's my winter now," he quips of the soaring temperatures that force him indoors, painting in air-conditioned comfort. Come autumn, winter, and well into spring, he's outdoors, painting finished plein air landscapes as well as studies for the larger studio pieces that now make up about 70 percent of his work. "When I'm out there, I'm no longer trying to produce a work for sale. It's my time to really look and figure out what nature is doing. She's always throwing a curveball, and I'm just trying to figure out what the truth is."
See Mitch Baird's work in the Plein air Painters of America 2023 "Out West" Exhibition at the Couse-Sharp Historic Site in Taos, New Mexico, through January 20. He is represented by Mockingbird Gallery in Bend, Oregon, where he'll appear in a five-artist show,  December 1 to 31; Phinney Gallery of Fine Art in Joseph, Oregon; A. Banks Gallery in Bozeman, Montana; Art on the Boulevard in Vancouver, Washington; Ingram Antiques in Wiscasset, Maine; Folly Cove Fine Art in Rockport, Massachusetts; and Hindes Fine Art in San Antonio, Texas, where he is included in its miniature show from November 12 through 30.