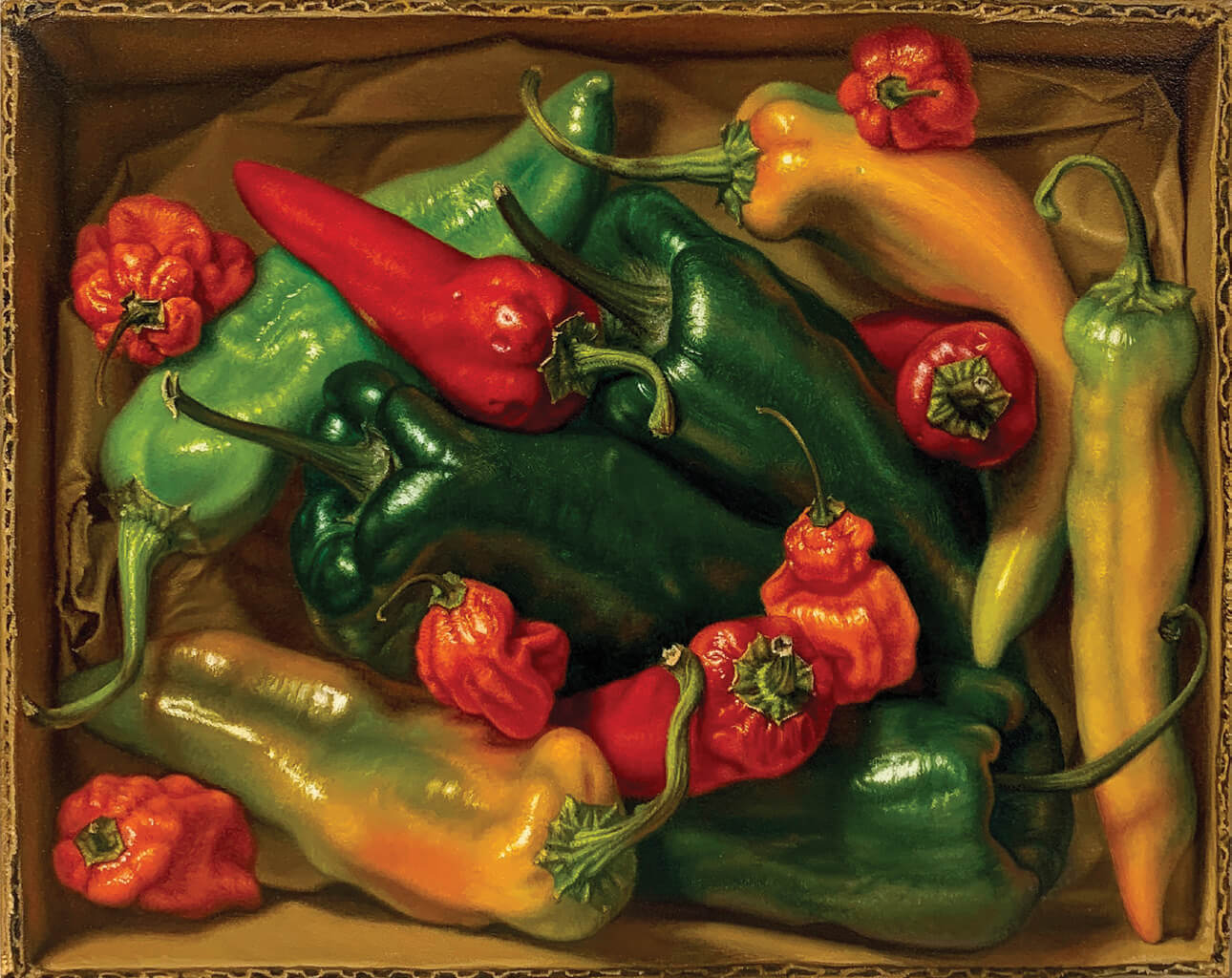 Hot Stuff | Oil on Panel | 10 x 8 x 2 inches | 2019
06 Sep

Artist Spotlight: Natalie Featherston

Natalie Featherston delightfully tricks the eye multiple times in her trompe l'oeil paintings, which often involve creating more than one work of art. Look, for example, at Anywhere But Here, which appears to be a slightly crumpled, whimsical child's collage of a UFO visit to an idyllic Western setting. It began with Featherston first making the actual collage, starting with a farm scene background she found in a vintage book on how to paint Western landscapes. She added cutouts of children from a 1950s greeting card; tinfoil flying saucers with a light beam of colored acetate, yarn, and Valentine's conversation hearts; cotton ball clouds; assorted sweets including gumdrops, Life Savers Gummies, Tic Tacs, and wrapped hard candies. A black Dymo label is embossed with the painting's title.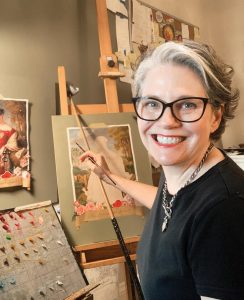 "I probably spent weeks doing it," she laughs, "with whatever struck my fancy to build the narrative." Then she attached the creased composition to a gray-painted wall in the studio of her Providence, Rhode Island, home using wrinkled masking tape as a 7-year-old might do.
At last, Featherston began painting. She transferred a basic oil line drawing of her composition to a fine-surfaced archival high-density fiberboard panel; blocked in shapes; and then gradually refined the painting to a point at which it looked uncannily like a precocious 3D collage taped to a wall. The only touch subtly suggesting the grown-up artist's hand is her faint monogram in the top-right corner: an elegant "F" flanked by her first and middle initials, partly inspired by how German Renaissance artist Albrecht Dürer signed his works.
Such joyfully virtuosic, painstaking efforts come naturally to Featherston, although her earliest achievements were not in visual arts but music. Growing up in Raleigh and Winston-Salem, she was a devoted cellist, going on at 15 to live and study at the University of North Carolina School of the Arts. "I was used to being alone in a room, practicing for eight to 10 hours a day," she recalls of discipline that transferred naturally to painting. She made that switch at the age of 21, while in Manhattan pursuing a master's degree in music. "I realized I was going to spend the rest of my life sitting in an orchestra," she says of her impetus to pursue something more personal. 
She enrolled in New York's School of Visual Arts, then studied for six more years in the atelier-style studio of master painter Michael Aviano. "He changed everything for me with his hardcore, step-by-step academic training, teaching me all that I know about drawing and painting." 
Eventually, she transitioned from still lifes to her wittily contemporary take on the centuries-old art of confounding perception, which even extends to the 2-inch-deep sides of the cradled panels on which she paints some of her works, making them look like corrugated cardboard. "If I was going to be a painter," she states matter-of-factly, "I might as well paint what I want. With so much darkness in the world, I just want my work to spark joy."
Natalie Featherston is represented by Meyer Gallery in Santa Fe, New Mexico, where she has a solo show from October 20 to November 2; and Maxwell Alexander Gallery in Los Angeles, California, where she'll participate in their annual Black Friday Exhibition, starting on Friday, November 24. Her paintings are also included in "The Soul of the Sitter" exhibition at the Gilbert Stuart Birthplace & Museum in Providence, Rhode Island, through October 8; a group show at Gallery 1261 in Denver from October 21 to November 4; and the Allied Artists of America 110th Annual Exhibition at the Butler Institute of American Art in Youngstown, Ohio, until September 1, 2024.