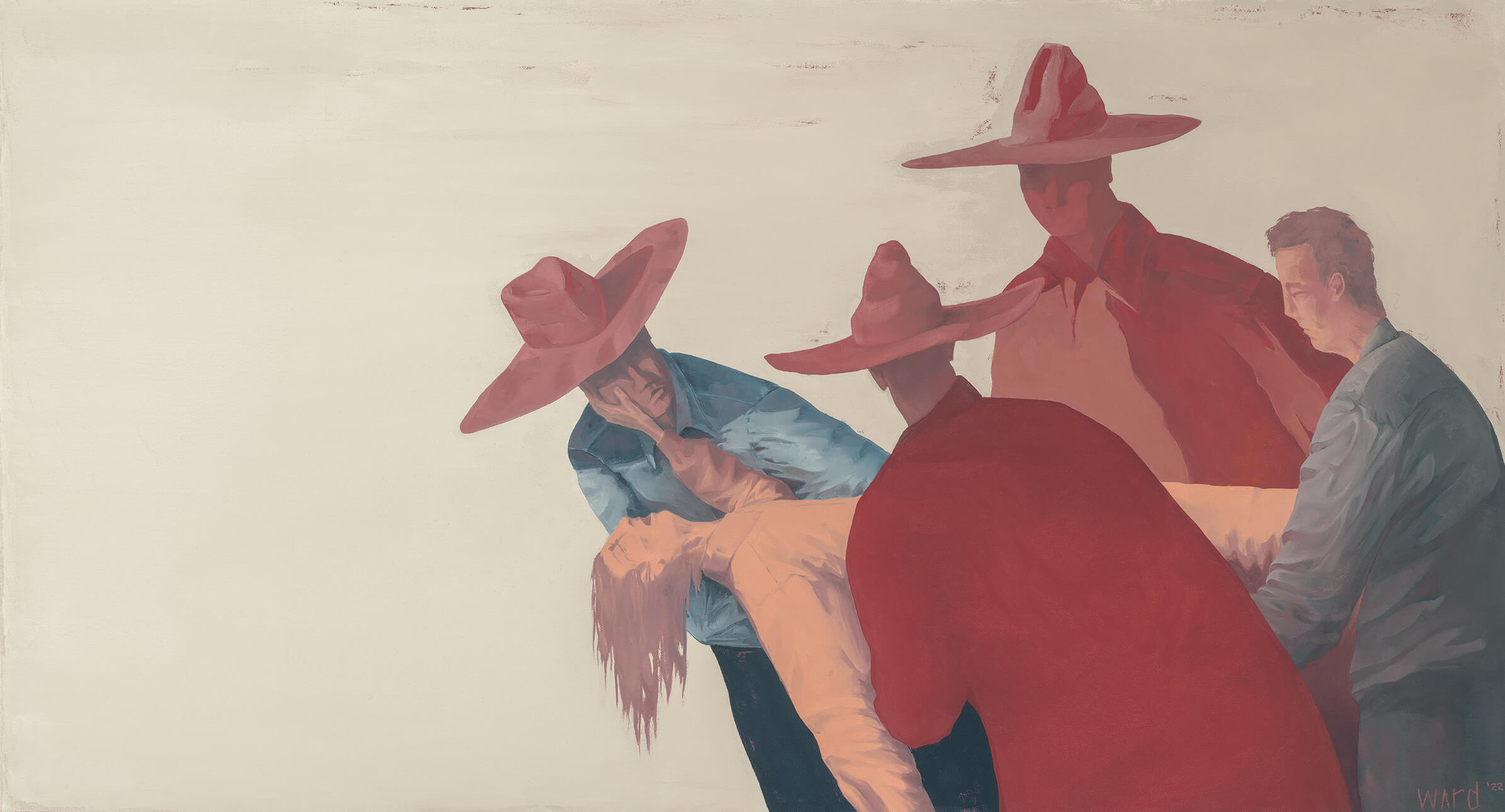 The Sound of Death in Things | Oil on Canvas | 27 x 50 inches | 2022
07 Nov

Artist Spotlight: Nicholas Ward

The unreality of the American West feels more real to Nicholas Ward. When the 28-year-old artist, who lives and paints in Glenwood Springs, Colorado, seeks out subjects for his large-scale canvases, he summons from his imagination a state of magical realism, with surrealist landscapes populated by elongated, expressive forms. His works typically show cowboy-hatted figures assembled on horseback or grouped in empty valleys, attending to a death or taking in the glory of a sunset; they are at once poetic, evocative, and dreamy.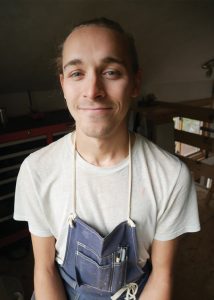 "I see the American West as existing more in pop culture than in reality," says Ward, as he looks out into the Roaring Fork Valley where the small house and studio he shares with his musician brother is situated. "There's so much storytelling and myth involved with the West that the real images of the region get lost. All of my deliberately distorted figures are a nod to that other-worldliness. In the public imagination, the West exists as something out of a film or dimestore novel. One of my friends described my genre as 'Western funk,' which is pretty apt for what I create."
To counter such stereotypical notions of the West, Ward paints scenes that go beyond what exists to get people to think differently about the region. "I'm purposely pursuing a more contemporary look at the West, which I think a lot of artists out here are also doing right now. In that sense, the art world is exploding here now."
While Ward fully embraces figurative art, using the human form in virtually every one of his paintings, and often referencing actual Western locales in which his figures appear, he is careful not to be too literal. "Anyone with a phone can take shots of the landscape, and although realist paintings are a completely valid pursuit, I think it's especially important to paint scenes that don't exist anywhere else, that don't just emulate what a camera can record." 
Ward paints large (canvases can measure up to 60 inches across) to capture detail — to examine and depict the shadows and folds on an item of clothing, the creases in a face, the nuances of hues on a cliffside. "After all, appreciating every inch of a painting is the goal," he says, referring both to his work on a canvas and also to what a viewer experiences. 
He is a prolific artist, working daily, beginning with morning sketches that he hopes lead to actual painting time in the studio. "There's a quote I came across years ago that I continue to cite, something to the effect of, 'a fisherman doesn't catch fish every day, but he goes fishing' — the idea being that not every sketch I make is going to find a canvas, but through the sheer quantity of sketches I do, something will stand out and come to something." 
Four of Ward's paintings will be featured in the Coors Western Art Exhibition & Sale at the National Western Stock Show, January 6 to 21 in Denver, Colorado. Ward is currently seeking gallery representation and is set to embark on a road trip this winter in search of the right one, as well as new material for his paintings. He expects to find what he calls "the right fit since I know how important that is." Once the Coors Show concludes, he will be "chipping away at a long list of patrons who'd like to commission a work."