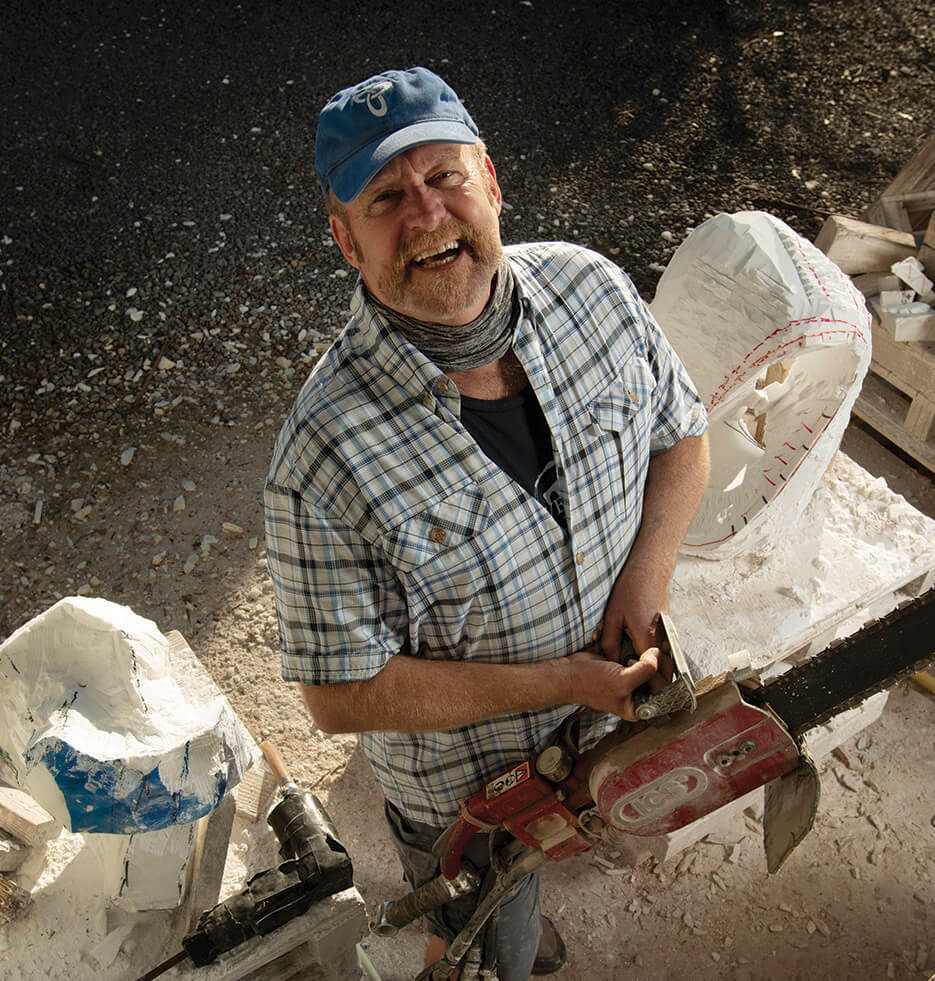 American Beauty | Bronze | 5.5 x 20 x 7 feet | 2012 | Edition of 5
12 May

Artist Spotlight: T Barny

Some years ago, T Barny presented an exhibition of his abstract stone sculptures at LightHouse in San Francisco, an organization that promotes independence for the blind and visually impaired. As visitors ran their fingertips over the polished, sleekly curved geometric edges, smiles appeared on their faces as they intuitively understood a characteristic that many sighted people might have missed: Barny deliberately gives his creations "Möbius" edges. In other words, they are complex realizations of the simple Möbius strips many of us were taught to make in elementary school by giving a strip of paper one twist before taping its ends together, forming a single continuous loop.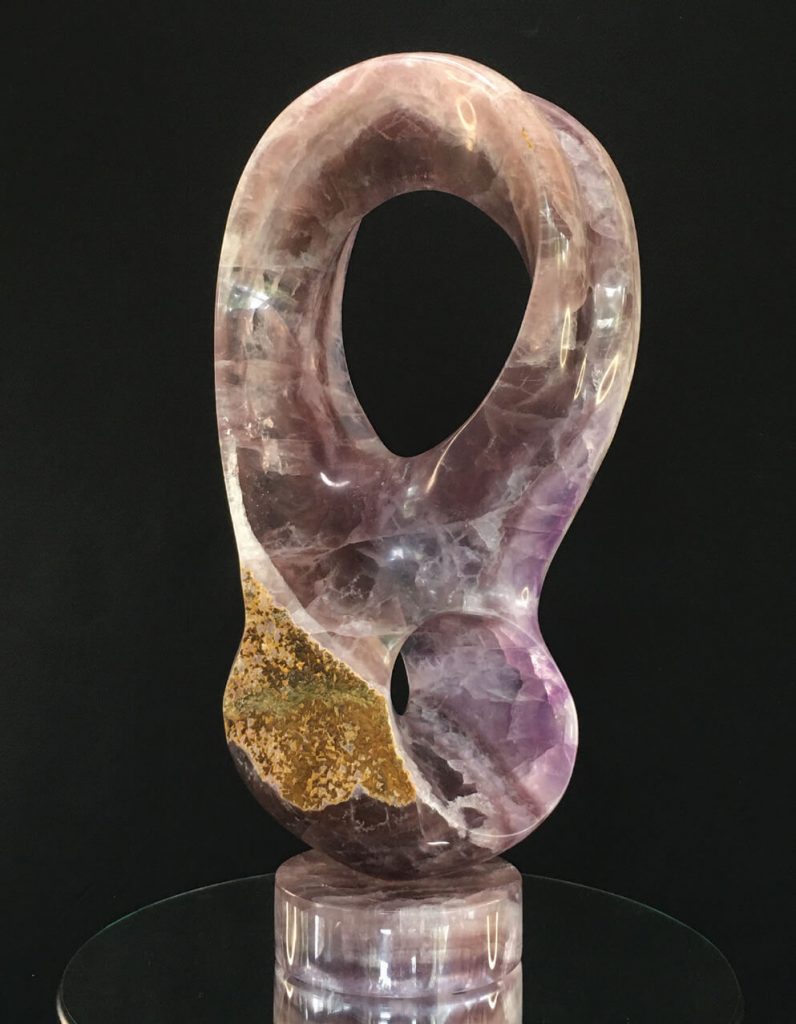 Unlike many artists, says Barny, "I want people to touch my works." In fact, his home and studio, nestled at the base of the Mayacamas Mountains outside of Healdsburg in California's Sonoma County, features a gallery and sculpture garden to "touch and turn" his works. Each piece is mounted to rotate smoothly on a base that's usually made from the same stone.
Barny recalls a precursor to what he does today during his weeks-long visits from where he grew up in Greenwich, Connecticut, to his aunt's home in Laguna Beach, California. "That was my summer camp," he says. "I played in the sand all day long, enlisting neighbor kids to help me make strange sandcastles, weird shapes, and mounds. And then we'd see what happened as the tide came in and the waves made curves into them."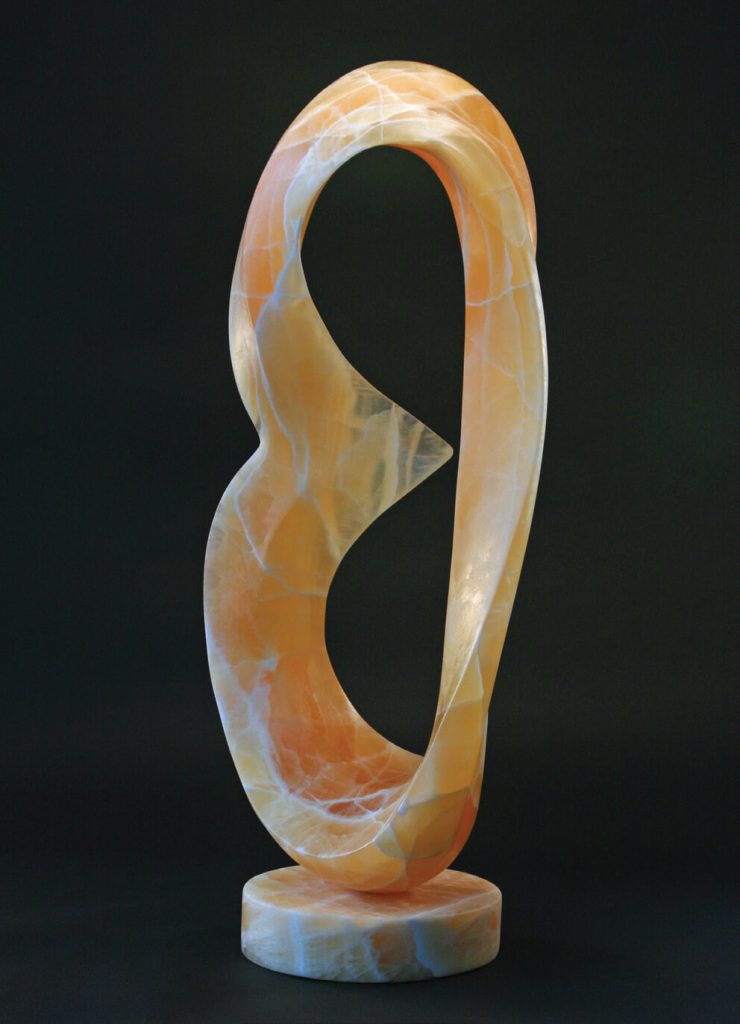 He eventually entered the Rhode Island School of Design to study landscape architecture but transitioned into sculpture during his final year. There he explored industrial techniques with sculptor Tom Morin and glassblowing with Dale Chihuly, as well as carving stone under Realist sculptor Arnold Prince.
After graduation, Barny moved to California and eventually settled near Healdsburg in 1986. By then, he'd gained certainty that abstraction was his calling. "My figurative work was technically perfect," he says. "But I felt I could make an abstract piece talk and say a lot more with it."
Such eloquence takes time and effort, however, as he gradually progresses through a series of diamond core drills, diamond chain saws, silicon carbide grinding stones, sandpaper, and diamond abrasives to transform rough blocks of stone — ranging from 500 pounds to 15 tons — into sleek sculptures that are one-fifth to one-tenth of their original weight. It's a labor intensive process, he says, "so I can only make up to about 20 stone sculptures a year." With that in mind, Barny has recently begun producing bronzes with fewer than 25 editions, based on 3-D scans of some of his one-of-a-kind stone pieces. Foundry-cast, each receives a unique patina. "No two are alike, like a hand-colored print," he says.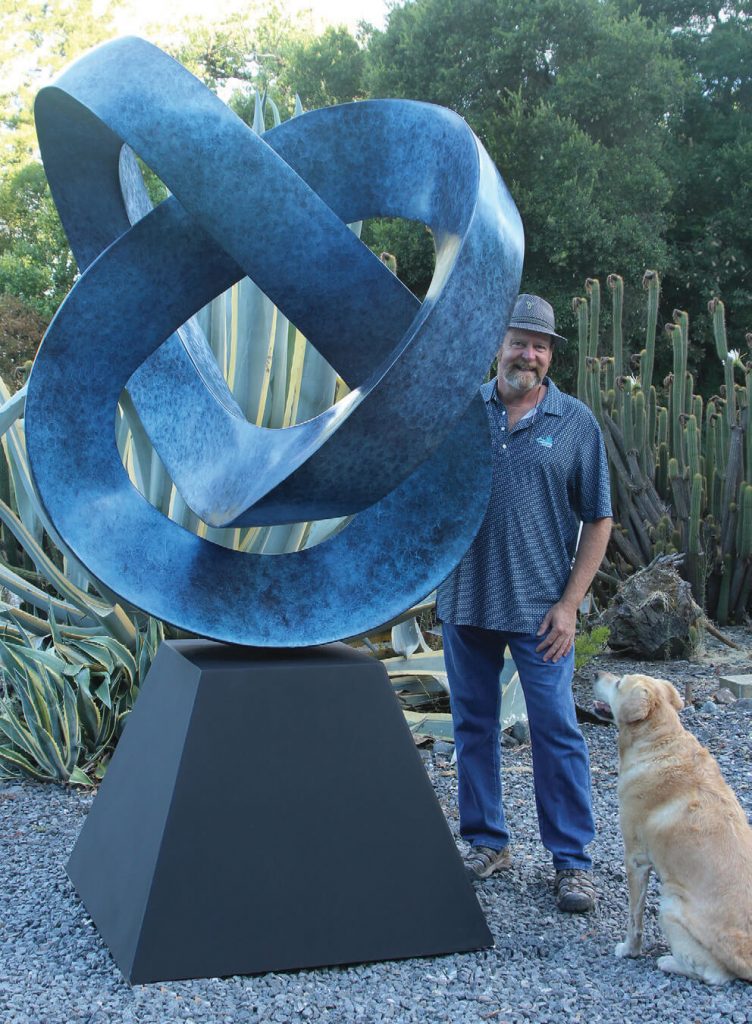 Meanwhile, Barny contentedly continues carving. "Thinking about my longevity," says the robustly healthy and active artist, "my wife, Melinda, and I decided I would go through my stone yard, seriously look at each block, and pick 100 I'd like to carve, numbering them in priority." He'll no doubt have a difficult time deciding. "The ideas in the blocks keep calling me," he adds.
Barny is represented by AERENA Galleries & Gardens in St. Helena, California; Melissa Morgan Fine Art in Palm Desert, California; Kelsey Michaels Fine Art in Laguna Beach, California; Victory Contemporary in Santa Fe, New Mexico; and ADC Fine Art in Cincinnati, Ohio. His studio and sculpture garden will be open to visitors during Sonoma County's Art at the Source Open Studios event, June 5–6 and 12–13, and Sonoma County Art Trails, September 18–19 and 25–26.