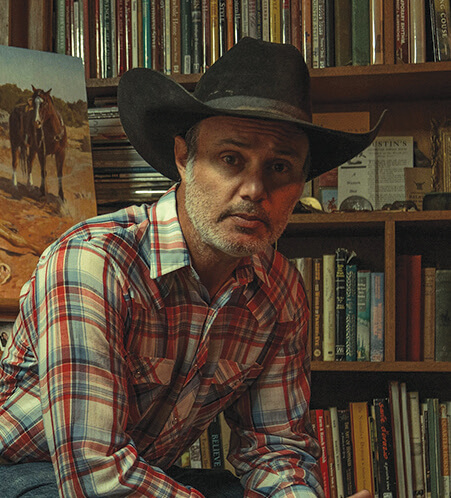 11 Jul

Artist Spotlight: Teal Blake

Teal Blake was born to the paintbrush as a horseman might be born in the saddle. He grew up in Montana, the son of photographer Tona Freeman Blake and cowboy and artist Buckeye Blake, long respected for his distinctive blend of traditional and contemporary Western subjects. "When I was a kid playing on the floor of my dad's studio in the old train depot outside of Augusta, he handed me a set of transparent watercolors and scraps of mat board from the frame shop," Blake recalls. "Painting was ingrained in me from the start."

Yet, art wasn't his first calling. Though he took college classes in it, along with design, architecture, and Native American studies, his main passion was rodeo. Blake eventually competed as a pro bull rider, and he also participated in heeling and team roping with the American Quarter Horse Association, earning the organization's Rookie of the Year title in 2002. Though the sport brought him joy, "I kept my head down and treated it like a business," he chuckles. "It's what helped me buy my first house down in Texas."

Blake moved to Texas full time in the winter of 2005 "to get out of the stone cold." One day, staring at an easel his dad had given him, "I set it up and just went to painting." In 2008, he entered a dozen watercolors in the annual Western Art Show & Sale at the Phippen Museum in Prescott, Arizona. To Blake's surprise, he won Best Watercolor and Best in Show. More accolades followed, most notably an invitation in 2014 to join the Cowboy Artists of America (CAA).

That eventually led to a turning point. At the CAA show six years ago, "My watercolors looked muted on the wall next to richly colored oils by people like Martin Grelle and Clark Kelley Price." Afterward, while admiring oils by Walter Ufer, one of the Taos Society founders, at The Owings Gallery in Santa Fe, "I had a meltdown." He headed straight to an art supply store, bought an oil set, and shut himself away to master them. The following year, three of his CAA pieces were oils, and the medium now plays a more significant role in his career.

Blake's works possess translucent trueness to life that distills the essence of cowboying today. Take, for example, his recent oil The Red Dirt Baptism, based on a scene he witnessed while helping round up and brand maverick bulls on a ranch in the red dirt country outside Matador, Texas. The painting brings vivid immediacy to an everyday moment, right down to the wisp of smoke trailing upward from the branding iron. Not that Blake has forsaken his first medium. Lately, he's been using old Western printed ephemera as the inspirations and surfaces for watercolors that recall the illustrated letters cowboy artist Charlie Russell sent to friends a century ago. "I read them growing up, and these are nice little homages," he says, giving credit to a beloved forebear.

Teal Blake is represented by Mark Sublette Medicine Man Gallery in Tucson, Arizona, and Legacy Gallery in Scottsdale, Arizona. See his work in the CAA show The Sons of Charlie Russell through September 5 at the Briscoe Western Art Museum in San Antonio, Texas.