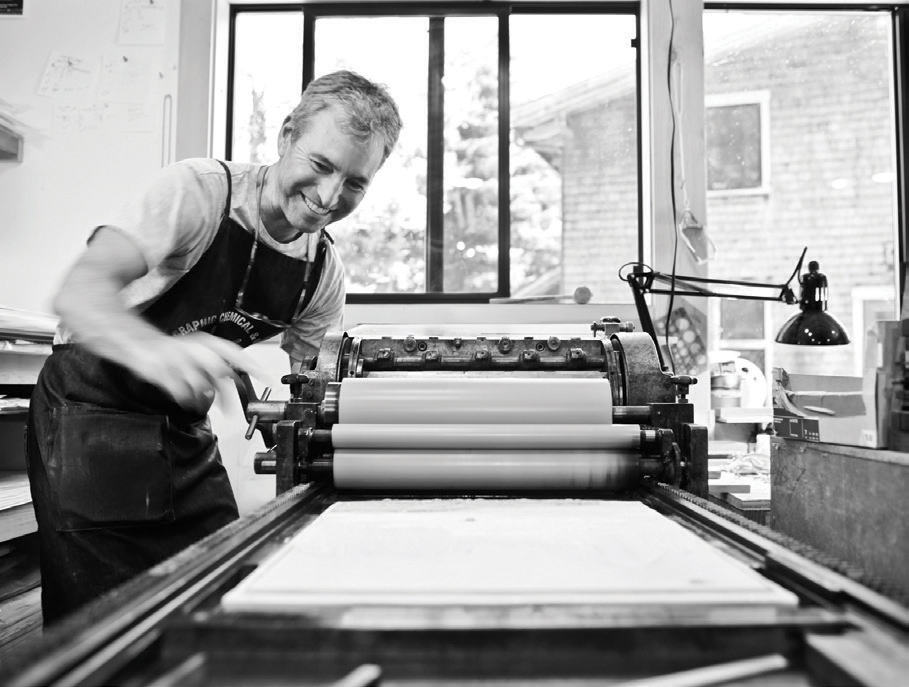 21 Nov

Artist Spotlight: Tom Killion

Woodcuts and linocuts by Tom Killion miraculously bridge the 5,000 miles and two centuries separating present-day California and late-Edo-period Japan. Inspired and influenced by the works of master woodblock print artists Hokusai [1760–1849] and Hiroshige [1797–1858], yet undeniably American in their expansive energy, Killion's handmade prints celebrate the natural beauty of the California coast, the High Sierra, and points beyond.

Hokusai's Thirty-six Views of Mount Fuji first captivated the fourth-generation Californian during his preteen years growing up on the slopes of Mount Tamalpais, the iconic peak that looms over Marin County, north of San Francisco. Already "really into drawing," Killion says, "I wanted to do pictures like them." At 14 or 15, he reckons, he made his first linocut of "Mount Tam," as locals call it.

While majoring in history at the University of California, Santa Cruz, Killion not only continued creating art but also learned to craft fine books in an extracurricular program taught by renowned small-press printers William Everson and Jack Stauffacher. That led to his first volume, inspired by Hokusai, featuring prints of a geographic feature dear to his heart: 28 Views of Mount Tamalpais. The 92 copies went for $100 each, earning him enough money to buy a printing press. Today, used copies sell for as much as $5,000.

Killion transitioned to multicolor woodcuts made with traditional Japanese carving tools while also completing a Ph.D. in African history at Stanford in 1985 and working in academia until 2002. Since then, he has been a full-time artist at The Quail Press, his studio in tranquil Point Reyes Station on Tomales Bay, along Marin's coast.

Many of Killion's prints have become widely admired books, including The Coast of California and — the first of three collaborations with Pulitzer Prize-winning poet and environmental activist Gary Snyder — the award-winning The High Sierra of California. His latest work-in-progress, The Trees and Trails of California, celebrates "one of the most beautiful and varied treescapes anywhere in the world." He finds subjects during extended treks into the wild on his own, with friends, or with his wife, their grown son, and teenage daughter. Solo trips, he admits, are the most productive. "There's nobody to say, 'C'mon, you can't just sit there and sketch all day,'" the artist says.

Perhaps Killion's most ambitious trip, however, came last year, when filmmaker Chikara Motomura accompanied him to Japan as he retraced Hokusai's life, hiked and sketched near Mount Fuji, and studied traditional woodblock printing in Kyoto. The resulting feature-length documentary, "Journey to Hokusai," premiered in October 2019 at Marin's Mill Valley Film Festival.

Yet, hoopla around the film seems mostly a distraction to the artist who, having turned 66 in November, still brims with the enthusiasm of his preteen self that first discovered printmaking. "I get carried away on these grandiose formats that outstretch my sketchbook," Killion says, lamenting that he has far, far more reference drawings than the 470 or so prints he has completed to date. "I wish I had time to do all the things I want to do," he adds.
A selection of Killion's recent prints will be exhibited in December at Freehand Gallery in Los Angeles, with a screening of "Journey to Hokusai" scheduled the evening of December 5 next door at the Craft in America Center.