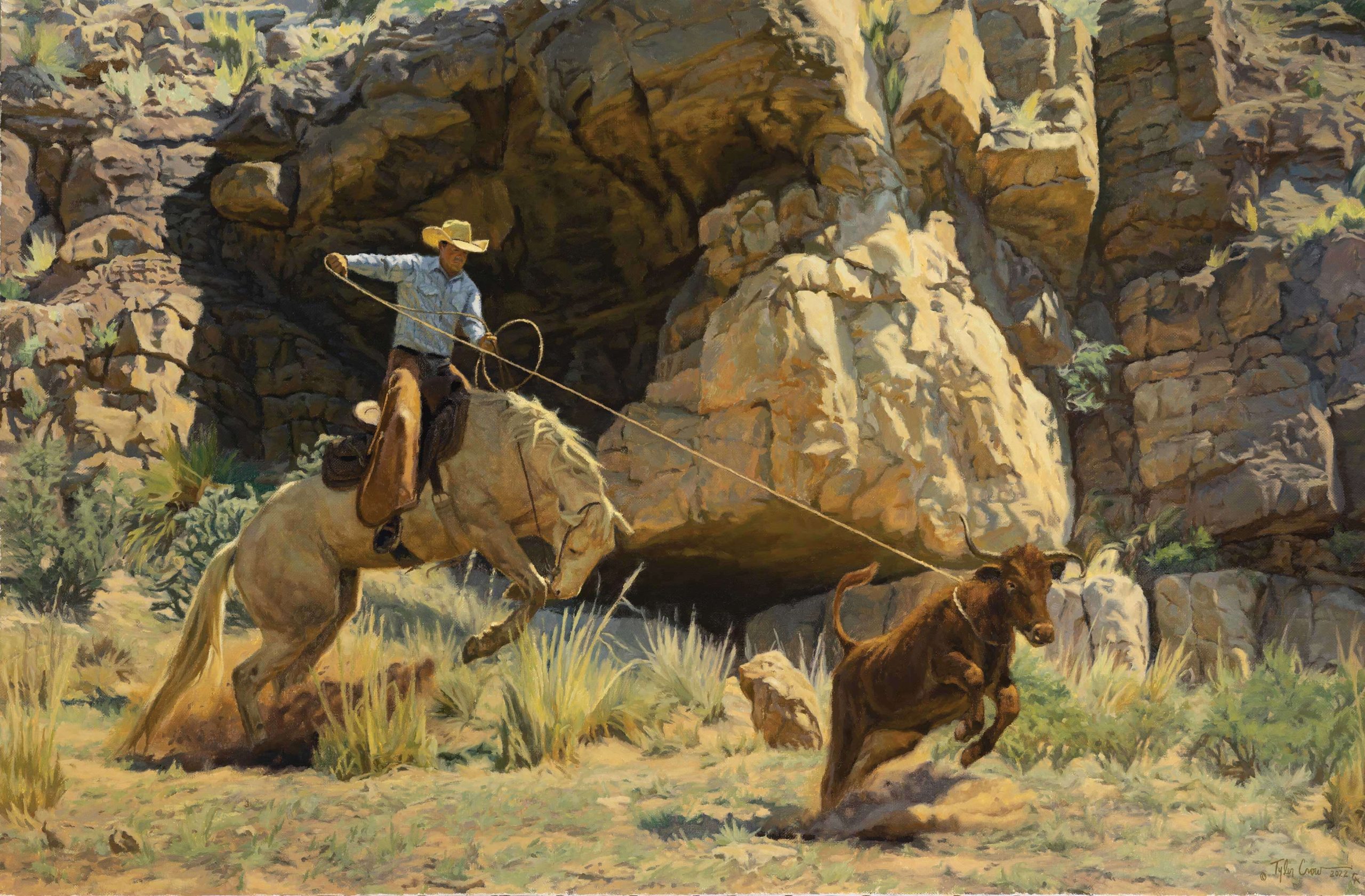 No Room for Error | Oil on Canvas | 26 x 40 inches | 2022
10 May

Artist Spotlight: Tyler Crow

Tyler Crow brings the deep heritage of present-day cowboy culture to vibrant life in his richly rendered oils, watercolors, and charcoal drawings. No wonder the venerable Cowboy Artists of America (CAA) welcomed him in 2016 at the astonishing age of just 27, making Crow the youngest ever inducted into that distinguished band.

Not surprisingly, Crow grew up in the saddle in his small hometown of Apache, Oklahoma. "One of my grandpas dealt with a lot of horses and my other grandpa farmed and ran cattle," he says. His dad, a welder, also built bits and spurs and did some silversmithing; and his mom, a preschool teacher, had a special knack for painting Christmas ornaments. Young Tyler, meanwhile, always drew and colored. "I loved the cowboy stuff and focused on horses."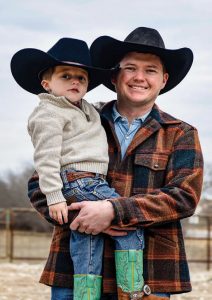 Crow's talent first won recognition during high school, when one of his drawings was chosen for display in the the Capitol Rotunda in Washington, DC. During his senior year, another drawing won him Reserve Best in Show and a scholarship to a weeklong workshop taught at the Cowboy Hall of Fame by CAA members Martin Grelle and Bruce Greene. "That was my first time getting to paint," Crow says. "It was a little intimidating, but I couldn't have asked for better teachers. The good Lord had a hand in it, and I give Him all the credit."
During the workshop, Greene invited Crow to come down to Texas and spend the summer as a studio apprentice, staying with the artist and his wife. He returned two summers more. "We'd paint outside nearly every day, and when I finished a painting, he'd critique it." The first oil he completed under Greene's mentorship sold right off the easel to friends of the artist. 
In Texas, Crow also met Katie, a third-grade teacher and the sister of Greene's daughter-in-law. They eventually married and now, settled outside the little town of Hico, Texas, are the parents of a 5-year-old son, Leddy, and an 18-month-old daughter, Lyda.
Slowly, surely, Crow's mastery has continued growing, his skills combining with natural talent and bred-in-the-bone knowledge of the cowboy life. Such qualities are evident in both action scenes like No Room for Error, in which a sure-handed rancher ropes a recalcitrant calf; and Letters in Red, a serene portrait of Jim Spradley, a hatmaker and friend, posing in a pew in the old Rock Church in the Texas town of Cranfills Gap. "He is just a really godly man I wanted to honor," says the artist.
Crow's own top honor to date remains fresh in his memory. When the CAA invited him to apply, he brought a portfolio to Oklahoma City for their review and was interviewed by a members' panel. "At the end, I was a nervous wreck," he says. "Then they sent me out, had a discussion, and when they called me back in, they all stood up and clapped. It's just kind of one of those things you'll never forget."
See Crow's work in the Summer Stampede on Saturday June 3 at the National Ranching Heritage Center at Texas Tech University, Lubbock, Texas; the Cowboy Artists of America 57th Annual Exhibition & Sale, November 3­ and 4 at the Will Rogers Memorial Center in Fort Worth, Texas; and Small Works, Great Wonders, November 4 through 26 at the National Cowboy & Western Heritage Museum in Oklahoma City, Oklahoma.