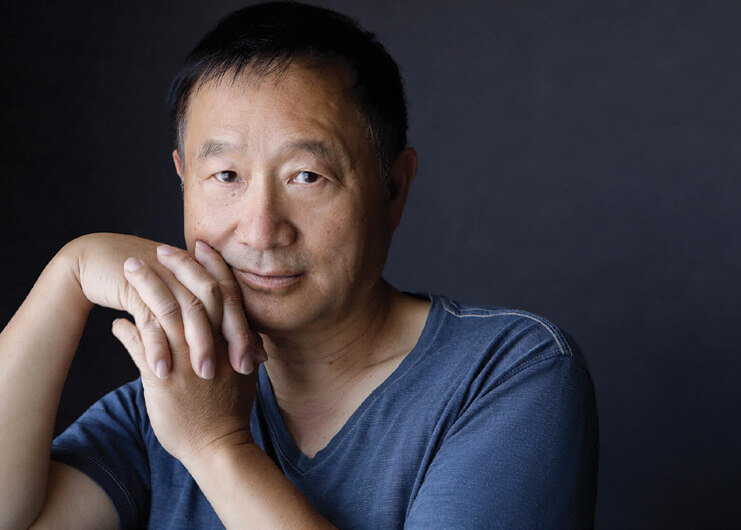 11 Jul

Artist Spotlight: Zhaoming Wu

When Zhaoming Wu moved 15 years ago to his hillside home facing westward toward San Francisco Bay, he couldn't have imagined the fresh inspiration the view would provide. "I see the sky change dramatically every day, in every season," he says. "Sunrises and sunsets are very emotional moments to me, a visual symphony." He felt compelled to add scenes crowned by vast skies to his already notable repertoire.

The inspiration for Wu's recent Good Night Wishes, for example, came to him when he beheld a blazing red sunset beyond his living room window. "The intense color of the sun going down behind the cloud felt mysterious to me," he explains. Wanting to highlight that vision, he decided to combine it with a desert landscape from reference photographs he took in Joshua Tree National Park, a starkly beautiful setting straddling the Mojave and Colorado deserts in Southern California. Not that he faithfully copied either sky or land. "I do my composition in my mind," he says, typically creating such paintings "in three sessions, working from top to bottom. First, I finished the sky, then I finished the land and integrated it with the sky, and the third session was details and adjustments."

Wu developed such an inspired yet meticulous approach growing up in the bustling southeast Chinese port city of Guangzhou, the son of a physician and a chemical engineer. Both parents recognized his talent at an early age. He drew with colored pencils and received private lessons in oil painting from an art college professor. But all that changed starting in 1966, when Wu was 11. The decade-long Cultural Revolution, which aimed to purge China of both traditional Chinese and Western capitalist ways, first closed the nation's schools before shifting the focus of Wu's art education to "a lot of propaganda, including painting or drawing pictures of Chairman Mao." He created so many, he says, "I didn't even need a reference photo." After high school, Wu worked in an advertising agency before spending two years studying graphic design in Shanghai. Finally, "after the revolution ended," he earned a bachelor of fine arts degree at the age of 27 from the Guangzhou Academy of Fine Art, going on to teach there as a professor for seven years.

In 1991, he was invited to study and earn a master of fine arts degree from the Academy of Art University in San Francisco, which then hired him in 1995 to teach representational painting, a role he still relishes today. Wu is particularly admired for his figurative works, especially representations of women distinguished by an evocative form that sometimes nearly blends the subject into the setting itself. Pale Age, for example, painted with just raw umber, ultramarine blue, and cadmium yellow, along with subtle touches of cadmium orange — achieves the timeless monumentality of a marble sculpture while simultaneously making its subject feel like a living, breathing woman of substance.

Wu's work is represented by Astoria Fine Art in Jackson, Wyoming; Sage Creek Gallery in Santa Fe, New Mexico; Waterhouse Gallery in Santa Barbara, California; Broadmoor Galleries in Colorado Springs, Colorado; and Palm Avenue Fine Art in Sarasota, Florida.