Electrical Storm Oil on Brushed Aluminum Panel 19 x 38 inches | 2018
08 May

Illuminations: Cynthia McLoughlin

Cynthia McLoughlin's scraped and gouged paintings of ridgelines and summits on aluminum portray a raw wilderness. Glinting perspectives of a rare, pristine landscape, her paintings feel personal and accessible, yet enigmatic. Through her clawing marks that travel beneath the paint to the aluminum below, typical vistas become new experiences.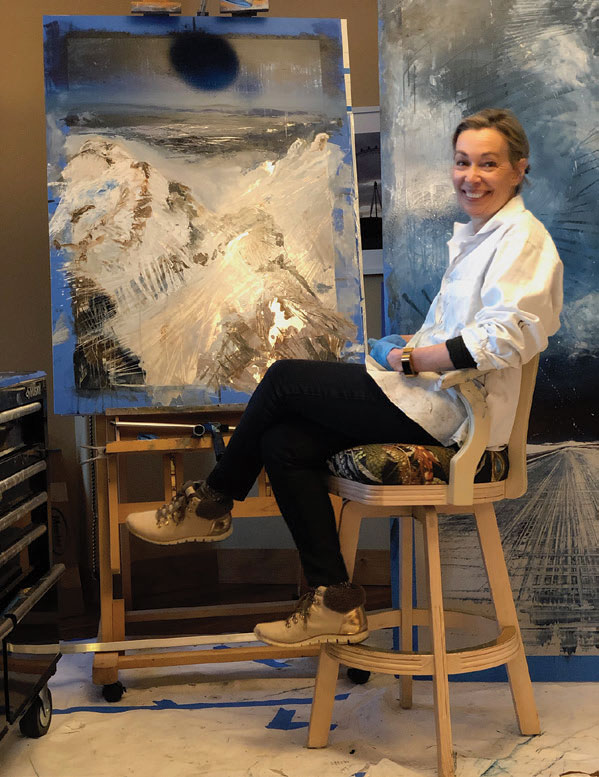 McLoughlin finds inspiration in surprising places. She first realized the power of the elevated perspective, for example, after riding in a hot air balloon with her daughter. "I just loved the feeling of being in the balloon, being above it all," she says. "And it's so quiet. You can't hear the wind because you are traveling in the wind. I think [painting with this perspective results in] my strongest work, and it's what resonates with me." 
When a pilot friend brought McLoughlin his aerial photographs of mountains in Utah, she was energized to begin a new series titled Elevations. "His photos had a sensation of looking at the horizon but, at the same time, looking at the sphere of the earth below," she says. "I was inspired by those photographs."
When starting a new piece, McLoughlin plasters the walls of her studio with as many photos as she can, and sketches thumbnail drawings to discover the direction she wants to go.
Once she is ready to paint, she uses brushes, squeegees, and new techniques she's developed. "I've tried using different solvents," McLoughlin says. "I tried spraying them through an aerosol can, which brings out various aspects of the aluminum. Actually, all of those techniques bring out the reflective quality of the metal in the piece. That's what people react to: Depending on where you are in the room, the paintings change with the light. It's very subtle."
The aluminum enables her to scrape deep into the piece. Sometimes, she'll even use a drill to pull the paint off. She'll also mix solvents with paint and apply those directly to the work. "While I'm doing it, I can't see the results immediately, but the next day there's a surprise," she says. "Happy accidents are how I discovered my various texture techniques." 
Even working on aluminum came about as part of an experiment. "The marks you can make on aluminum are very different from what you can do on canvas," McLoughlin says. "You can create a completely different feeling with the paint." To get the silver to show through, she uses her drill, which creates a reflection in the metal and an "arcing into the piece that feels lyrical."
For McLoughlin, it's important to follow her intuition. Lately, this means reaching for more abstract imagery to express social issues through the perspective of elevation and distance.
McLoughlin was inducted into the National Association of Women Artists in 2018. Her work will appear at the Swiss Art Expo, August 15 to 19, in Zurich. She's represented by Oohs & Aahs Furniture and Design, and the Summit Gallery, both in Park City, Utah.