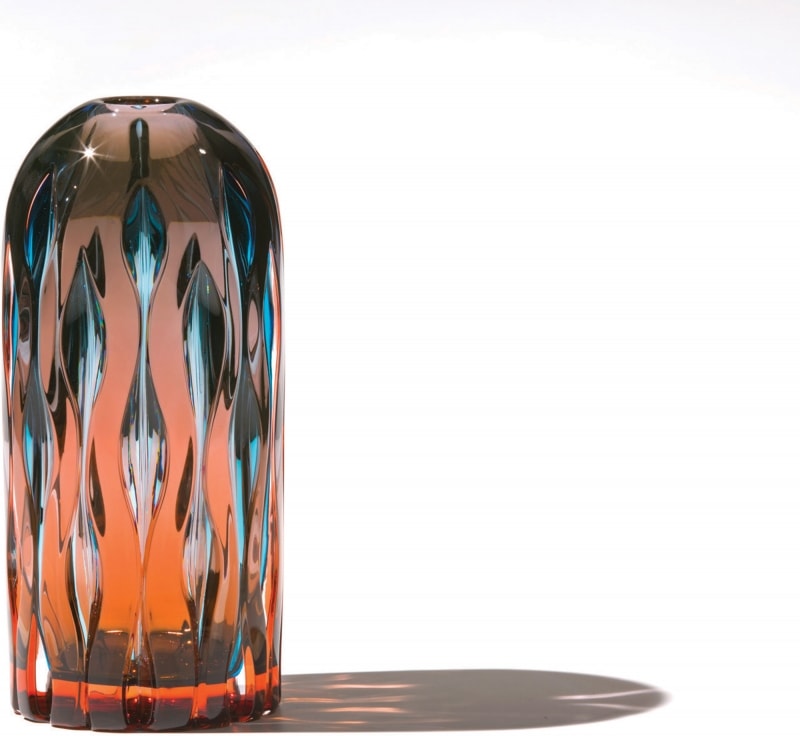 "Flora Cut" | Engraved Glass | 11.5 x 5 x 5 inches | 2017
17 Dec

Illuminations: Highlighting the work of glass artist Ethan Stern

Ethan Stern uses glass — hot and molten, cold and cut — as a conveyor of light. Luminous and jewel-like, the objects he creates redefine traditional purposes. By engraving on the glass, Stern speaks to a long history of industrial cut glass but adds to the chorus a voice of individuality and homage to the nature of the glass itself.

"The way I think about my work is connected to the process of working with glass," Stern says. Starting out as a ceramicist, he discovered glass while in art school. Although the processes are polar opposites, Stern eventually found he loved working with cold glass: cutting, engraving and carving the material after the glass is formed. However, that did not deter him from perfecting the technical aspects of hot glass formation. "In the beginning it was more experimental — trying to figure out ways to affect the surface directly, in the way I approached clay, to get my own voice in the glass. Liquid, molten material, with characteristics that are inherently beautiful. I wanted to try to change the approach to glass and redefine what beautiful can be in that material."

Stern started by approaching the material in its rawest sense, but soon developed his own style, leaning more toward a clean, minimalist feeling. "Which is what glass does very well," he says. "For a while, I wanted to mask that, but I've been embracing the gem-like quality of the material."

Stern's first step is to blow the glass and then shape it, turning the molten material into a solid object. He studied the Italian style of glass blowing as well as the Scandinavian and Czech, or Bohemian, style. He took what he liked from each discipline to create his own techniques.

"During the blowing process, I shape the glass on a flat surface with cork paddles, sculpting the shape," he says. "The way I'm pushing the bubble around allows me to get a specific profile. I've worked to develop a technique without using a mold. Glass likes to be round, it doesn't like square corners, and a lot of my pieces have square edges as well as corners."

After the glass is blown, he brings it into his cold shop to refine it even further. "A lot of the equipment I use to cut the glass came from glass factories that are gone now," he says. "There's some history in the tools I use that connects me to an industrial history."

When Stern inherited a small collection of cut glass from his grandmother, he became enamored by it. But instead of recreating those types of vessels, his work took on a new direction. Seeing the similarities of what came out of the old factories, he was inspired to create his own one-of-a-kind sculptural pieces.

"I have this freedom to make every piece different and do what inspires me at that moment," he says. "Right now, I'm interested in architecture and functional design. Originally I wanted to be a functional potter, and I looked at functional objects in the traditional way: form follows function. So the vessel is a foundational element of my work, although most of my work isn't functional. I've described them as containers for light. I'm trying to capture volume and transparency, trying to sculpt light with the glass."

Stern's work is represented by the Traver Gallery in Seattle, Washington; Schantz Gallery in Stockbridge, Massachusetts; Blue Rain Gallery in Santa Fe, New Mexico; Hawk Galleries in Columbus, Ohio; and the Sandra Ainsley Gallery in Toronto, Canada. Stern's show, Clear Cut, at the Morean Arts Center in St. Petersburg, Florida, will run through the end of January.