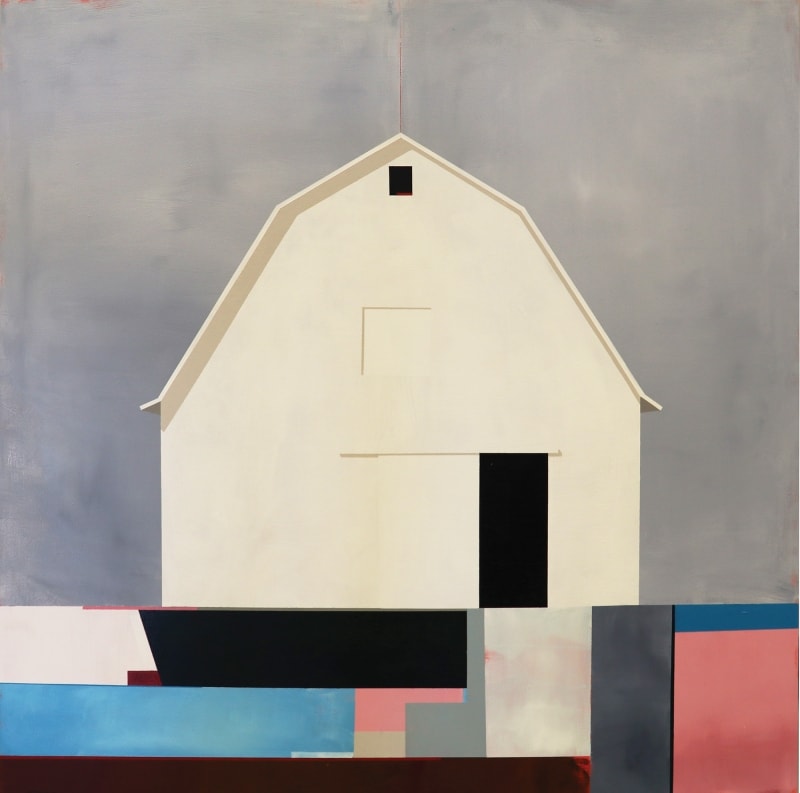 "Barn #5" | Acrylic | 36 x 36 inches | 2017
17 Dec

Illuminations: Highlighting the work of painter Justin Wheatley

Justin Wheatley paints portraits that present themselves as houses. Using the iconic image of the "perfect home," Wheatley conveys ideas about suburbia, isolation and relationships.

"My process is pretty organic," Wheatley says. "I don't do a lot of planning. I always wanted to be that person who carries a sketchbook, but I just don't work like that. I use photos for references, but for the most part, I'm drawing from a lot of different images."

Wheatley teaches art at an alternative high school, and listening to his students influenced his work. He began driving around the neighborhood of the school and it dawned on him that the best way to tell those stories was to paint the houses around the school.

"If the walls could talk," Wheatley says, thinking about his subjects. Usually, he chooses simple forms. "I look for homes with some sort of character. From there, it's about the imagined history of the home and how it's changed. The artist part of me loves shapes and colors and how it works together. Sometimes, I'll see a home that just looks cool and that's all there is to it."

The paintings fall somewhere between Grant Wood and Edward Hopper, with a foray into Americana and the undercurrents of commentary. There is an ironic slant to some, such as Altar,where a perfect farm-style house is placed on a draped pedestal, or Manifest Destiny, with arrowlike rooflines all pointing in different directions.

"For me, the paintings are funny, and at times full of sentiment," Wheatley says. "How do we think of ourselves? A lot of them are solitary and that reflects the type of person I am."

He's currently working on a small series of paintings showing a grid and a few homes, reminiscent of a quilt, with homes facing directly out to the viewer, one laying on its side and another pointing downward, "searching for a foundation," he explains. "So, I'm thinking about suburban life, relating to your neighbors and how you might never talk to that person and how our fences and bricks divide us."

In fact, many of his paintings feel like self-portraits. By using the house as a metaphor for his own feelings, Wheatley conveys a sense of honest examination.

Wheatley is represented by the Terzian Galleries in Park City, Utah, and will host a solo exhibition, November 22 through December 6, at the gallery; an opening reception is planned for the evening of November 24. He is also represented by 15th Street Gallery and David Ericson Fine Art, both in Salt Lake City, Utah.