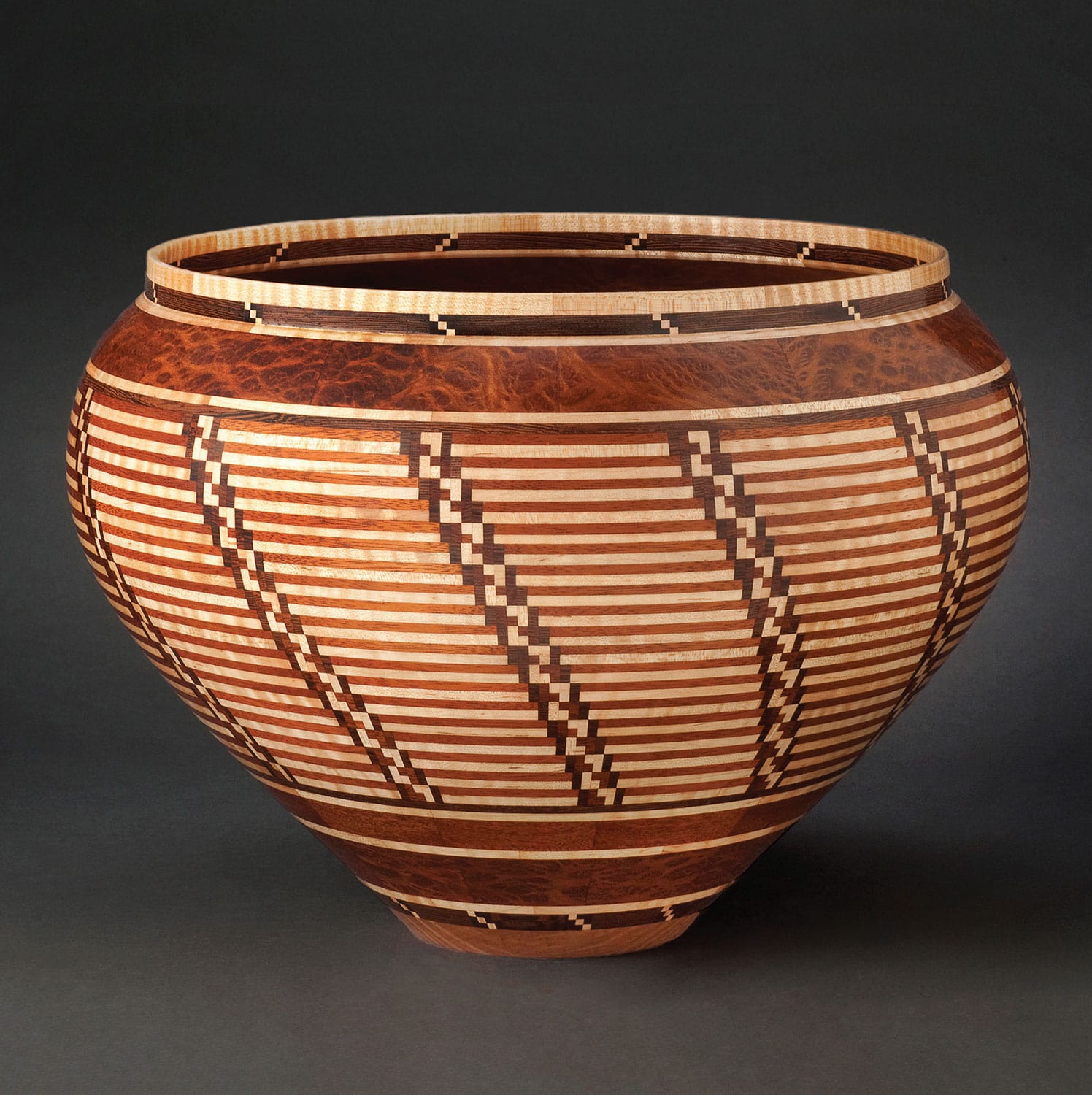 Spiral Basket | Curly Maple, Wenge, Redwood Lace Burl, and African Mahogany | 16 x 11 x 16 inches | 2018
13 Mar

Illuminations: Marilyn Endres and Eucled Moore

In 1989, fine art woodworkers Marilyn Endres and Eucled Moore started Kazi Studio together in Driftwood, Texas. The intricate woodturning methods and meticulous beadwork on their vessels and platters evoke a contemporary perspective on classic forms.

Both artists see themselves as "perfectionists," which began the basis for their decades-long work relationship. "A friend of mine mentioned someone who was a perfectionist and a woodworker," Endres says. "I was turning tubes and making high-end kaleidoscopes that were sold in art galleries. I introduced myself, and [Moore] told me that he worked alone. But finally, persistence paid off, and we just clicked. Our collaborative work is better than what either of us would have done alone."

Their recent work incorporates designs from ancient silhouettes, inspired by African baskets and tribal art. With a fresh eye on older artforms, they have even generated modern designs of Grecian shapes, often inlaying a tribal pattern into them. The inlay work consists of different wood types or thousands of European glass beads, often collected from out-of-commission factories. 

"We inlay European glass beads to create micro mosaics," Endres says. "These are old beads, the new beads are too bright and garish, and unfortunately, they don't make those old colors. Most of the colors we use were made in the early part of the 20th century. Those manufacturers were so fanatical about their work that they would bring shiploads of Saharan sand — traditionally used in making glass — to assure consistency." 

Each bead is placed one at a time onto the vessel or platter. In order to create the intricate designs, they devised a small tool which places the beads onto a bed of resin. Some designs contain more than 60,000 beads, and patterns are drawn out mathematically within a grid that's specific to each piece.

"Not all of the vessels have beadwork," Endres says. "Some of our wood-turned vessels are made with 12,000 different segments." The process involves laying out, cutting, and clamping together each segment to be sure there are no gaps and the joints perfectly align. The artists use the natural color of about 30 wood species. "We're dealing with thousands and thousands of wooden pieces," Endres says. "The length of each piece is around 2 inches, 3 inches at the most, if there's a big curve. The size of the piece itself is dictated by the complexity of the pattern." 

The vessel is then sanded down to a fine finish, rubbed with tung oil, and lacquered. "We put about 14 coats on it, polishing the piece between coats," Endres says. "Each color is a different type of wood, and that's how we get our palette." Depending on the intricacy, a work could take anywhere from a few weeks to a few months.  

Endres and Moore are represented by Manitou Galleries in Santa Fe, New Mexico, where new works will be exhibited as part of the gallery's First Fridays during May; an artist reception will be held on May 3. They are also represented by Mark Sublette Medicine Man Gallery in Tucson, Arizona.