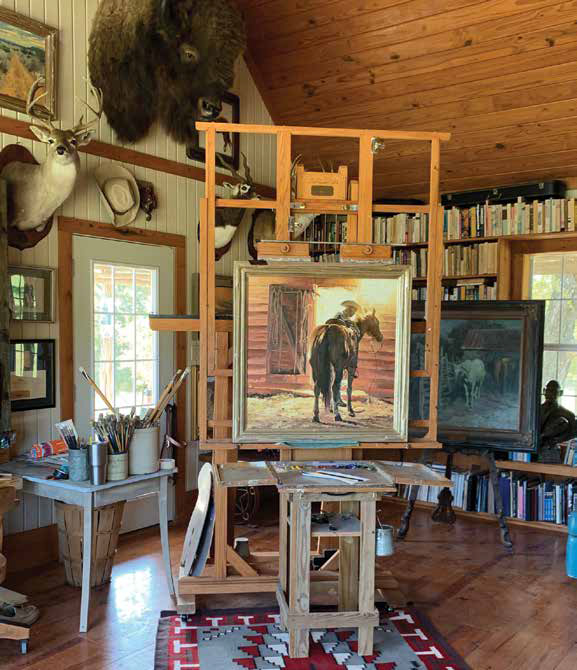 In the painting side of artist Bruce Greene's studio, one of his latest works, Saddle House Light, sits on the easel. "This is my good friend Randal Gates, foreman of the JA Ranch, saddling up before daylight," Greene says. When Greene spends time working on the JA Ranch, he and Gates typically "catch and saddle horses in the dark, then hit the mess hall before we light out
11 Jan

In the Studio: Contemporary Cowboy

When the sun rises and a pink and orange sky stretches over the pastures that surround artist Bruce Greene's ranch in Bosque County, Texas, he's almost always there to witness it, either on horseback or from the large windows in his studio. "I like to wake up at 5:30 while it's still dark and have some quiet and spiritual time in the morning," Greene says. "Then I might saddle up and make a circle around our place and look things over. And if I'm really in the groove, I'll let the horses out and do gesture drawings of them."

Greene and his wife, Janie, moved their family to Bosque County in 1989 to be in what the artist calls "a more paintable area." Located in rural Texas Hill Country, the landscape still radiates a sense of the Old West, when cowboys and cattle made up most of the population. Greene was following in the footsteps of Cowboy Artists of America (CAA) artists he respected — including James Boren, Melvin Warren, and Martin Grelle — who also called this picturesque area home. "Back then, I was taking every chance I could to study with members of the CAA," Greene says. And it paid off, as he was elected into the organization in 1993.

After buying the ranch, the Greenes restored the 1883 Norwegian-style farmhouse, keeping the historic character intact while updating it to suit their needs. In 2000, they built Greene's 1,200-square-foot art studio in the same style, with vaulted ceilings of pine shiplap, pine floors, rough-textured walls, skylights, and covered porches. In the sculpture room that's separate from the painting area, 10-foot-tall doors lead to a loading dock, and a pen outside holds the cows and horses that Greene often uses as models.

Greene's painting room is centered around a wood stove with large windows that open up to the pastures and distant hills. "Each room offers northern light, to be able to see the artwork naturally," Greene says. "That north light lets you see a lot more, and it affects the color, particularly with painting."

One wall in the studio features a library of books on art, artists, and Western history, while the others are covered with paintings — by Greene and other artists he respects — along with mounted hunting trophies, cowboy relics, and memorabilia. "I hunt a lot with my sons and grandsons," Greene says. "The game mounts have all kinds of memories for me about times I've spent with them. … And the saddles, bridles, and spurs, it's all filled with a lot of memories, and it's the stuff that my wife is very glad I have a place to put, rather than in the house."

Greene is about as cowboy as they come. Speaking with a Texas drawl, he typically dons a tall, Stetson-like hat, wire-rimmed glasses, and a waxed mustache, while his paintings and sculptures capture the essence of life on the range. One would imagine the artist grew up entrenched in 4-H Club, rodeo, brandings, and the like, but Greene was raised in a suburb of Dallas by working parents who didn't have a lick of cowboy in them. "I loved the Western culture ever since I was a child, but my parents weren't into that," Greene says. His parents did, however, recognize his artistic skills early on and encouraged them by signing him up for art lessons.

It wasn't until he attended the University of Texas as an art major that Greene was able to tap into his cowboy spirit. He became a fixture at area rodeos, and when he wasn't participating, he was on the sidelines painting those who were. "It would be a guy on a bull, snot flying from the bull's nose, the people in the stands, the dust in the air," he recalls.

One such painting was a portrait of world champion bull rider Bobby Steiner, and soon after, others on the rodeo circuit began requesting their own. "I made a living through college doing rodeo portraits," he says.

After college, and married with a child, it was time to figure out his next step. "I got out of school and didn't dream you could make a living as an artist," he says. With Janie's support — she ran a daycare in their small home, while he painted in a spare bedroom — he started making money selling his work at different events.

One day, after Greene wrote a letter to CAA member Tom Ryan, an artist he greatly admired, he was invited to visit. It was there that he experienced one of his most influential lessons. "He told me, 'Go outside every day and do a painting in 30 minutes. It'll teach you how to really see and how to interpret what you see,'" Greene says. "And I did it for a long while. … He taught me how to be the best I could be. When you have to paint that rapidly, you have to interpret things almost instantly, and you learn to simplify." As a result, Greene's style evolved from a tighter photographic approach to the more naturalistic and relaxed one that he continues to build on today.

Greene has been represented by Insight Gallery in Fredericksburg, Texas, since it opened in 2009, and co-owner Stephen Harris says that many of his collectors are drawn to the quality of the artist's work along with the stories he tells through each piece. "I think it's the authenticity," Harris says. "Bruce is one of those guys who walks in the room, and he looks the cowboy part. He's kind of a throwback, very polite and humble. And it's also the authenticity of his work. A lot of our Western buyers, especially those in Texas, are very particular about how the cowboys dress because their style is very regional. The majority of Bruce's work represents West Texas to the Texas panhandle."

This authenticity comes from Greene's deep-seated passion for cowboy life, and since his college days, he's jumped on any opportunity to immerse himself in it. In 1998, he was invited to the historic JA Ranch in Palo Duro Canyon. Co-founded in 1876 by legendary rancher Charlie Goodnight, it's the oldest privately owned ranch in the Texas Panhandle. On his visits, Greene worked right alongside the other cowboys, driving cattle and often riding more than 25 miles a day. "These guys are the best in the world at what they do, and they allowed me to fully experience that," he says. "When I got the dust in my nose, that's when it really came together … the honesty and the full interpretation in my work."

And although the cowboy is his muse per se, Greene explores different ways to express that lifestyle. "Bruce's work is very traditional and classic, but he's always trying to challenge himself and come up with new ideas," says Insight Gallery co-owner Elizabeth Harris. "When your focus is on a certain genre, you can run out of material that inspires you. He's very introspective, and he spends a lot of time thinking about how to hatch new, out-of-the-box ideas."

Currently, Greene's studio is filled with works he's created for a show at Insight Gallery that opens February 5. And since recovering from recent back surgery and no longer in pain, his latest pieces reflect a sense of renewal. "He's full of life again, and that comes through in his paintings," Insight's Stephen Harris says. "They show the vibrancy and energy that he now feels again."

As far as a theme for the show? "I don't normally have a specific theme; my whole approach has a theme of the contemporary cowboy," Greene says. "But I think I'll call this one 'The Early Light.' There's going to be a lot of sunrise and early morning paintings."

That's pretty fitting since watching the sun rise over Bosque County each morning, whether on horseback or from his studio, has been a steadfast part of this cowboy artist's life for more than 30 years.