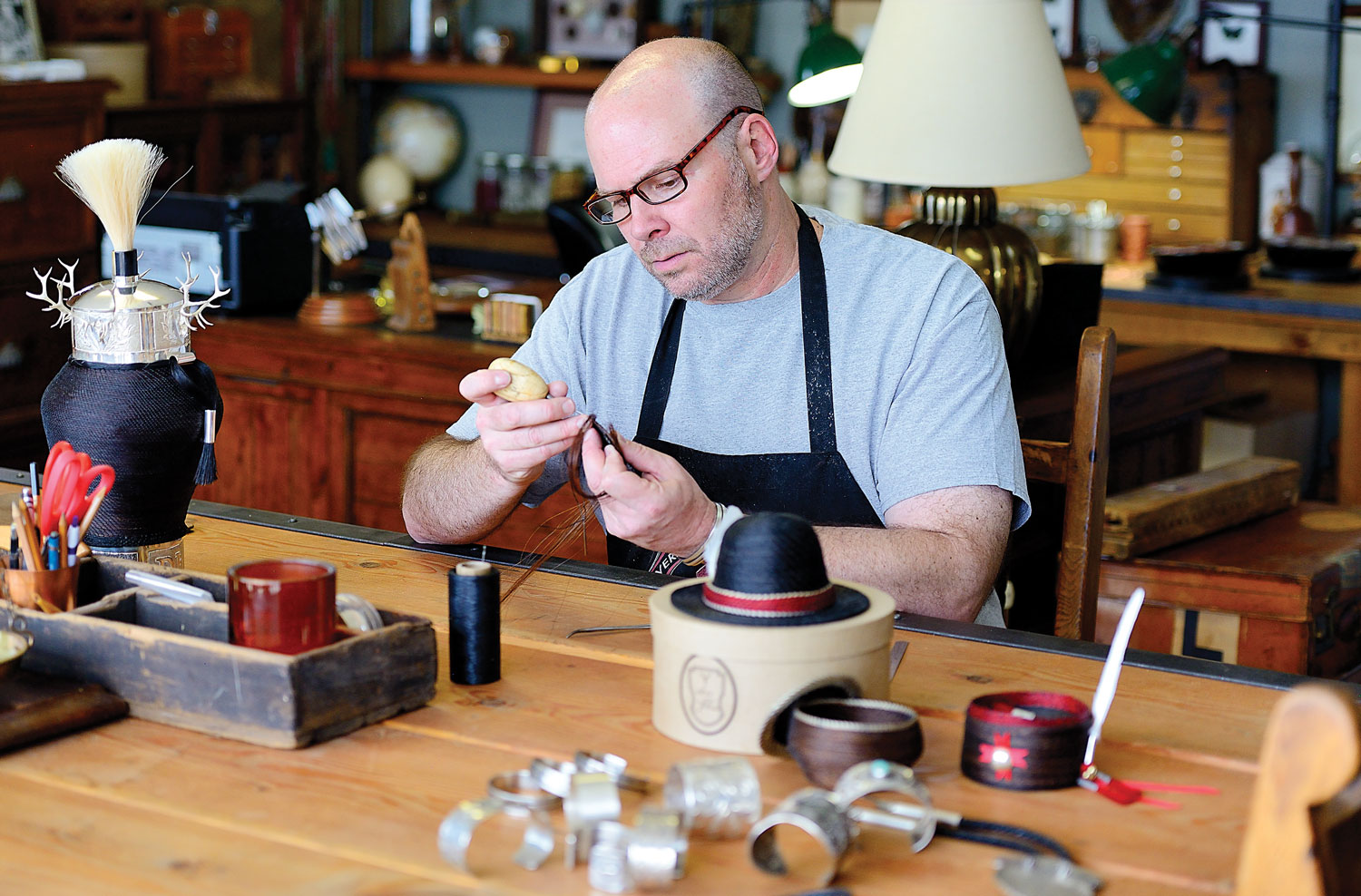 Artist David McElroy weaves a horsehair basket at his workbench, demonstrating another one of his award- winning talents in addition to silversmithing.
11 Jul

In the Studio: Sterling in Santa Fe

Panoramic views of the Jemez Mountains greet David McElroy when he enters his studio on the high plains of New Mexico. A window in place of two garage doors provides unobstructed views, and, from time to time, a herd of grazing pronghorn antelope draws his attention.

"This is about as different as you can get from my London cottage where I lived before moving to Santa Fe," McElroy says. From lush greenness to high grasslands, where an occasional rattlesnake slithers up his driveway, he is, nevertheless, happy.

"Nothing is more inspiring than being in a place you love," he adds.

His decision to retire as a solicitor in London and become a full-time artist is one reason for his happiness. McElroy, who grew up in Oklahoma, is a member of the Choctaw Nation and speaks the endangered language fluently. He attended Tufts University in Massachusetts and then law school at American University in Washington, D.C. After practicing law for 20 years, eight of them in London, the lure of silver drew him to Santa Fe, where his mother also lives. Growing up, she influenced her son through her love of Native American jewelry, which she wore and collected. Following his mother's example, McElroy has since surrounded himself with collections of Native American artifacts, paintings, pottery, and beaded items, some of which he created for ceremonies and others that he uses for reference. 

Even though McElroy's studio is in a remote area, he has plenty of company, including his two rescue donkeys, Cisco and Sadie, four rabbits, seven chickens, and two cats. The cats, Bixby and The Peanut, are considered helpers in his studio, with the latter being the boss.

As a silversmith, McElroy has become known for his talents using the ancient technique of repoussé, French for "to push up" or "to move metal." Thought to date back to 3000 B.C., McElroy became familiar with repoussé while living in London, discovering the European tradition in museums. His research piqued his interest to study it, leading him to find his passion for adorning silver in this manner.

Explaining the repoussé method, he says, "I work in a cast-iron bowl about 8 inches in diameter that is full of pitch, often pine pitch. I place metal into the heated pitch using chasing tools to create the design on the front of the piece. Then, reversing it, I raise the design by pushing it down into the pitch, which holds the metal and allows the design to be pushed into the negative side." McElroy uses any number of tools to form the metal, many of which are antique, and some that he made himself. 

Once the design is pressed, the process requires the metal to anneal, cooling slowly to remove internal stresses. It's necessary to burn off the pitch before proceeding to the next phase — working from the front again. At this phase, the details are added to the design, including outlining the edges or adding textures to the background. Depending on the thickness of the metal, it may be necessary to fill the pushed-up areas with pitch so that the work may continue. One wrong move could cause a puncture in the silver — a costly error to make, but easy to do, especially in thinner areas. McElroy says that he works with fine-gauge silver for earrings and lighter pieces, and heavier gauge for cuff bracelets, boxes, and sturdier items.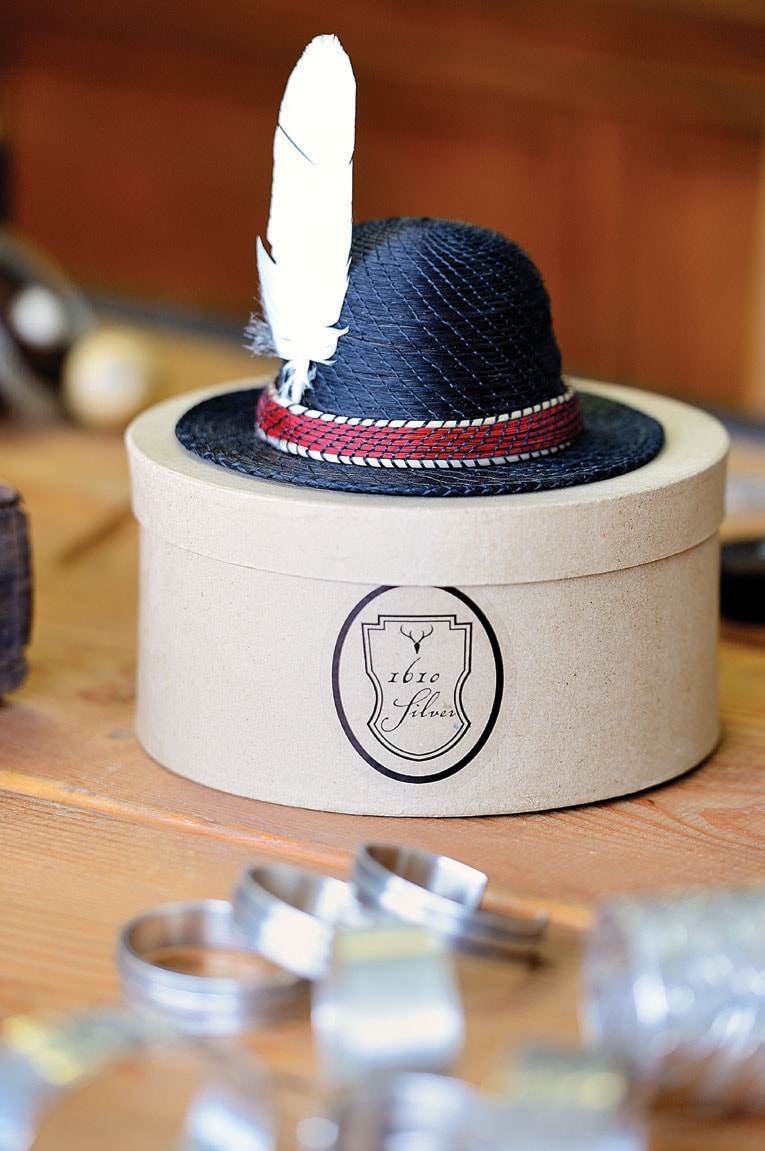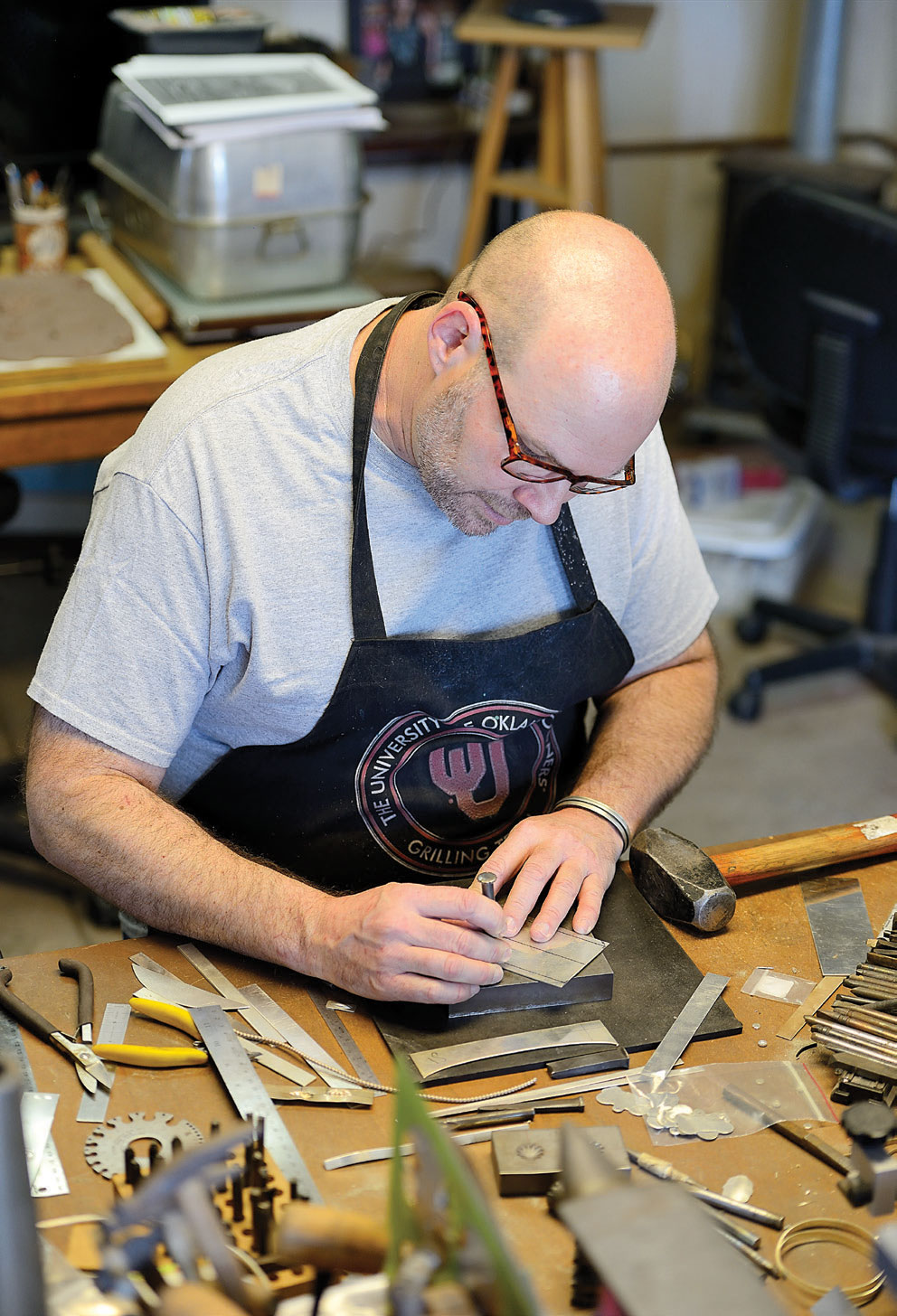 Most people who see his work have no idea of its time-consuming process, McElroy says. When creating a new piece, he often practices the design on copper — at times more than once — before creating it in the more expensive sterling. After the design work is completed on the silver, additional steps are required to finish the piece, including adding a patina to create contrast and buffing it to perfection. 
McElroy freely shares the repoussé method of metalworking with friends by hosting workshops in his studio. He delights in seeing how the method is incorporated into other silversmiths' traditional work. He mentions artist Kenneth Johnson, a Seminole who creates contemporary jewelry with ancient symbols, many from the mound-builders era. 
Inspired by place, family, culture, and art history, McElroy will continue to share his love of the Southwest through memorable works of art that can be worn and saved as remembrances.