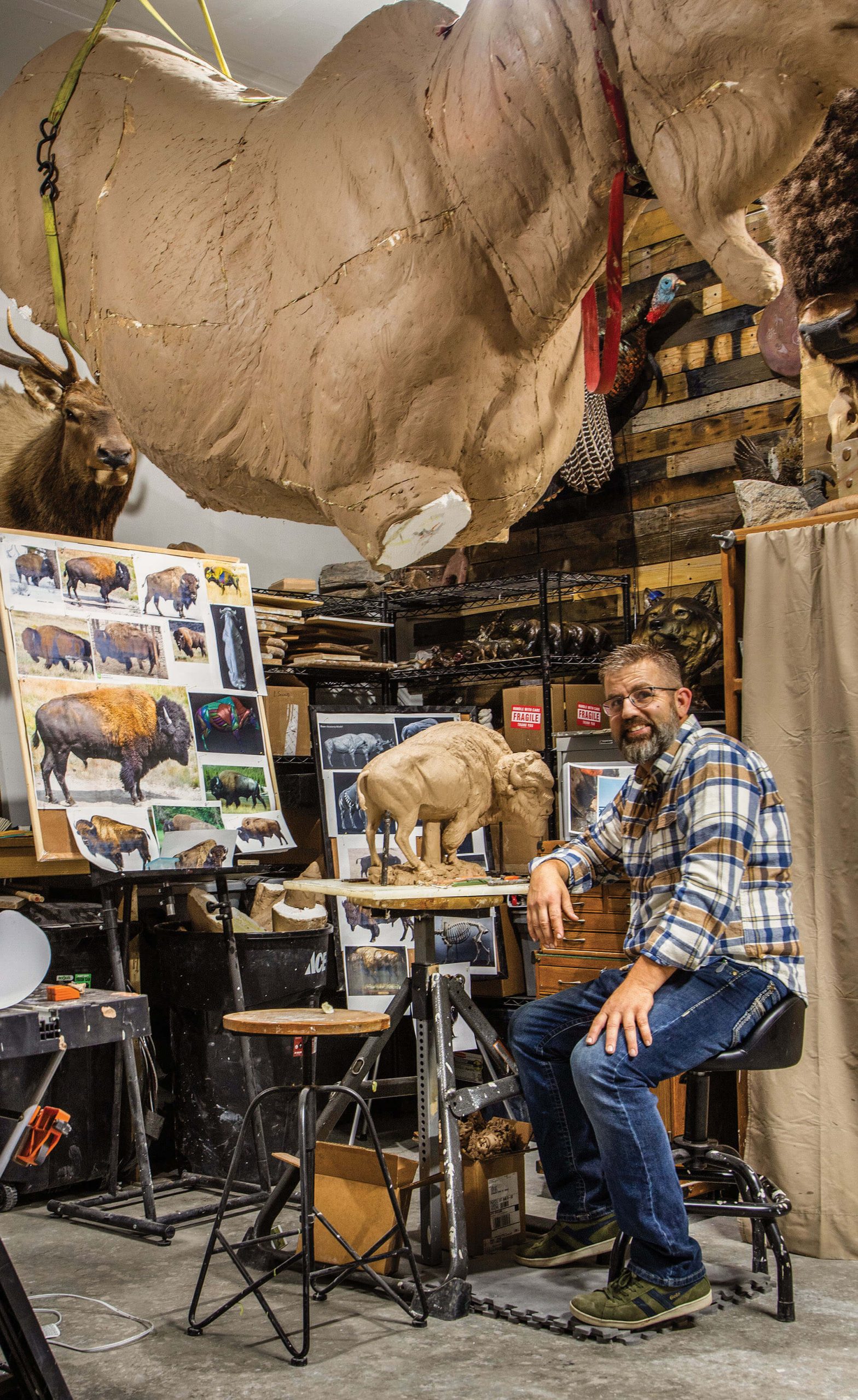 Surrounded by research materials in his home studio, Raymond Gibby models figures in clay, from which he later makes plaster casts, before taking the pieces to the bronze foundry.
06 Sep

In the Studio: Storyteller in Bronze

Raymond Gibby includes a wealth of details to see and discover in his bronze sculptures. "More and more," he says, "I like to hide little messages or stories in my works." He designs his pieces for maximum impact across the room, yet adds details that will sustain people's interest and attention up close.

Gibby's family and upbringing instilled in him a love for art, an affinity for working with his hands, an appreciation for wildlife and the outdoors, and a strong work ethic. His grandfather was a well-known Utah landscape and wildlife painter, and his father taught woodshop and worked construction jobs in the summer with his teenage son. "My father's example and work ethic has helped to bring discipline and productivity to the demanding process of bronze artistry," Gibby says. Growing up in Riverside, California, he was encouraged by a high school art teacher, and had the opportunity to study independently with artist Judy Eriksen.

With his sights set on a career in art, Gibby worked as a screen printer and then apprenticed in a bronze foundry in Utah, where he started as a metal chaser, welder, and grinder, and eventually worked in all the foundry processes while establishing friendships and mentorships with the bronze artists. With their encouragement and the support of his father-in-law, he began sculpting, working eight hours at the foundry and four additional hours on his own work. He met early success and honed his approach to wildlife subjects, depicting aspects of human behavior to share lessons about humanity; and for his human subjects, portraying their lives and stories within the expressive placement of clay.

When the country entered a dark grief period after 9/11, the market for the foundry's bronzes, and his own, collapsed. He sculpted Howling Wolf as an emotional response. Moving his young family to Arkansas to be closer to his parents, Gibby regrouped and established the only bronze foundry in that state for his and other artists' work. "I learned to work really hard to keep the foundry going and to make time for my own work," he recalls of that time. 

Tragedy struck during the 2008-2009 recession, when a fire burned the foundry, studio, and molds for more than 40 pieces, destroying nine years of his work. Gibby credits his clients for their support and encouragement to keep sculpting; some of them even called to order other pieces.

"It was an opportunity to begin again," he says. "In my subsequent work, I was attracted to themes for overcoming hardships and figures that express endurance and strength, as well as finding new, more joyful things in life. I became more interested in hiding little messages or stories."

Gibby and his family eventually moved back to the West and settled in Spanish Fork, Utah, a small town in the foothills of the Wasatch Mountains. Their locale keeps Gibby close to the habitats of the wildlife he sculpts and offers easy travel for the day trips and overnight camping excursions the Gibbys make into remote mountain areas. The location also has the advantage of proximity to the bronze foundry in nearby Springville where he had apprenticed and worked, and where he had built relationships with some of its skilled artisans. That frees him from the foundry work he'd previously done himself, giving him more time to sculpt, while being close enough to give him careful oversight and communication on detailing for specific pieces and how he wants the foundry to handle his work.  

With the move to Spanish Fork, Gibby established a home workshop and studio as a commitment to being closer to and more involved in his seven children's lives, despite the long hours he dedicates to sculpting. "Art, family, and faith combine in how I live and create," he explains.

The lost-wax process for creating bronze sculptures is an intricate procedure with many steps. Gibby begins in his home studio by sculpting in clay. For finely textured details like feathers and hair, he uses the edges of tools, and he leaves fingerprints as a subtle connection between the artist and the creation. "For wildlife, it is essential to keep a balance between making unique pieces and remaining true to their habits and behaviors. I do considerable research and observe animals in the wild."

He also prepares his own molds in his studio. That involves successive coats of rubber with registration strips, a plastic mold, and plaster and mesh. "I love how physics, artistry, workmanship, and engineering combine in sculpture," he says of the multi-step processes he follows in his studio and at the foundry.

Gibby takes the completed molds to Art City Bronze, a large foundry with 27 employees that serves artists throughout the United States and around the world. First, the wax department creates a wax pattern on the form of the original clay artwork, then touches up that pattern and attaches sprues (wax bars) to engineer a gating system for bronze to flow. Next, repeated coats of a ceramic slurry and fine sands create a half-inch-thick ceramic mold. The furnace melts out the wax and super-heated bronze is poured into the ceramic shell. Once cool, workers chip away and sandblast the ceramic shell from the bronze, weld and attach sections together, and refine the pieces.

The final step is the patina, where color and luster are applied to the bronze surface. Gibby and his eldest daughter take over this step: darkening the surface; scrubbing to bring out highlights; heating with a blowtorch; adding chemicals and pigments using a brush, air brush or spray bottle; sealing with wax or lacquer; and coating with wax to reduce glare. "Patinas are a challenging specialty," Gibby says. "It takes a very long time to master finishes." 

By doing his own finishes, Gibby can make the pieces even more custom for the commission or his own vision. He finds that his own background and experience working in and operating foundries is critical to communicating his needs and vision in very specific terms. "Learn to do your own patinas," he advises aspiring bronze artists, "so you are aware of possibilities and can communicate with the patina artists."

Not surprisingly, Gibby now enjoys nationwide demand from collectors. In addition, he creates moving memorials to fallen soldiers; professional and college sports teams have commissioned trophies from him; and he designs custom pieces like the 9-foot-tall statue at the Philadelphia Eagles' stadium depicting head coach Doug Pederson and backup quarterback Nick Foles at a critical moment during Super Bowl LII, in which Foles was named MVP.

Reflecting on the beginning of his career, Gibby tells how he responded to an employment ad stating vaguely that it was in the art field. That led to his job in the art foundry and, ultimately, to his life as a successful bronze artist. "It has been good," he says with matter-of-fact modesty. "I have raised my seven children and I have enjoyed it. But who knows what another path would have been and how interesting a life I may have led doing something very different?"

Gibby is represented by Mountain Trails Galleries in Park City, Utah; Jackson, Wyoming; Sedona, Arizona; and now Bozeman, Montana, which opened this past August. His work is also featured in Signature Galleries in Scottsdale, Arizona, and Santa Fe, New Mexico; Blue Rain Gallery in Durango, Colorado; and FoR Fine Art in Big Fork and Whitefish, Montana, and in Tucson, Arizona. In Tucson, he'll participate as returning Honorary Artist in the Mountain Oyster Club's 54th Annual Contemporary Western Art Show and Sale on November 19. In conjunction with Signature Gallery in Dallas, Texas, which also represents him, Gibby will attend the Dallas Safari Club in January. He is also scheduled February 22-23 to attend the NatureWorks Art Show in Tulsa, Oklahoma, where in 2023 he was honored as featured artist.

Ann Zimmerman has written more than 1,400 articles about architecture, interior design, historic preservation, land-scape, and art. Her most recent book is The Coastal Cottage.
A freelance photographer specializing in the built envi-ronment, Scot Zimmerman has been widely published in books and magazines and has shown his work in museums across the United States and in London.