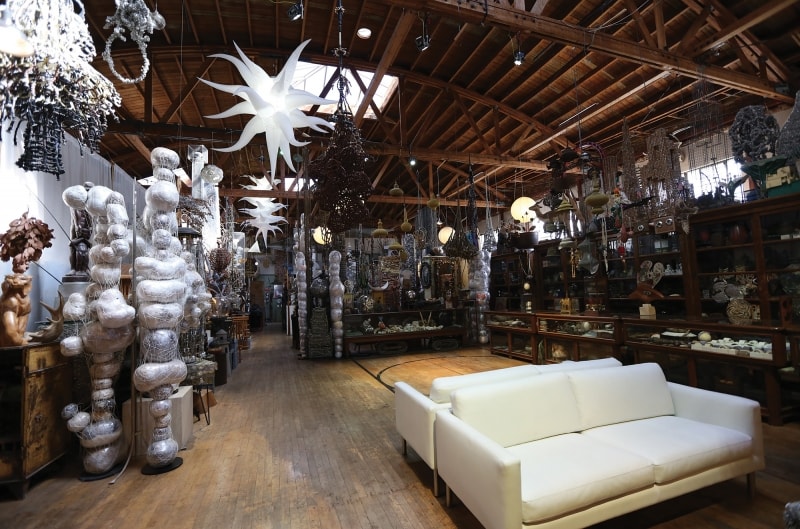 In the Highland Park neighborhood, Graham's studio beckons curiosity and exploration and demonstrates that art is available anywhere.
17 Dec

In the Studio: Art from found objects

Artist Clare Graham has a special relationship with mundane household objects. While most people might think buttons belong on shirts, puzzle pieces fit together on the coffee table, and tin cans and their pop-tops head straight to the recycling bin, a visit to Graham's studio will show how one man's imagination can blast the ordinary straight into the stratosphere.

Located in the foothills of Los Angeles, California, in the Highland Park neighborhood, Graham's studio — named MorYork — is a wonderland of creations made from multitudes of ordinary household objects: buttons, bones, scrabble tiles, tin cans, pop tops, dominoes, beads, baubles and bottle caps. He has taken his penchant for collecting, which began as a child, and his mathematical ability to artfully stack, thread and organize to create fantastical installations and sculptures that easily fill his 7,000-square-foot studio, turning the former grocery store into a jaw-dropping ode to creativity.

"As a kid, my grandparents gave me a roll-top desk," he says. "I was one of those kids who collected bones of my dead pets, rocks, leaves, and I would put all those things into the compartments of that roll-top desk. I see my studio as a 7,000-square-foot, enlarged version of that desk."

Indeed, a stroll around the cavernous space can be challenging: You don't know where to look first. Do you examine the tower made of thousands of rosary beads? The stack of motel room keys? The pillar of stuffed teddy bears shrink-wrapped and woven together with string? The collection of arcade dolls? The sofa made of an estimated 60,000 aluminum pop-tops? The cabinet faced with Scrabble tiles arranged in pithy commentary? Or the artful array of found objects displayed in cabinets and on shelves throughout the studio?

Everywhere you turn there is something to appreciate with awestruck gratitude. You can't help but marvel at the artistry, vision and skill it took to not only create the wonders on display but to think them up in the first place.

Graham finds a lot of the objects by strolling through Los Angeles' many first-rate flea markets. First, he sees something he finds interesting and then thinks about how it should be used. Often, he will let it sit in his studio until it tells him what needs to happen to it.

"If I am gobsmacked by something, I am trying to understand it," he explains. "My process is more intuitive than scientific — the whole is more than the sum of its parts. For instance, I made a piece out of thousands of rosaries. Massing them was the right thing to do. Now they have prayer power."

He has collected hundred of things: tapes from milliners, teddy bears, bones and buttons, to name a few. It took him more than 20 years to collect these items, often getting a few every weekend. Occasionally, he buys items in bulk from recyclers or manufacturers. Once he found a company that printed yardsticks in Iowa. "There was a mistake in the way they had printed the red," he says. "They had 10,000 yardsticks. If I could get them here, I could have them for free. I paid $138 to put them on a Greyhound bus and had enough stacking material to make some Stickley furniture." One resulting bench, made solely of stacked yardsticks, is on display and available for sitting in the studio.

As a youngster, Graham loved geometry and one can't help but see the math in his creations. "It's all about figuring out what the material can do," he says. "I use patterns that nature provides. Fibonacci, expose the curves, sometimes it's about math formulas. The form dictates what I do with it."

Graham, 63, was born in Ontario and got his official start as an artist in art school, eventually earning a master's degree of fine art from California State University, Long Beach. "I realized, selfishly, that the best studio space you'd ever get was free studio space at a university," he says. "I took every studio art class I could — weaving, glass, metalsmithing, ceramics — to prolong the experience as long as possible."

Living in Los Angeles also gave him access to that great creative proving ground: Disneyland. He worked there while going to school, eventually becoming an art director, designing stage sets, parade floats and movie premiere materials both inside the park and out. "It was a very hands-on kind of job," Graham says. "On a weekly basis, I was working on eight separate projects. It taught me good juggling skills and the ability to keep in the process. I never ended up with nothing to do that day." That work ethic has kept him going now that he has retired from Disney and is working on projects purely for his own pleasure.

"My work is more a response to a present problem rather than an art solution," Graham says. "The original inspiration is the material. I walk by it every day. Suddenly, the epiphany will hit you, and the fun is seeing what will happen. I'd say that rather than being active, I am reactive. … It's about controlling the sheer volume of these objects. If I can organize it, give it a form, a purpose, then it is desanctified and I can turn it over to someone else."

Once he's finished, he moves on. Some of his work has been shown in museums and galleries, but he doesn't concern himself with selling it. He offers some pieces to a home design auction house, Rago Arts and Auction Center, but the business side of being an artist doesn't much interest him.

What does matter to Graham is being part of his community and opening his studio to other artists, musicians and children. His studio has been on the list of Los Angeles oddities offered by Atlas Obscura, a tour group working in many major cities that explores interesting venues off the beaten track, and numerous elementary and junior-high school groups have visited "to augment their arts learning," Graham says. He also considers it part of his studio's mission to regularly open the space up to local bands or artists as a performance space and creative laboratory, most recently to Stephanie Zaletel, who heads a dance company that seeks out unconventional environments.

"To me, MorYork really feels like home," Zaletel says, "which is kind of strange considering it's such a grand and intricate space. But the work that he puts into that space and the work that we do there helps keep the energy. There is definitely this exchange, it feels like an offering, a reverence because of the trust and beautiful work you are surrounded by. Amazing things happen there."

Indeed, it feels as though being around so much imagination can only enhance artistic output. Often when Graham is working, passersby will wander in through the back door of the studio to take a look around while the artist is threading beads, hammering patterns or painting. Even though he's busy, he will take the time to chat about his latest project and listen to his visitors. Walking into the studio offers a step into a time capsule, a place far beyond the cares and chaos of the outside world. That time on the inside offers a respite from reality, a breath of fresh air and a chance to appreciate the power, purity and majesty of the creative spirit.