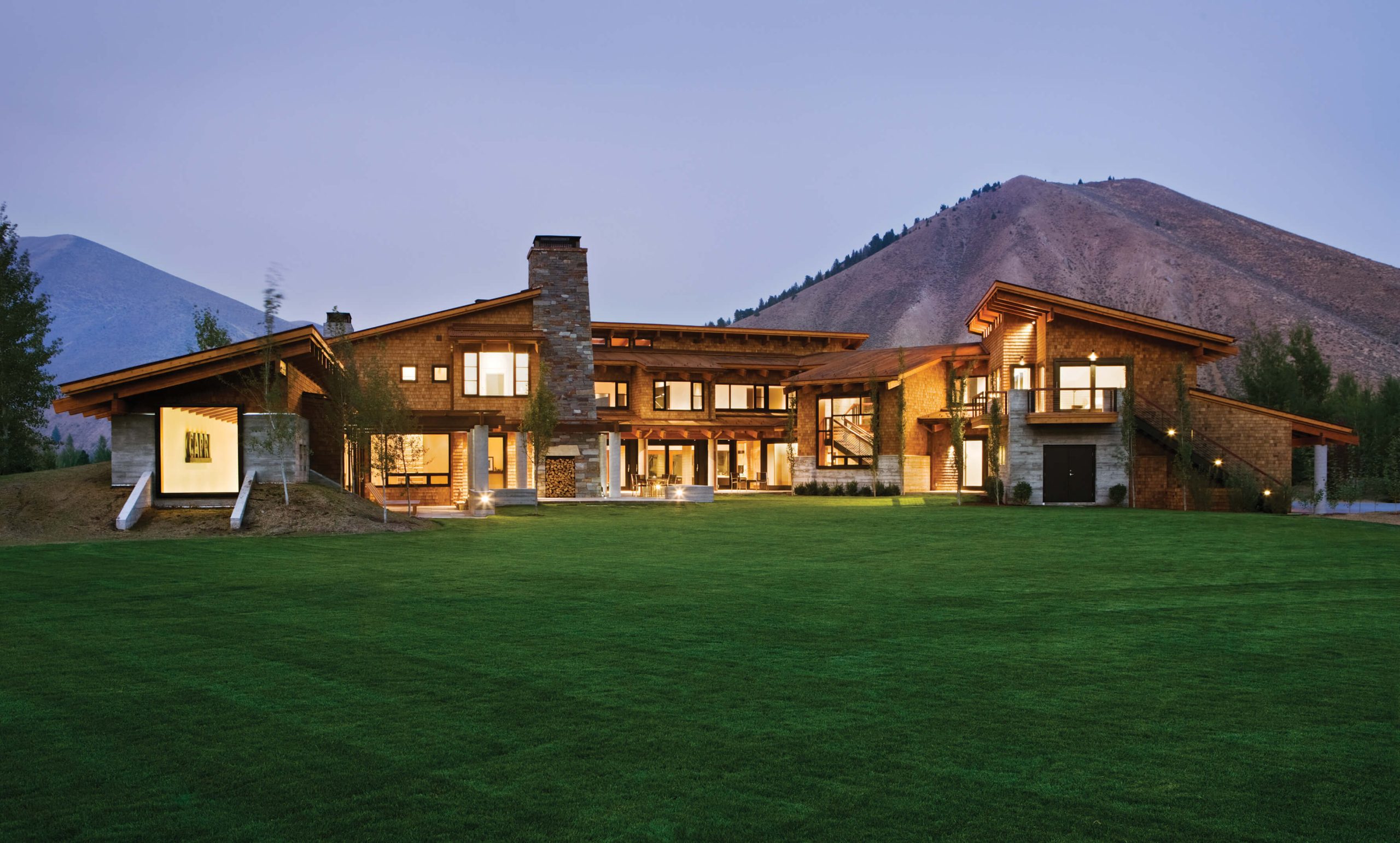 In this project called Golden Eagle, Williams Partners Architects designed the home to include an indoor pool to the left of the centralized great room, and on the right over the garage is the guest suite.
11 Jul

Rendering: Above and Beyond

In November 2022, Williams Partners Architects will mark three decades in business. Over the years, the Ketchum, Idaho-based firm has built more than 100 houses and, currently, the six-member team is working on 30 projects. It's an understatement to say they've put their mark on Ketchum, Sun Valley, and other parts of Idaho; and they've won too many awards to list.

For the first seven years, Jeff Williams was the sole proprietor, handling everything, and he still keeps the firm's books. That might sound odd for such a successful enterprise until you understand the integrative way the firm works.

"The reason six people can do 30 projects," explains Caleb Spangenberger, a partner in the firm, "is because we all can do everything. We can all fix the printer, and we can all go pitch a client. From top to bottom, we're engaged — all of us — in every aspect of the project. You're touching everything from the first napkin sketch to handing the owners the keys. That sets us apart."

Williams grew up constantly moving as his father's job took the family from one city to another, and in each new place, the family would spend a day driving around, looking for the right home and discussing the houses they were seeing. Williams traces his first interest in architecture to those family house searches.

Once he'd graduated from architecture school at Washington State University, Williams hit the road and began exploring architecture across the U.S., putting 17,000 miles on his car. "Frank Lloyd Wright was always a big influence," he says, adding there were other architects he admired, like Louis Kahn. But Williams managed to visit 100 Frank Lloyd Wright houses, eventually visiting both Taliesins. "I came to the conclusion that Frank Lloyd Wright was kind of like a drug for me, and I needed to give him up," he says with a laugh. "If I kept studying him, I'd just be another clone, so I cut the cord and looked at a lot of other architects."

"I think any American architect who fails to mention Frank Lloyd Wright as an influence is probably lying," Spangenberger says. He himself came of age working in the trades but was deeply influenced by his high school drafting teacher. "The guy was pretty brilliant and turned me on to the ability to design and think about spaces rather than just work with your hands."

Another influence was the maverick architect Samuel Mockbee, a MacArthur Genius. "When I began scratching below the surface," Spangenberger says, "I became interested in workshop-type practices, like Samuel Mockbee, for example." Mockbee founded the Rural Studio out of Auburn University, where he exposed students to rural poverty and taught them to work with whatever was around, creating buildings out of hay bales, used tires, and carpet squares. "That kind of brought me hope, as a kid from Georgia," Spangenberger says. "Here was a guy taking whatever he could find, creating projects with no budget, and making sculptural and beautiful things."

Williams found his way to Sun Valley in 1986, where his first project was a house for his parents, which puzzled local real estate agents, who kept asking, "What is it?" They needed to pin down a name for the style, but Williams has never boxed himself into any one style beyond being based in Modernism.

"As a young architect, I worked in a lot of different firms," he says, "and I saw a lot of different kinds of work, from working at NBBJ in Seattle, which at the time was the sixth-largest firm in the world, to working in one-man offices. I wanted to see the whole gamut, to see what the world of architecture was like."

Spangenberger spent years with TVS Architecture & Design, a large Atlanta-based firm that's built public and commercial projects worldwide. But he fell in love with the West and took a job with a small firm in Ketchum. In 2017, he joined Williams Partners. "Jeff is someone a lot of people locally aspired to be," he says. "He's had a really successful career here for a long time, does excellent work, is very modest and humble, and just a good person, so once I was introduced, it just became obvious that this is where I wanted to wind up."

While practicing for more than 30 years and with so many completed projects, Williams has working with clients down to a science. "It's not a mystery to us," he laughs. The firm sends out a program for clients to outline their requirements for the house. They're also asked to send images they've found online that appeal to them, so the firm can get a sense of their taste. "Then we try to get something on the table so we can all sit around and work the designs through various iterations," Williams says. "We can look at a design and say, 'This is our first take; this is by no means where we're going to end, but we took your requirements and aesthetic interests, and we've come up with this concept.' And I sketch out a plan, and in the computer, we create a 3-D model. So we try and talk the whole design process through, and say, 'Look, don't get caught up on the specifics here. We have to work through this and see how it will work to your benefit.'"

A major source of satisfaction for Williams is the length of time many clients and their families have hung onto the houses. "For a long time," he says, "the realtors weren't familiar with our work, because there just weren't a lot of houses on the market, but suddenly last year, one house we did was on the market for $16 million and another for $12 million, and believe me, when those things were built they cost a fraction of that."

He's also proud of the way the designs have remained fresh. "They're not embarrassing," he says. "They haven't aged in a way that people think they're out of fashion — and fashion changes a lot in the residential architectural world, especially in mountain architecture."

The firm also likes a challenge. As Ketchum and Sun Valley have been developed, Spangenberger explains, most of the flat land has already been taken. "There [are] just not many flat lots on the golf course left. They're all on a hillside, maybe having an exposure to avalanche or flooding, and so we enjoy creating good design within those constraints."

With the high-end and often conservative clients who've come to Williams Partners, sustainability has been a bit of a hard sell, but the requirements of building in a mountain desert climate have produced a quiet version of sustainability, which naturally also includes the longevity of the houses. "We've pushed several of our clients for solar panels and green roofs and a variety of different things, but we've found very few takers," Williams says. "I think we're making inroads as our clientele becomes younger and as it's become less expensive to do. And I think our houses are way more efficient, in terms of insulation and the quality of the window packages and a lot of the materials, than houses you'd see in normal suburban areas. It's just a given, because of the high altitude and the sun exposure. I've had to take those things into consideration for a long time."

"I would say the industry is moving there, generally speaking, as the big picture, with or without the clients' impetus," Spangenberger says. "The energy codes, the product manufacturers, they're all trending in that direction, so our buildings get tighter and more energy efficient, whether it's a goal from day one for the client or not."

At Golden Eagle, an earlier design in a subdivision, Williams says the exterior was all about creating a natural appearance. The roof is corrugated steel that's rusted nicely, and the walls are wainscoting and board-formed concrete. "In our high altitude here, houses that are painted take endless maintenance," he says, "and we were trying to choose materials that last a long period of time. It was a landmark project for the office. It represented a lot of our ideals at that point and the direction in which we wanted to take architecture."

"I push for that house quite often when we're representing our work," Spangenberger adds, "simply because there is no style that you can point to. It shows the breadth and depth of the reach of the company when we're given the opportunity."

At another project called Hard Rock Lane, the architects had to take into consideration exact measurements for each piece of the client's large art collection. And Knob Hill II is on a steep site with streets at either end, and each blends subtly into its site.

"With the next project we're always trying to do better," says Williams. "To create a more interesting project, and if we're lucky, another timeless project."

Looking to the future, they admit they've thought of adding public projects to their portfolio, but those jobs tend to go to people who already have a number of public projects under their belts. For the time being, the firm will remain small, despite the number of projects coming in.

"I would say we're not interested in growth for growth's sake," Spangenberger says. "But we don't take an anti-growth stance either. If the situation arises and the circumstances are favorable, we would consider growth for sure. We've done such a good job of doing it intentionally that we want to maintain that and make sure we're doing it the right way."

"That will be in the hands of the guys taking over in the future," Williams says.