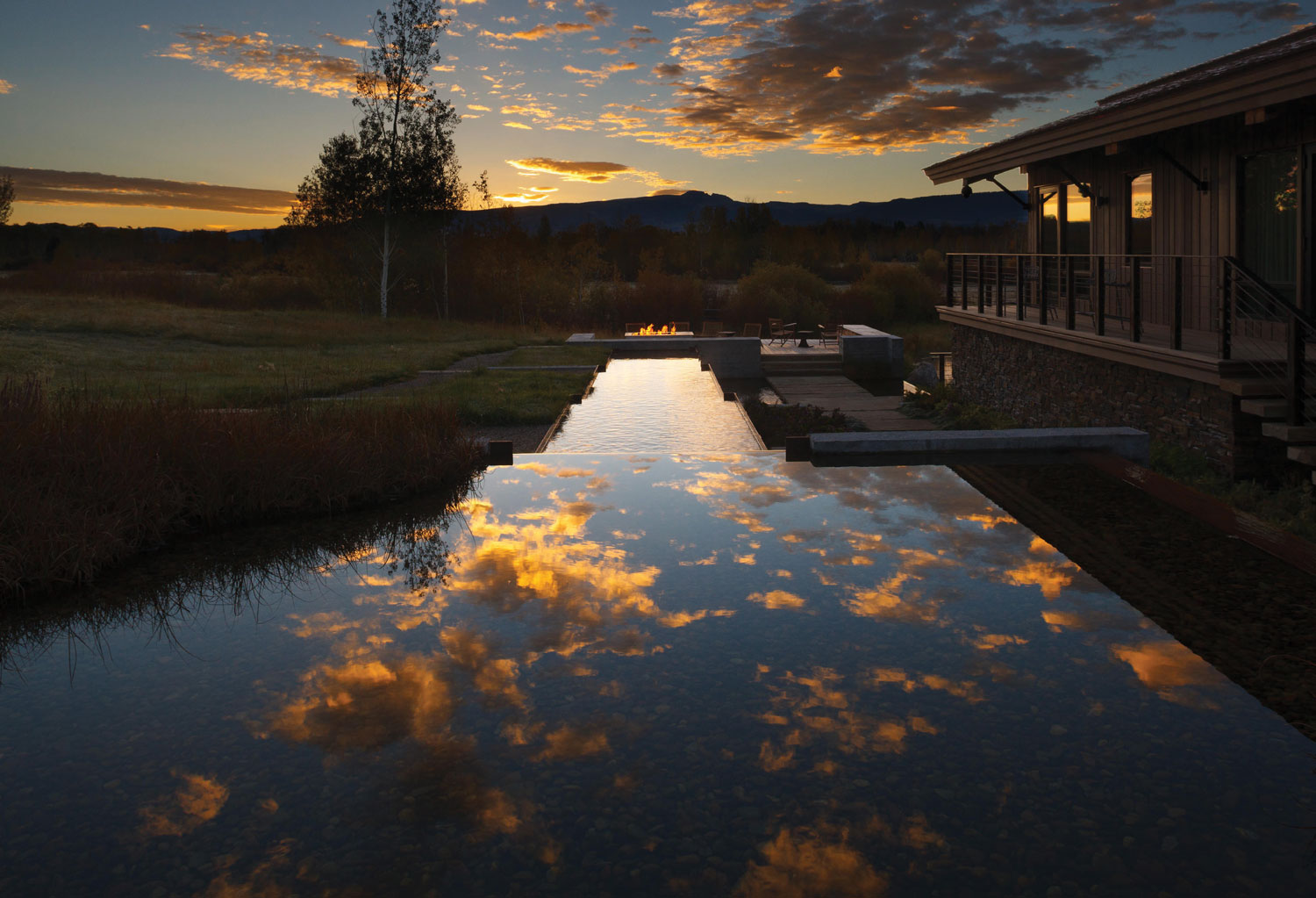 Designed by Verdone Landscape Architects, water defines the view to the mountains from this Jackson Hole home while grounding the circulation around the lower level.
08 May

Rendering: Calculated Restraint

Jim Verdone's mantra is "less is more." At Verdone Landscape Architects in Jackson Hole, Wyoming, he's gained a following for creating artful landscapes that present themselves as timeless and natural: Water might tumble down moss rocks, boulders lie along a driveway as if they'd fallen there eons ago, native grasses line ponds — but if you're looking for sweeping formal lawns, Verdone is not your man. 

"We have a deep appreciation for the landscape of the Northern Rockies," he says. "So we don't take a conventional approach to design. We aim for a win-win balance between what's good for the natural resources and what the client wants."

Natural resources serve as a restriction on both architecture and landscaping, particularly in Jackson Hole. "We're in an environmentally sensitive area in the Greater Yellowstone region, with two national parks," Verdone explains. "And the Jackson Hole Valley is landlocked by federal lands, either parkland, national forest, or BLM. So we have a lot of resource values that come with every site." 

The firm has designed landscapes as far afield as California, but their primary clients remain in the Northern Rockies. They've often worked with JLF Architects, headquartered in Bozeman, Montana, and with Big-D Signature, the residential and resort branch of Big-D Construction headquartered in Jackson. An early design that brought the firm attention and awards was for Jack Livingood, the son of the founder of Big-D Construction.

These days, Verdone oversees design concepts, and principal Brannon Bleggi oversees most of the construction. "I stay involved throughout the design process," Verdone says. "But I'm no spring chicken. I try to stay focused on the bigger picture, the vision. But design isn't a static process at all. You get through schematics and go into construction, and you may see there's a way to do something better but keep the original design and thoughts alive — that's my job."

Verdone first came west in 1972 to take a National Outdoor Leadership School (NOLS) course, and he returned each summer throughout college to teach mountaineering in Wyoming, Colorado, and Montana. At North Carolina State University, he'd planned to major in forestry, but somehow (and he can't quite remember how), he found the College of Design and the field of landscape architecture.

After graduating, he returned to Wyoming for a NOLS alumni event. Friends convinced him to stay, and he thought he would for a while. Not forever. Just a while.

He didn't hang his shingle until the 1980s, following what he describes as "a series of typical ski-bum careers." In the beginning, Verdone Landscape Architects was just Jim. He did have the advantage, however, of being, if not the only landscape architect in Wyoming, one of a very few. After six or seven years, as Jackson Hole attracted more and more residents, the business grew, and he took on staff.

"Most of our clients were coming from elsewhere, places where they'd had more conventional landscaping, and they didn't necessarily want that here," Verdone says. "We begin all our projects by stepping back and looking at the big picture, what's going on with the site, identifying opportunities. We come up with ideas, and we kind of run those through the process of calculated restraint to come up with less is more."

Ask him about any of the firm's award-winning projects, and he's likely to delve into the restrictions imposed by regulations or issues involving the site, from reclaiming wetlands damaged by levees built in the early 1900s to sites vulnerable to flooding. He doesn't say so, but it's clear that part of the firm's process involves problem-solving.

And water is key. Often water is brought right up to the edge of a house; and waterfalls, channels, and ponds are recurring elements.

"Well, in the Jackson Hole Valley there's a lot of water," Verdone says. "Water is such a big part of the Western landscape and a big part of the culture and lifestyle. And clients were kind of pushing to site the houses closer to these natural features — streams, rivers, wetlands — and regulations were pushing us away, for resource protection. So our approach to that is to say, 'Look, we can bring those values to the house site and not compromise existing natural resources.'" 

Sometimes that means creating ponds fed from wells and carrying water through sluices lined with Cor-Ten steel or channels lined with reclaimed trestles from the Great Salt Lake Railroad. Verdone adds that there are myriad benefits of introducing water to the landscape design, from cooling to the sound of a waterfall. 

"We're in a prime native trout habitat, and you have to be very conscientious about anything that might impact that," Verdone says. "Over the years, we've spent a fair amount of time studying water quality and what we can do with design that will protect and, at times, even enhance water quality."

In lieu of lawns, the firm's landscaping projects employ hardscapes and terraces as the viewing platforms for the site and surrounding geography. "That allows the owners to experience the space from both inside and out, and to meet their functional need for outdoor spaces," Verdone says.

The firm prefers to work with architects from the inception of the project. "When architecture is too far down the road, it's hard to explore all the opportunities," he says. "Lines have been drawn. Being involved from the beginning is the best way. Sometimes you can say, 'Well if you move this wing over there, it'll open up the house to this view or this portion of the site that we can enhance and do more with.'"

On a project called Two Rivers, Verdone had already landscaped a house for the owners, and they sought his advice before even buying the 100-acre site, which they then subdivided into three parcels. Their approximately 35 acres is near the confluence of the Snake and Gros Ventre rivers. It's full of appealing features, from spring creeks to ponds and wetland, but due to regulations, the only possible building site was in a none-too-exciting pasture. Prevented from bringing the house to the most appealing elements of the property, Verdone's design instead brought the elements to the house. 

You won't see a lot of flowers on the firm's website. But that's only because the water features they create are so photogenic. 

"All of our projects have perennials," Verdone explains. "Here, in the Northern Rockies, when you start with trees, you have a small number of choices, and when you go to shrubs, you have a bit more, but there are hundreds and hundreds of native perennials, and the nursery industry has hybridized them to make them producible," he says. "Our clients love color, but they don't want anything that requires too much maintenance. There are also wetland plants that will tolerate being underwater, then dry for part of the year, so you can keep the sides of ponds looking green year-round. Then there's a certain amount of wildlife damage. When you have snow — which we do five months of the year — moose and elk are wandering around looking for food; you have to be aware of that in your plant selection. It requires a design solution beyond just picking a plant that will survive."

Verdone is quick to point out that the concept "less is more" doesn't mean a reduction in design work (manipulating the natural environment without treading too heavily is complex) or a reduction in the actual construction.  

"It's about blending the built element into the landscape," he says. "We like to say that when we're done, you won't even know we've been there."

But you will. The designs have a signature that can't be missed.