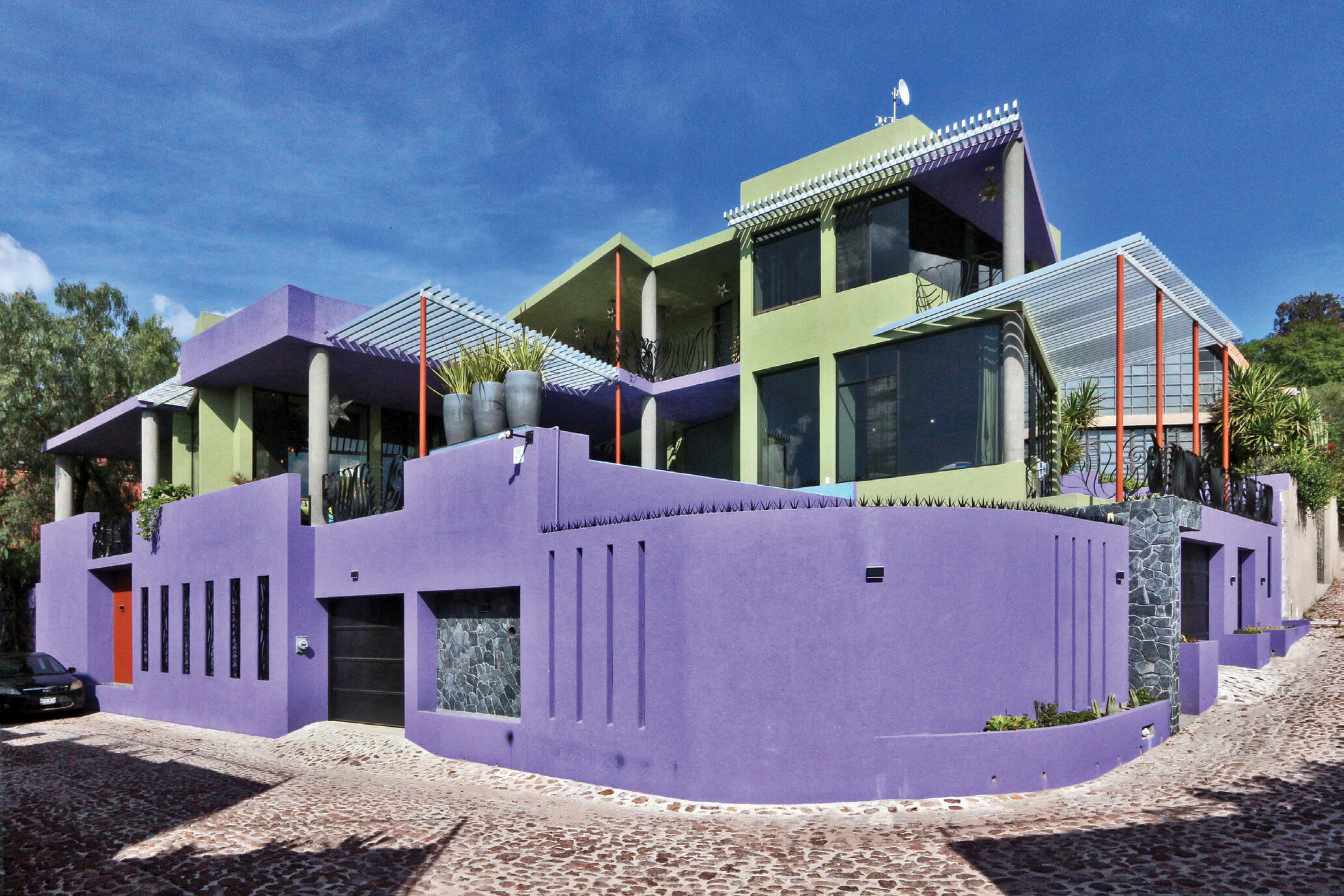 The green and lavender stucco exterior of Casa Nueva Donde Sueños Florecen echoes its location in Mexico's San Miguel de Allende, where hundreds of jacarandás burst into bloom each spring.
07 Nov

Rendering: House + House Architects

Cathi and Steven House of San Francisco-based House + House Architects met on their first day of Virginia Tech's architecture program, and married the day after they graduated. 

Then, the couple worked to save up for a year-long trip to Europe, where they visited all the landmarks of classic and modern architecture. But it was when they began moving further south into the heel of Italy's boot that they found themselves drawn by the design decisions in ever smaller, out-of-the-way villages. They were bowled over by the black conical roofs of Alberobello in Puglia and fascinated with narrow, twisting medieval streets that led to open squares dominated by churches. "They weren't following the rules of classical architecture that you're taught in schools," Cathi says.  

The couple continued to Greece, where they landed on Santorini days before Christmas 1975 — in the middle of the night. Hotels were closed for the winter, and nothing was open save a small shop. Fortunately, as Cathi relates, the shopkeeper knew a guy who knew a guy, and they were presented with the key to an empty, freezing-cold hotel. In the morning, when they threw open the window and saw an elegantly turning stairway carved into the cliff below, they had a defining moment that shaped their careers.

"The stairway made its way in a very organic manner, and … I saw a dance, and a piece of sculpture, and a way that architecture could be so fluid and just surprise you, then hide the surprise and give it to you again," Cathi remembers. "So, in that moment, I saw what I thought architecture should be. Moving through any space should be as beautiful and as soulful as moving on that stairway. I felt, and I have felt since then, that my soul as an architect was born in that moment." 

The two believe that architecture schools have failed by ignoring Indigenous designs and the soulful, thoughtful solutions they offer. In response, they've produced several books celebrating Indigenous architecture from Europe and West Africa to Mexico, including the recently released San Miguel de Allende: the soul of mexico. 

Steven and Cathi are both photographers with different perspectives, and they've lectured often. But in their practice today, they do not copy what they've seen; they're contemporary architects through and through, though they've absorbed the art and practical solutions of centuries of organically built homes and villages.

"When you come back," Cathi explains, "do you just build things that look like that? No — it's not what it looks like; it's what it feels like and what it does to you when you're there. Can I take those things and transform them, translate them into contemporary California architecture? Can I do that for my clients?" 

After six months in Santorini — where the first Greek phrase they learned was, "Hello, we're architects. May we come in and sketch your house?" — it was time to return to the U.S. But where? "We were sitting in a little taverna, and we drew a map of the U.S. on the paper tablecloth," Steven says. By process of elimination, they landed in San Francisco.

But after several years working for firms in San Francisco, the Houses took off again. "We realized what we liked and what we didn't like about how these other firms were run, but we needed to establish our own philosophy. So we quit and went back to immerse ourselves in the architecture that was so stimulating to us and to think about why we would start our own firm since it's so much easier to work for other people," Cathi says. 

When they opened their practice in San Francisco in 1982, they had next to no contacts. "They don't teach you in architecture school how to find clients," Cathi says. But one day, they were stopped at an intersection when they saw a former colleague. They called out through the car window that they'd started their own firm, and he sent them a project his firm didn't have time for. It was their first large project: a 10,000-square-foot house in Hillsborough, California.

"We've designed a lot of really big homes in Hillsborough and Atherton, but that's not our favorite thing," says Steven. "One of the most interesting projects that we've done was for the client with the lowest budget."

They were in their office one day when a neighborhood couple dropped by to say they were moving but wanted the Houses to know how much they'd enjoyed walking by over the years and seeing the models displayed in the office window. They added that they'd always wished they could have them design a house. Unfortunately, all they could afford on the land they'd bought was a double-wide trailer. "How much is a double-wide?" was the Houses' quick question. The answer was $87,000. The Houses retreated into a back room and debated the wisdom of even attempting such a project in one of the most expensive places to build in the U.S., but the challenge was irresistible. 

Once built, the house was featured in magazines. "People from all over the country contacted us to ask if they could purchase the plans," Steven says. "So the house was built in about 15 cities."

Every architecture firm has to discover what their clients want, and the Houses began posing questions in their office, then switched to questionnaires. However, in the case of couples, they found one voice was usually dominant, so they began giving each client a questionnaire with the instruction not to look at their partner's answers. The questionnaire has grown to include more than 250 questions, ranging from the obvious to the highly personal, as in, "How do you resolve arguments?"

The Houses had always thought they'd create their dream home in Greece, which was, after all, their first love. But Mexico's San Miguel de Allende quickly exerted its grip. During their second trip to San Miguel, they toured different homes by pretending to be in the market to buy. Finally, one real estate agent gave them a key to something he swore they wouldn't want, a structure on an odd-shaped lot that was crumbling and "nasty," as Cathi puts it. But for reasons they still can't explain, they were drawn to the lot and visited again and again. Each time they left, they agreed they'd taken leave of their senses. But in 1993, they built their second home there, and since then, Cathi has designed more than 40 homes in Mexico.

As the years passed, staff came and went at House + House, often leaving to start their own firms. Steven estimates they've spawned about 17 firms. Fifteen years ago, they began considering how wonderful their lives have been and what they could do to give back to their profession in a meaningful way. They founded CASA, the Center for Architecture Sustainability + Art. The five-week program is based in San Miguel de Allende, with ample time in Mexico City, for between five and 11 students from across the world. Each student completes numerous designs to challenge their way of thinking and a final design on a somewhat diabolically steep hillside lot. The challenge encourages wonderfully imaginative solutions, and the sketches are presented at a grand finale party.

One aspect of the program addresses the Houses' misgivings about the effects of computer programs on young designers. The danger is their speed, ease of use, and ability to make even bad designs look good. To the Houses, that can result in diminishing the soul of a design. "It's not that computers are bad; they just need to be seen as what they really are — very expensive pens," Cathi says. "With that thought, they can become an extension of the architect, the right tool in the right hand, and balance will be achieved."

Writer and editor Laurel Delp is a frequent contributor to WA&A and other magazines and websites, including Town & Country, Departures, Sunset, and A Rare World.