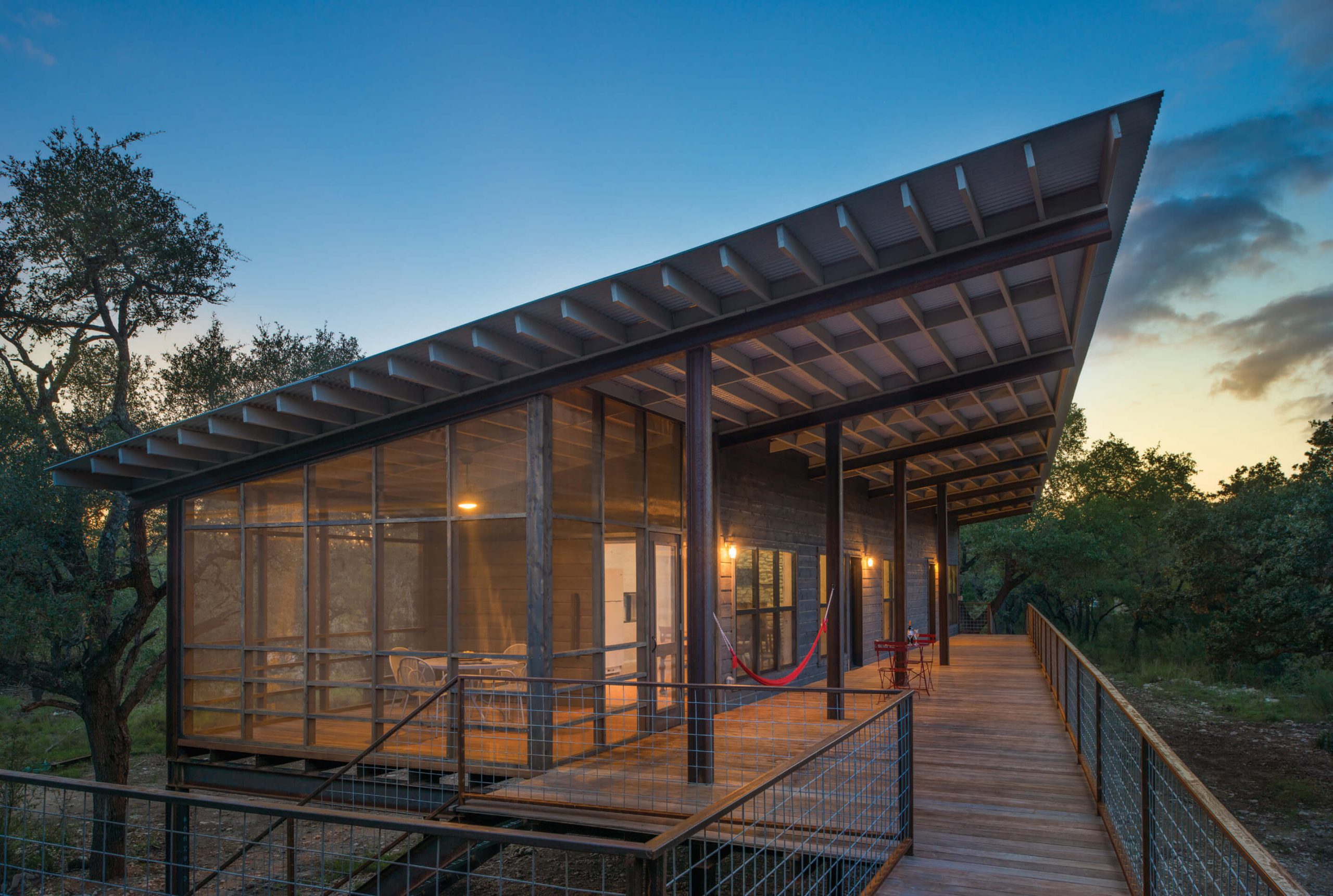 The living space inside Utopia Cabin was scaled down to be cozy in winter, but during the summer months, life quickly moves outdoors onto the terrace, where the homeowners appreciate the wildlife and the sounds of the rushing river.
17 Sep

Rendering: Simplicity and Style

Candid Rogers spent his childhood on a cattle and horse ranch in southwest Texas, where he absorbed both the natural and agrarian landscapes that remain imprinted on his imagination. It wasn't until just before starting college, when he visited Spain and France, that he experienced historic urban settings and began to consider architecture as a possible career. "It was another world from the environment where I was raised," Rogers says. "And I think by witnessing the urban fabric of Europe and being inspired by the process of building and architecture, that's when the light bulb went off."

In college, he took architecture courses at the University of Texas at Austin (UT), but he also studied Spanish and philosophy. "I felt it was important to get a broad base in the humanities and an understanding of literature to further my thoughts about architecture," Rogers explains. Afterward, he continued his education at UT for his master's degree in architecture.

That first visit to Europe also gave Rogers an appetite for travel. He became fascinated with different vernaculars, not just in terms of using local materials or specific architectural styles but also in how people adapted to their physical environments. "Exposure to the global landscape is invaluable to us as designers," he explains. "I've traveled a lot in Mexico and Latin America, even Cuba. These were great inspirations to me — just to witness the resourcefulness with which people work and live and their ability to adapt to environmental conditions; how they achieve so much with modest means."

After a few years at the respected firm Lake Flato, in 2004 Rogers opened the doors to his own architectural practice, Candid Rogers Studio, in San Antonio, Texas. These days the four-person firm is involved in projects from Mexico's Baja California coast to Durango, Colorado. They're equally comfortable designing modest homes as they are creating commercial structures with lavish budgets.

An early project, Marfa 10×10, brought AIA awards and media attention. The house's title explains it all: A 10-by-10-foot Corten steel encased box shelters a kitchen and bathroom, where a glass door lifts to a terrace. Boat stairs climb to the upper floor, which cantilevers out in a loft-style sleeping space, offering views across the edge of town, the Chihuahuan Desert, and the immense, ever-changing sky. The 320-square-foot house, which resembles a periscope rising from the earth, is a perfect fit for the quirky, small West Texas town put on the art map by the late sculptor Donald Judd.

"The whole project started as: How efficient can we make this building? It was almost an experimental prototype aimed at size and efficiency and based on notions of resourcefulness I gained from traveling," Rogers says.

Candid Rogers Studio operates collaboratively from their base in San Antonio. Everyone has a hand in designing. "It's an open discussion," Rogers says. "When a new project is brought to the table, we brainstorm the possibilities, and we include the clients in the process as much as they want. Some clients prefer minimal input; others are very much engaged."

Rogers views light and time as design materials, much like wood, steel, or concrete. "We like to say one of the things that's most important to us in designing a project is knowing where the sun is, its path at any given time, and what that means to the space. It has a visceral, poetic aspect as well, so we consider light as being one of the primary materials in crafting a space. How can we make the ordinary more vital?"

One example of this design philosophy is a simple limestone privacy wall at House 117 in a suburb of San Antonio. Limestone is a ubiquitous local material in Central Texas, but the unevenly cut slats in the wall provide openings for light and breezes, facilitating an experience that's beautiful and engaging, while also serving the function of shielding the unforgiving western sun.

"We like to think we can create a place or space with fewer materials and allow that to say more," Rogers says. "We can inject fewer ingredients but elaborate on those ingredients so that the place can evoke more emotion."

For Rogers, space and place are different concepts, but they merge in the architectural process. The space is the design, and once it evokes an emotional response in the occupant, it becomes a place.

Attuned to sustainability, the firm has designed a completely off-the-grid vacation escape in Texas Hill Country, Utopia Cabin, as well as houses using passive sustainable features, including shading and foam insulation to keep the harsh Central Texas temperatures at bay. As much as possible, they try to provide natural ventilation.

In another project, House 124 in San Antonio's historic Lavaca neighborhood, an 1870s structure had gone through so many redecorations and periods of neglect that it needed to be taken down to the frame. As they pulled the old house apart, the architects discovered more and more beautiful pine beneath the wallpaper, sheetrock, and coats of paint. To Rogers, rescuing and reusing the wood was an act of sustainability as well as beauty.

"We look to the vernacular for materiality," Rogers says. "And certainly the historic projects have been learning devices for that. We've taken cues from the limestone, old pine, and metal roofing, which are traditional here. Those materials we've learned from and expanded upon. We love to see ordinary materials in new ways; seeing something ordinary so intensely that we're able to let it become something extraordinary."

Utopia Cabin, which received a 2017 AIA design award, is located on a section of the Sabinal River that's susceptible to flooding, so the 825-square-foot house is mounted on stilts. Solar-powered and fueled by propane, it features a deliberately economical interior living space, since most of the year the family is on the sweeping terrace or inside the screened porch. These outdoor extensions of the home are shaded by the roof, which slants upward and out as if pointing toward the sky. The raised house and outdoor spaces provide views that would be impossible from a ground structure and place the homeowners inside the tree canopy.

A house the firm is currently building in Baja will be composed of cast concrete covered in a wild local plant, a weed really, that proliferates in arroyos called palo de arco. It's common in the region to use the sticks for shade canopies or pergolas, but Rogers is wrapping the house in palo de arco as both an element of beauty and a way to cool the house. The wood is strong enough to last up to four decades, and the plant regenerates constantly.

"The process of our design has to be instinctual," Rogers says. "We don't have a formula for producing designs. It's our instinctual response to a client's program or to a particular site, and of course making something beautiful; capturing something that's poetic and engaging the soul is what's important to us."

The firm will inevitably grow. Rogers is enjoying working on commercial spaces and is interested in increasing projects in the hospitality area. But his childhood connection to the outdoors, a fidelity to an economy of materials, and a respect for the regional vernacular balanced by the will to push it beyond its boundaries, will remain the firm's signature.

Writer and editor Laurel Delp is a frequent contributor to WA&A and other magazines and websites, including Town & Country, Departures, Sunset, and A Rare World.