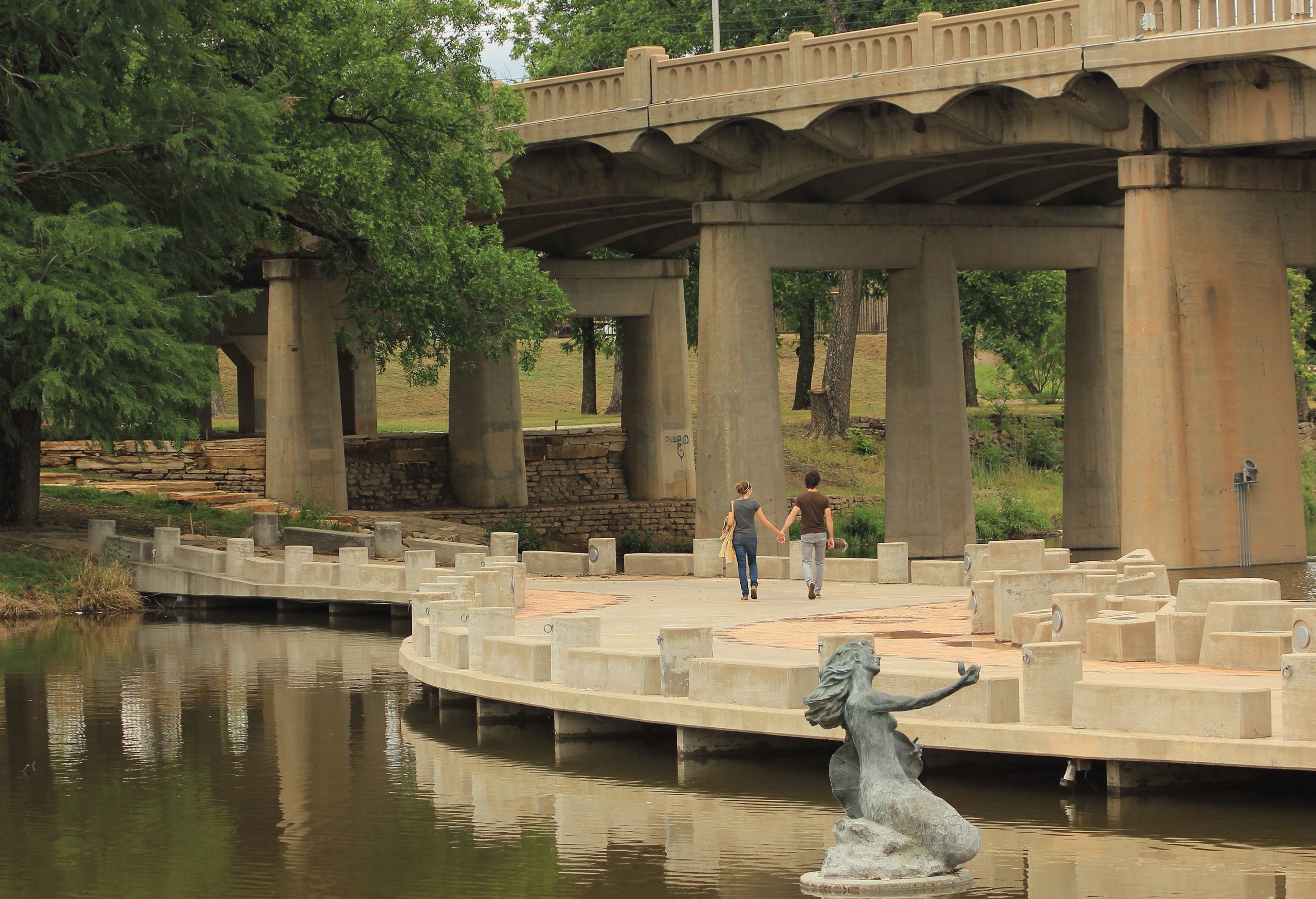 Celebration Bridge unites the two sides of the Concho River and is part of San Angelo's River Walk. Photo: Charles Luker
10 Sep

Wanderings: From Petroglyphs to Architectural Pioneers

When architect Oscar Ruffini stepped out of a stagecoach in the tiny West Texas town of San Angelo, he was very sick. His last hope of getting well in 1884 was the hot, dry air of this rowdy frontier town beside Fort Concho. It worked — he lived to be 98 years old and created a legacy of buildings that still stand today.

Ruffini was quite a character. He always wore a black suit, black tie, and black hat. He ate the same meals every day at the same time and in the same place. For breakfast, it was bacon and eggs at the City Café, and every afternoon, he ate a scoop of vanilla ice cream with a cherry on top at the Concho Drug Store. He designed approximately 40 buildings, including most of the churches in downtown San Angelo, and he helped found the Texas State Architecture Association of Architects in 1886, the precursor for the Texas Society of Architects.

In 2019, one of Ruffini's designs was rebuilt using drawings he made more than 100 years ago. The new Ruffini Chapel in the Old Town Historic District looks just like the First Presbyterian Chapel that the architect designed in 1886.

Fort Concho has been restored to what it was when Ruffini stepped onto its dusty Main Street. At this National Historic Landmark, you can see where soldiers got "three hots and a cot," and were paid $13 a month. Some were African American Buffalo Soldiers who arrived when the Civil War ended. The fort is home to the Douglas McChristian Collection of frontier soldiers' accoutrements. History comes to life when volunteers blow bugles, fire cannons, and re-create life at the fort. It also hosts the American Plains Artists Juried Exhibit & Sale, which historically takes place June through August.

In addition to these architectural gems, San Angelo is notable for its recently earned titles: The No. 1 True Western Town for 2020 by True West Magazine and certifications as both a Music Friendly and Film Friendly community by the state's Governer's office.

Four contemporary buildings would certainly catch Ruffini's attention if he visited today. The San Angelo Museum of Fine Arts is an award-winning 1999 design by Malcom Holzman of Hardy Holzman Pfeiffer Associates of New York City. Built from massive native limestone blocks with a vaulted copper roof and Texas mesquite hardwood floors, the innovative design sits on the banks of the Concho River and overlooks downtown. The museum is the home of the National Ceramics Competition, EnPleinAirTEXAS (see page 145), and a large-scale juried collection of outdoor sculptures. Contemporary American ceramics and Spanish Colonial and Mexican religious art complement a variety of changing exhibits from many cultures and periods.

Malcolm Holzman also designed the angular Stephens Central Library using Art Deco windows that resemble waves on the bow of a mighty ship.

The San Angelo Visitor Center, designed by Craig Kinney Architects, features a base of 250 tons of roughback quarried limestone, exterior walls of more than 300 tons of specially blended sandstone, and mesquite wood floors.

Ruffini wasn't the only architect of note in the region though. San Angelo's renovated City Hall and Murphey Performance Hall started as a 1929 gem of Art Deco architecture designed by Gustavus Trost of El Paso. The Regional/Urban Design Assistance Team, a program from the American Institute of Architects' Center for Communities by Design that completes citizen-led improvement projects, helped the city planners create a dynamic plan to unite the two sides of the Concho River and bring downtown and the Cultural District together.

Celebration Bridge was created to literally bridge the gap. And today, the accompanying River Walk is one of five Great Public Spaces, a designation by the American Planning Association. Walkers and joggers can travel along 4 miles of well-lit trails on the riverbanks, and kayakers can paddle right through town. There are 20 bridges crossing the branches of the Concho along with murals, mosaics, art lighting, and sculptures.
Downtown Attractions
Downtown San Angelo has a rich array of shops, bars, and restaurants; some renovated from Ruffini's original buildings. Miss Hattie's Restaurant & Cathouse Lounge was designed by Ruffini during the 1880s economic boom and was one of the first permanent structures in San Angelo, or try Angry Cactus, an upscale bar and grill. In his later years, Ruffini was a bit quirky. Hopefully he would approve of the bright turquoise doors on his first stone building, now J.Wilde's & Friends, a clothing store that is offers a mix of Western heritage with an eclectic twist.
Other shopping opportunities include Eggemeyer's General Store, which unites three renovated historic storefronts filled with unique items. At Legend Jewelers you'll find the treasure of San Angelo: rare colorful pearls from Concho River mussels. Cactus Book Shop has one of the best selections of Texas and Southwest literature in the state. You might want to put your feet in the hands of the expert bootmakers at M.L. Leddy's, which has been there for more than 100 years. Just ask, and you'll get to watch the bootmakers at work.
The ornate Cactus Hotel, created by Conrad Hilton in the 1920s, is now a meeting and events venue. And nearby Heritage Park, completed in 2020, sprang from the original R/UDAT study.
The murals of Paintbrush Alley pay homage to the movie "Giant," which starred Elizabeth Taylor, Rock Hudson, and James Dean, and was filmed in Marfa, Texas. The new Pop Art Museum is an open-air and open-mind bright spot in a former downtown bowling alley.
Throughout downtown, there are historical murals and most of the 101 sheep sculptures were painted by local artists. Galleries on the ends of the arts spectrum include Raw 1899 and Ruiz Studio and Gallery. The International Waterlily Collection fills seven large ponds in a sunken garden near the Concho River. It holds just a fraction of what is called the premier collection of water lilies in existence.
At The Chicken Farm Art Center, local artists scratch out creations in their studios that are housed in old farm buildings. The Silo House is a gourmet restaurant hidden away on the grounds.
Angelo State University campus showcases seven diverse public art pieces, the soon-to-open Mayer Museum, and a newly renovated planetarium where you can search the stars.
Off the Beaten Path
Near Paint Rock, a community of around 300 that serves as the Concho County seat, you will find one of Texas' major pictograph sites. Arrange a private tour to see an estimated 1,500 Native American drawings on a 70-foot-tall limestone cliff, some more than 1,000 years old. At the only other blinking-light intersection in town, you can't miss the Concho County Courthouse, which was built in 1886 by, you guessed it, Oscar Ruffini. Or take in local craftsmanship: visit a working blacksmith shop at 3 Nail Ironware, and Texas Handwoven Creations processes alpaca, llama, and buffalo fiber that's woven on site.
The early lure of the village of Christoval, on the trail between two forts, was its location on the South Concho River. It was one of the original art colonies in Texas, and from 1921 to 1928, the Texas Artists Camp became one of the leading institutions of its kind in the Southwest. Christoval Vineyards & Winery has a tasting room for their award-winning wines and a chapel for special events.
The Hummer House is the summer home to Texas' largest concentration of breeding black-chinned hummingbirds. Watch from the air-conditioned observation room as they fight over sugar water. You can even stay in a cottage on
the grounds.
The Hermits of the Most Blessed Virgin Mary of Mount Carmel are a community of men called to a life of silence, solitude, prayer, and penance in Christoval. Visitors are welcome to Sunday mass and to the monks' online store for fresh-baked bread, chocolates, and jellies.
When it's time to slow down, grab an ice cream sundae from The Latest Scoop in downtown San Angelo, and take a "Ruffini ramble" down to the Concho River. Listen to stories of the authentic Old West in the slowly flowing water, and you'll understand the independent and creative spirit of the community today.
MUSEUMS & GALLERIES
Black Swan Art Gallery & Wine Bar
325.658.9776; Facebook: blackswanwinebar
Fort Concho National
Historic Landmark
325.481.2646; fortconcho.com
Railway Museum of San Angelo
325.468.2140; sanangelorailway.org
Raw 1899 Gallery and Bar
325.703.6899; raw1899.com
Ruiz Studio and Gallery
325.655.0832; ruizstudio.com
San Angelo Museum of Fine Arts
325.653.3333; samfa.org
ATTRACTIONS
Angelo State University Public Art
texastech.edu/publicart, arTTrek mobile app
The Cactus Hotel
325.655.5000; cactushotel.net
Downtown San Angelo
325.655.2345; downtownsanangelo.com
Heritage Park
325.655.6565; heritageparksanangelo.com
International Waterlily Collection
832.274.3377;
internationalwaterlilycollection.com
The Chicken Farm Art Center
325.653.4936; Facebook:
chickenfarmartcenter
Paintbrush Alley & Pop Art Museum
325.254.5472; artinuncommonplaces.com
Ruffini Chapel & Old Town
fpcsanangelo.org/ruffini-chapel-rental
SAMFA Sculpture Garden
325.653.3333; samfa.org/sculpture-competition
SHOPPING
Cactus Book Shop
325.659.3788; cactusbookshop.com
Carol Turner Collection
325.949.7625; carolturnercollection.com
Concho Confetti Antiques
325.655.3962; conchoconfetti.com
Eggemeyer's General Store
325.655.1166; FaceBook: Eggemeyers
Gen Store
J.Wilde's & Friends Boutique
325.655.0878; Facebook:
J.Wilde's & Friends
Legend Jewelers
325.653.0112; legendjewelers.com
M.L. Leddy's
325.653.3397; leddys.com
DINING
Angry Cactus
325.703.6999; theangrycactus.com
Carter's Sugar Shop
325.656.8035; Facebook: carterssugarshop
Cork & Pig Tavern
325.227.6988; corkandpig.com/san-angelo
Fuente's Café Downtown
325.658.2430; fuentescafedowntown.com
The Grill
325.944.2843; thegrillsa.com
Miss Hattie's Restaurant & Cathouse Lounge
325.653.0570; misshattiesrestaurant.com
The Latest Scoop
325.277.6999; latestscoopicecream.com
The Silo House
325.658.3333; Facebook: silohouserestaurant
Stango's Coffee Shop
325.659.8999; Facebook: stangoscoffeeshop
Twisted Root Burger Co.
325.653.7668; twistedrootburgerco.com
Zero One Ale House
325.653.5123; zeroonealehouse.com
UNIQUE LODGING
Historic Sealy House B&B
325.653.0437; Facebook: historicsealybb
Inn at the Art Center
325.659.3836; innattheartcenter.com
Old Central Firehouse Bed & Brew
325.703.2029; ocfbedandbrew.com
OFF THE BEATEN PATH
3 Nail Ironware
325.732.4740; 3nailironware.com
Christoval Vineyards & Winery
325.315.8077; christovalvineyards.com
Hummer House Wildlife Habitat
325.255.2254; hummerhouse.com
Mount Carmel Hermitage
325.896.2249; carmelitehermits.org
Paint Rock Indian Pictographs
325.732.4376; Facebook: thePaintedRocks
Texas Handwoven Creations
325.732.4370; texashandwoven.com
Texas State Park
325.949.4757; tpwd.texas.gov/state-parks/san-angelo
EVENTS CALENDAR
San Angelo Visitor Center
325.655.4136; discoversanangelo.com/events