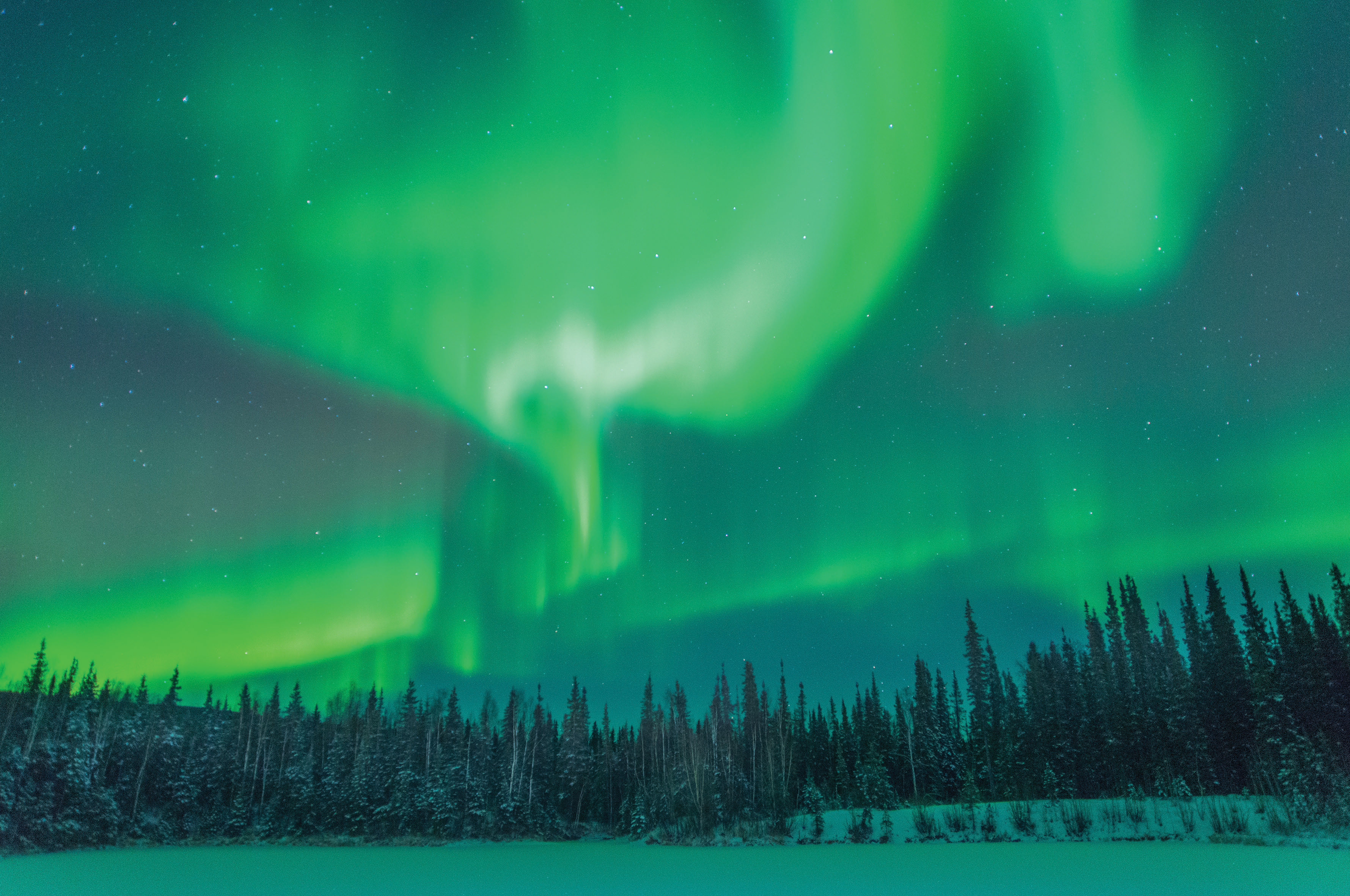 Views of the northern lights from the Steese Highway in Fairbanks, Alaska. Photo by Sherman Hogue/Explore Fairbanks
20 Jan

Wanderings: Inspired by Nature

Alaska, nearly two and a half times the size of Texas, remains a land of seemingly endless open space. It's also a destination of misconceptions by those unfamiliar with what's known as "The Last Frontier." Most notably, the icy igloo, thought to have been built for residential use, is merely Arctic architectural lore. It also doesn't snow all the time, and it's not dark 24 hours a day. The facts are that igloos were once only used as temporary shelters by the Inuit. And, upon arriving in Fairbanks under the bright summer sun, never in my earthly dreams would I have imagined staring at a temperature reading of 88 degrees atop the Mt. McKinley Bank — at 9:50 p.m.

Fairbanks is 196 miles south of the Arctic Circle. It's home to 32,000 hearty souls who balance their daily lives between the presence and absence of light, losing six minutes daily from the longest stretch of 22 hours during the summer solstice to less than four hours during the winter solstice. So, whether enjoying the world's most optimal viewing of the northern lights some 243 days a year, or playing golf during the midnight sun on the other days, one's internal clock requires periodic adjusting.

Founded in 1901 by Captain E.T. Barnette when his boat ran aground while navigating the shallow waters along the Chena River, Alaska's "Golden Heart City" was named in honor of Indiana Senator Charles Fairbanks [1897–1905] who, coincidently, never stepped foot in Alaska. Fairbanks began as a mining town after Italian miner Felix Pedro discovered gold. Modern-day prospectors can test their own gold-panning skills following a train ride tour of Gold Dredge 8, a mine that closed in 1959 and a National Engineering Landmark, where millions of ounces of gold were once extracted from the underground permafrost saturating much of the sub-Arctic interior region.

Above ground, Fairbanks claims a diversified economy and a thriving creative community that benefits from the region's natural resources and inspiring environment, highlighted by 20,310-foot-high Denali, North America's tallest peak. Behold evidence of Alaska's abundant wildlife at the introductory gateway to downtown Fairbanks and to walkways along the Chena River in the form of the self-proclaimed World's Farthest North Antler Arch, comprised of more than 100 donated moose and caribou antlers.

After the mandatory photo op, step inside the adjacent Morris Thompson Cultural and Visitors Center for a primer on the history, culture, and lifestyle of Interior and Arctic Alaska. The free entry into the 9,000-square-foot exhibit hall, brought to life by the hometown architectural firm of Bettisworth North, invites visitors to take advantage of information services, interpretive exhibits, and artisans' workshops.

The city's centrally-located, 44-acre Pioneer Park provides cultural immersion of a different variety. Opened in 1967 for the Alaska Centennial Exposition to celebrate the 100th anniversary of the state's purchase from Russia, the park showcases Fairbank's history with multiple museums and attractions, such as the Bear Art Gallery, Tanana Valley Railroad Museum, a carousel, mini-golf, and gold-rush era artifacts. When hunger strikes, a local favorite in the park is the Alaska Salmon Bake, offering indoor and outdoor seating, followed by a short walk to some good old-fashioned entertainment at the Palace Theatre.

On the west side of Fairbanks, visit the University of Alaska Museum of the North, which was enhanced with a modernist-designed wing in 2005 by nationally recognized architect Joan Soranno. The location presents opportunities for viewing the Alaska Range and Tanana Valley, but the museum shelters 2.2 million artifacts and specimens representing the region's biological diversity and thousands of years of Alaska's cultural traditions, including ancient ivory carvings, objects used for both ceremony and daily life by Native Alaskans, and an almost 50,000-year-old mummified steppe bison.

Discovering Fairbanks' local artistic talent can be as simple as walking downtown. Located under the city's streets is a grid of pipes carrying steam from a nearby energy power plant that provides heat for commercial buildings. Since these steel objects protrude roughly eight feet above ground for venting, the Downtown Association of Fairbanks and Projects Fairbanks recognized an opportunity to add some sparkle to a low skyline that is predominantly beige. Thus, the "Art in the Heart" project was conceived to paint 13 utilidor pipes with designs running the gamut, from Alaska themes to Marilyn Monroe wearing bunny boots.

Being a landlocked city, Fairbanks typically exists under the radar since it is not a cruise port. But don't be misled. The state's largest city after Anchorage serves as the ideal basecamp to spend countless hours (especially during the summer) navigating the scenic and cultural wonders of the Interior and Far North, whether by steamboat along the Chena River, by a musher and dog team, by bush plane, or via a four-wheel-drive vehicle. If you really want to know Alaska, go straight to the heart.