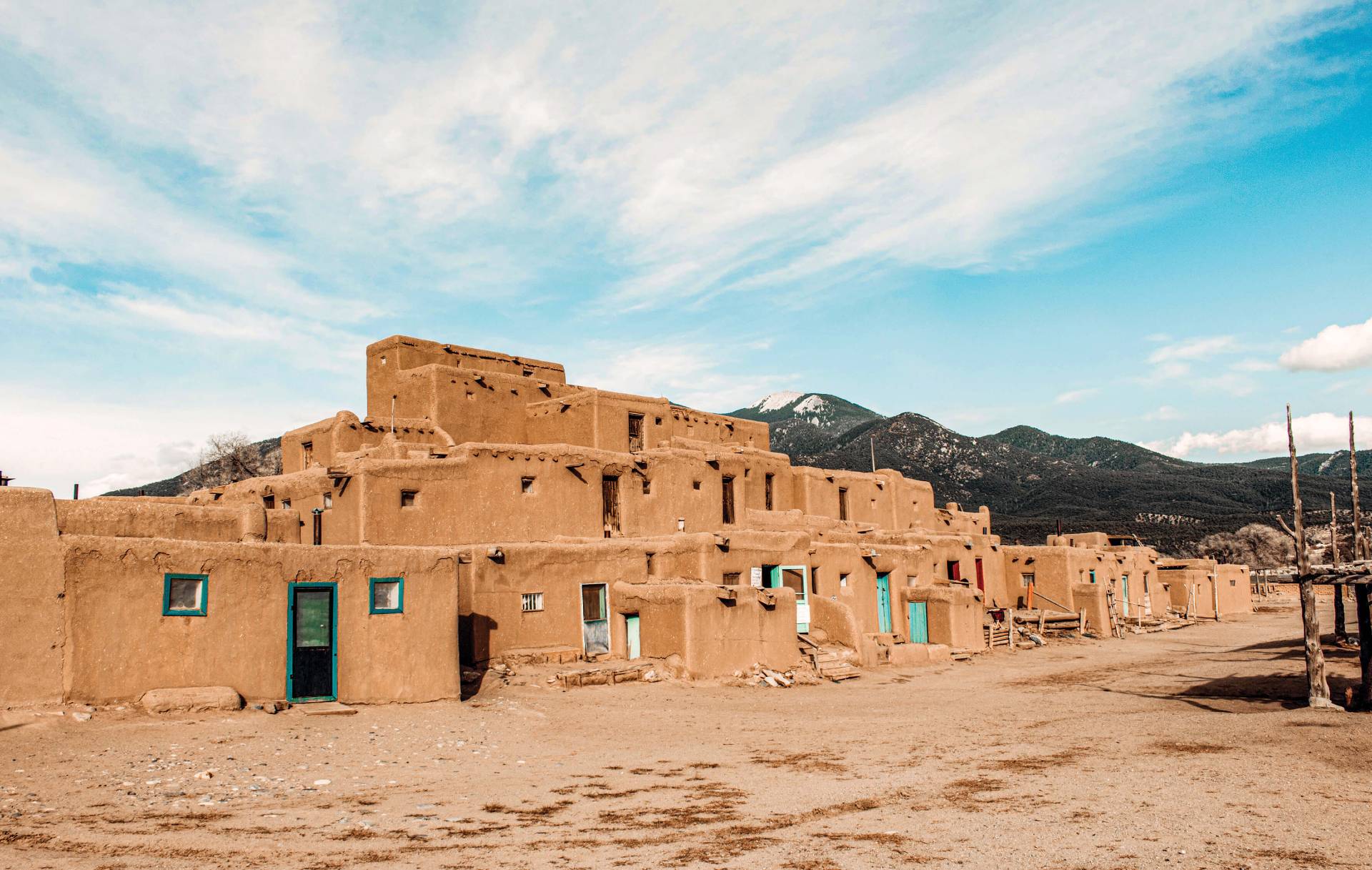 Spanish explorers who first saw Taos Pueblo in 1540 thought it was one of the mythical golden Seven Cities of Cibola. The Pueblo is the oldest continuously inhabited community in the U.S.
09 Jan

Wanderings: Taos Radiance

"I found out that the sunshine in New Mexico could do almost anything with one," wrote American arts patron Mabel Dodge Luhan after moving to Taos in 1917. In the high-altitude village with an elevation of 6,969 feet, nestled beneath the Sangre de Cristo Mountains, she discovered that the sun's radiance, combined with the setting's spiritual aura, could "make one well if one felt ill, or change a dark mood and lighten it."

Today, more people than ever seek to brighten their lives in Taos, which offers myriad pleasures despite remaining a relatively small town. Visitors come to experience its rich Puebloan heritage; spectacular natural surroundings for hikers, campers, and skiers; Western and New Mexican history; outstanding restaurants; and thriving arts scene. To sort out that rich panoply, it's wise to begin at the Taos Visitor Center, either online or upon arriving in town.

Many artistically minded visitors flock to Taos today thanks to Mrs. Luhan. Born Mabel Ganson, a banking heiress and quadruply married dynamo originally from Buffalo, New York, the influential hostess beckoned the day's intelligentsia, including writers D.H. Lawrence, Willa Cather, Robinson Jeffers, and Aldous Huxley; photographer Ansel Adams; and artists Marsden Hartley, Nicolai Fechin, and Georgia O'Keeffe. Many fell in love with Taos after visiting. The Lawrences even bought a 160-acre property 20 miles to the north, now preserved as the D.H. Lawrence Ranch.

For an authentic taste of those culturally heady times, consider staying in the Mabel Dodge Luhan House, a historic hotel with expansive vistas surrounding the elegantly eccentric 19-guest-room adobe. Other evocative options include the Taos Inn, a gracious, antique-filled property occupying several 19th-century adobe houses. One, home to the town's only doctor in 1890, is now Doc Martin's Restaurant, serving an updated take on authentic New Mexican cuisine.

Snow sports aficionados may want to stay at lift-adjacent The Blake at Taos Ski Valley, half an hour's drive from Taos Plaza. And travelers desiring something off the beaten path should consider Hotel Luna Mystica, an assortment of vintage trailer homes on 12 acres. Or spend the night in one of the fanciful passive-solar dwellings known as Earthships, accessed via the Earthship Visitor Center. These sprang up as a community over the past 30 years in nearby Tres Piedras, en route to the Rio Grande Gorge Bridge, which, 10 miles northwest of Taos, provides breathtaking views 650 feet above the Rio Grande.

Taos' greatest superlative, however, remains Taos Pueblo, northeast of town. The largest of the New Mexico Pueblos, the mammoth multi-story adobe structure — first built over a millennium ago and still home to more than 1,000 Native Americans — is a National Historic Landmark and UNESCO World Heritage Site. Guided tours are offered daily from mid-spring to early winter, except during private rituals; check the online calendar for special tribal dances and feast days.

Several other sites evoke key historical eras. La Hacienda de los Martinez, a grand adobe residence originally built in 1804, is a living museum of Spanish Colonial life. The Kit Carson Home & Museum presents the house bought in 1843 by the legendary trapper, mountain man, rancher, soldier, and federal agent to the Ute and Taos Pueblo tribes.

Down the block from Carson's place, the Couse-Sharp Historic Site preserves the adjacent homes, studios, many artworks, and artifacts of E. Irving Couse and Joseph Henry Sharp, friends and two key founders in 1915 of the Taos Society of Artists, who combined classical European training with Southwestern subjects to create a new American art movement. Seven minutes away, the E.L. Blumenschein Home and Museum presents yet another Taos Society member's residence and artwork.

The Taos Society of Artists disbanded in 1927, the year that marked the arrival from New York of Russian-American portraitist Nicolai Fechin. Along with a salubrious climate to help him recover from tuberculosis, he found wondrous new subjects in the area's people. His home, adorned with ornate cabinetry he carved and displaying five decades of his paintings, forms the foundation of the Taos Art Museum at Fechin House. Fechin's adjacent studio offers rotating exhibitions of New Mexico artists.

Such a wealth of historic, artistic sites doesn't mean that creativity in Taos stopped a century ago. The Harwood Museum of Art, founded in 1923, presents a comprehensive collection including works by the "Taos Moderns," other American Modernists, and contemporary New Mexican artists. Don't miss the Harwood's Agnes Martin Gallery, a serene circular room displaying seven large works by the respected Minimalist, who spent the last 11 of her 92 years in Taos before her passing in 2004.

For a comprehensive collection of the arts and cultures of the Southwest's Native American and Hispanic cultures, visit the Millicent Rogers Museum, established in 1956 by the son of its namesake, a fashionista Standard Oil heiress, who settled in Taos in 1943, wholeheartedly supported its creative community, and died 10 years later at age 50.

Of course, a bevy of galleries still makes great local contemporary art available to collectors and art enthusiasts. To discover what's showing, stop by the Taos Gallery Association near the Couse-Sharp site. And to view and buy from a museum-quality selection of Native American and Hispanic textiles, Southwestern antiquities, and original and fine reproductions of New Mexican furniture, visit Tres Estrellas gallery.

A morning or afternoon of Taos culture calls, of course, for sustenance. La Cueva Café, within walking distance of many museums and galleries, serves mid-morning favorites like breakfast tacos and egg-topped cheese enchiladas. Wild Leaven Bakery, near the Fechin House, creates superb fresh-baked breads and pastries, including chile-cheese sourdough and croissants, along with homemade soups. Come evening, Taos restaurants provide many delightful options, from local beers at Taos Mesa Brewing/Taos Tap Room to sophisticated wine bar offerings at Parcht, perfectly grilled meat and accompanying libations at Martyrs Steakhouse, and contemporary American fare at Lamberts of Taos and medley.

Perhaps no restaurant, though, so captivatingly evokes the Taos spirit as The Love Apple. Located just northwest of town in a former 19th-century Catholic chapel, this creation of proprietor Jennifer Hart serves exceptional seasonal Northern New Mexican cuisine with contemporary twists. Think quesadillas filled with local smoked Gouda, portabella mushrooms, sweet onions, and chipotles; fresh trout grilled in cornhusks with cilantro-lime relish; and seasonal fruit crisps or cobblers. In a dining room with worn wooden floors beneath high vigas, or on a covered patio with light bulbs strung overhead, it's easy to feel as if the Taos radiance continues glowing well past sunset.

Based in Los Angeles, Norman Kolpas is a senior contributing editor to Western Art & Architecture and the author of more than 40 books and hundreds of articles. He also teaches nonfiction writing in The Writers' Program at UCLA Extension.
ACTIVITIES AND INFORMATION
D.H. Lawrence Ranch
dhlawrenceranch.unm.edu
Kit Carson House/Museum
575.758.4945; kitcarsonmuseum.org
La Hacienda de los Martinez
575.758.0505; taoshistoricmuseums.org
Rio Grande Gorge Bridg
taos.org/explore/landmarks/gorge-bridge
Taos Pueblo
575.758.1028; taospueblo.com
Taos Visitor Center
575.758.3873; taos.org
Artistic Attractions
Couse-Sharp Historic Site
575.751.0369; couse-sharp.org
E.L. Blumenschein Home & Museu
575.758.0505; taoshistoricmuseums.org
Harwood Museum of Art
575.758.9826; harwoodmuseum.org
Millicent Rogers Museum
575.758.2462; millicentrogers.org
Taos Art Museum at Fechin House
575.758.2690; taosartmuseum.org
Taos Gallery Association
taosgalleryassoc.com
Tres Estrellas
575.770.3262; tedtaos.com
Lodging
The Blake at Taos Ski Valley
866.272.8933; skitaos.com/lodging/blake
Cielo Taos
575.224.2336; cielotaos.com
Earthship Visitor Center
575.751.0462; earthshipglobal.com
El Monte Sagrado
575.758.3502; elmontesagrado.com
Hotel la Fonda de Taos
575.758.2211; lafondataos.com
Hotel Luna Mystica
575.613.1411; hotellunamystica.com
Mabel Dodge Luhan House
575.751.9686; mabeldodgeluhan.com
Taos Inn
855.963.2180; taosinn.com
DINING
La Cueva Café
575.758.7001; lacuevacafe.com
Doc Martin's Restaurant
575.758.1977
taosinn.com/restaurant/doc-martins
Lambert's of Taos
575.758.1009; lambertsoftaos.com
The Love Apple
575.751.0050; theloveapple.com
Martyrs Steakhouse
575.751.3020; martyrssteakhouse.com
medley.
575.776.8787; medleytaos.com
Orlando's New Mexican Café
575.751.1450
facebook.com/orlandosnewmexicancafe
Parcht
575.758.1994; parcht.com
Taos Mesa Brewing/Taos Tap Room
575.758.1900, ext.2
taosmesabrewing.com/taos-tap-room
Wild Leaven Bakery
wildleavenbakery.com