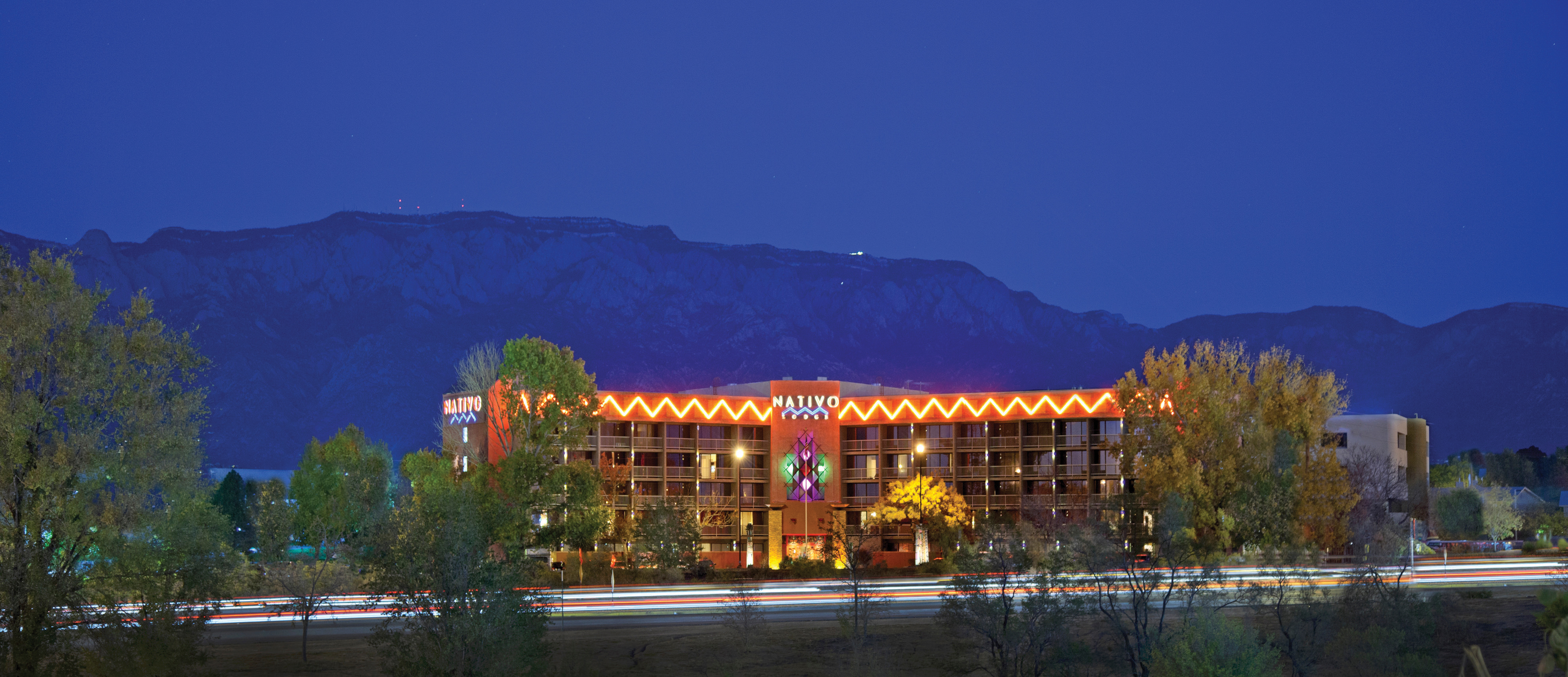 The Nativo Lodge in Albuquerque, New Mexico, houses one of America's more unique collections of Native American art.
06 May

Western Landmark: An Artistic Sojourn

A couple years ago, I fell asleep in a hotel room painted with sky blue walls and puffy clouds with faces on them; a little girl in ceremonial dress sat cross-legged, and a city on a hilltop rose in the distance. Above me, the ceiling appeared as a night sky speckled with stars and purple-tinged clouds. I've slept in a lot of hotel rooms in my travels, but will never forget that one.

Artists Rhett Lynch, Kandis Quam, and Nathan N. Nez Sr. drew from their cultural and personal histories to paint these guest rooms. The artists were given free rein to design their spaces.

I was at the Nativo Lodge in Albuquerque, New Mexico, a hotel with an unusual contemporary Native American art collection, one that's different from those you find hanging on gallery or museum walls. At the Nativo Lodge, each room is painted by a different Native American artist. Elaborate murals feature everything from traditional pottery patterns in muted earth tones to Pueblo deities painted with Japanese influences. Some rooms have sun faces and feathers, while others have howling wolves or ominous holographic figures and stark geometric shapes. Native American painters from the Southwest were given the freedom to let their imaginations run wild; and they've done just that, creating stunning and innovative room-sized artworks on the walls and ceilings.
The painted rooms place the viewer right in the middle of a colorful collage of images. Here, traditional symbols mix with dreams, visions, and the artists' personal stories. Sixty of the 145 guest rooms at Nativo have already been decorated, and when the project is finished, every room will have an individual artistic touch.
Nathan N. Nez Sr., a Diné (Navajo) painter originally from Arizona, suffered PTSD after serving in Iraq. His room is filled with shapes, colors, messages, and symbols that depict his journey in the U.S. Army.
"I call this work Healing Through Chaos, because it represents certain periods of my life and tells the story of my journey through personal pain and then to recovery," Nez says. "The painting has a lot of different elements detailing the journey. And I'm using all those symbols and colors, really, to convey a sense of peace [that I] finally arrived at."
Kandis Quam grew up in an artistic family and calls her work "traditional Zuni art with a contemporary twist." Her room, which she named Among the Clouds, is symbolic of traditional regalia, with geometric formations, an oceanfront with light clouds, and the color blue symbolizing a prayer for rain.
"I was able to use an entire room as my canvas," Quam says. "And I wanted to use that canvas to convey a sense of peaceful, restful, and overall happiness."
Artist Jason Garcia grew up in the Santa Clara Pueblo in New Mexico. "My family [members] were all painters and potters," he says. "So art is in my DNA."
Garcia's room features silhouettes of mountain ranges and plateaus. On one wall, a life-sized woman looks to the sky and prays for rain, and another features a large, vividly-hued sun face with feathers and two figures dancing in ceremonial dress. "I call this work Okuu Pin; Turtle Mountain, in the Tewa language," Garcia says, adding that he hopes to paint another room at Nativo Lodge in the future.
"Imagine someone telling you that you can paint whatever you want — and paint it all over the walls and the ceiling — in whatever style you want," Garcia says. "It's an artist's dream!"