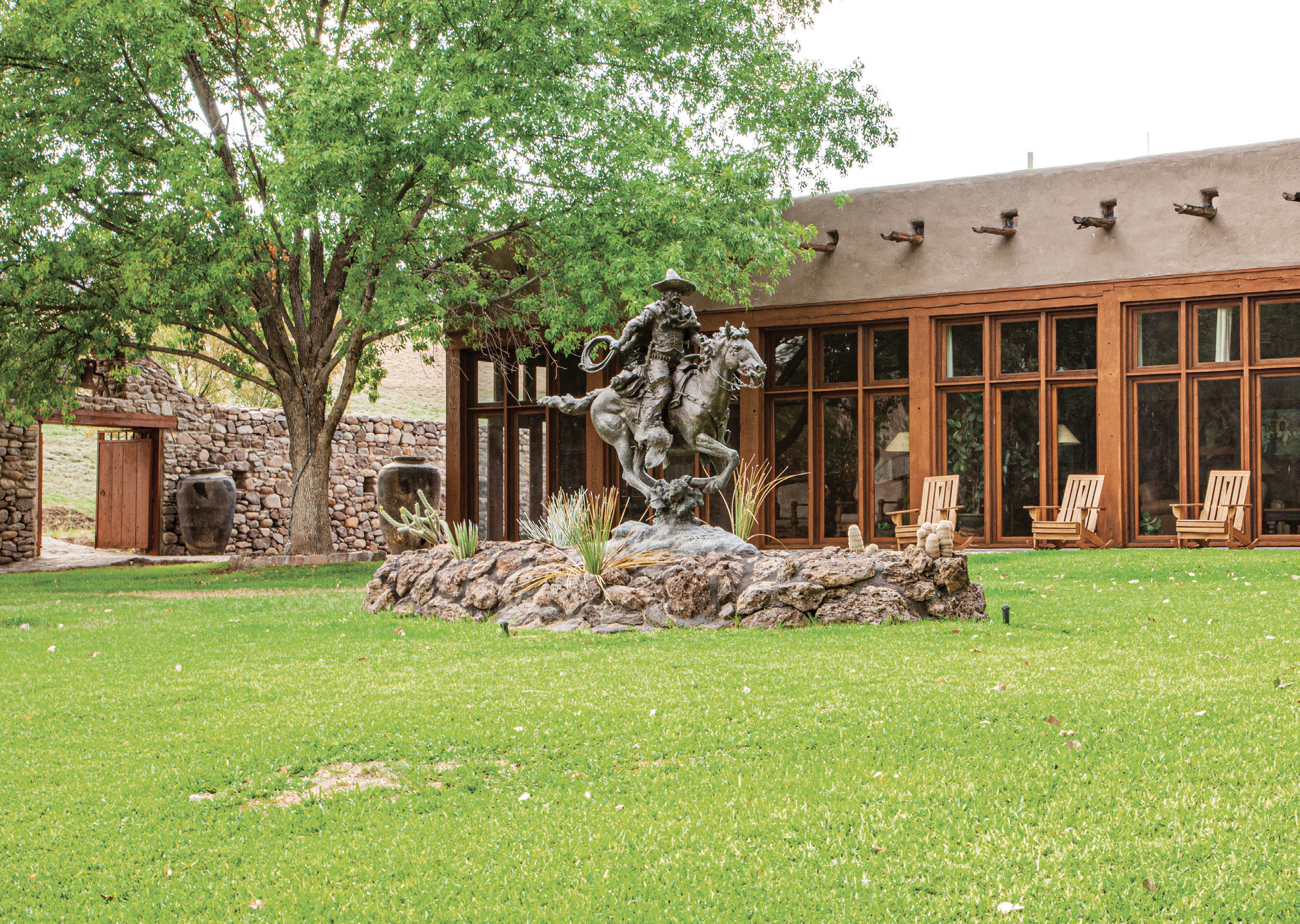 Cibolo Creek Ranch is one of the oldest ranches in Texas. Original artwork is located throughout the property, including this Scott Rogers sculpture titled Vaquero.
16 Sep

Western Landmark: Escape to the Old West

Nestled in the Chianti Mountains between the West Texas towns of Marfa and Presidio, Cibolo Creek Ranch is a resort that combines five-star elegance with the charm of 19th-century pioneer life. Bearing the Comanche name for the bison that once roamed this area, Cibolo is the perfect destination for those who want to sample life as it was lived a century ago.

Guests have the option of staying in one of three adobe fort locations, each of which has been faithfully restored to reflect the bygone era when this 30,000-acre ranch was the home of renowned cattle baron Milton Faver.

The oldest and largest of the three, Fortin del Cibolo, "Fort of the Buffalo," offers 25 guest rooms located only steps away from the ranch's complimentary amenities, including a pool, hot tub, and multimedia room. In the large dining area, a full range of meal options are available. "Meals, even breakfasts, are gourmet. One of the best things we do is our food and wine service," says ranch and hotel manager Tom Davis.

Fortin de la Cienega, or "Fort of the Marsh," is a 30-minute drive from Cibolo Fort. This location also features its own amenities, including a swimming pool, hot tub, and dining facilities. "This is a self-contained complex, which accommodates private bookings for up to 25 guests in the fort and has an additional 10 hacienda guest rooms," says Davis. "It is also a hosted facility with a private chef and sommelier." Cienega Fort is a popular place for hunters who take advantage of the guided hunting opportunities offered in the area.

A 45-minute drive from Cibolo Fort, Fortin de la Morita, or "Little Mulberry Tree Fort," is the smallest of the three. At the request of the Texas State Historical Association, the adobe fort remains the most authentically antique. "Guests who book Morita stay in an adjoining 19th-century cottage which is truly rustic," says Davis. "Electricity comes from a generator, and light is provided by gas lanterns. Those who choose this location experience a lifestyle much closer to that of the early Texas settlers."

Cibolo Creek Ranch is among the oldest ranches in the state of Texas. Following a duel, Faver fled his home state of Missouri, first settling in Mexico and later returning to the U.S., where he opened a mercantile store in Presidio del Norte. Before long, he expanded his operations by establishing regular trade with nearby Fort Davis, the U.S. Army cavalry post built in 1854 to protect the Overland Trail to California. Wanting to be closer to this lucrative operation, Faver acquired grazing land on Cibolo Creek, likely the site of a Native American village and the Spanish Mission Santa Maria de las Caldas.

Purchasing additional land, in 1857 he constructed the first of three forts to protect his ranching operations from bandits and raiding Apaches and Comanches. The ranch withstood the presence of both Union and Confederate troops during the Civil War and the onslaught of Native American raids until the return of the Army troops at Fort Davis in 1867. Upon Faver's death in 1889, his wife, Francesca, and their only son, Juan, took over the ranch's operations.

Davis relates that following the demise of the Faver family in 1913, the ranch passed through the hands of several local owners until investment entrepreneur John Poindexter purchased the first component of the ranch in 1988 to use as a secluded retreat for friends and business associates.

An avid history enthusiast, Poindexter was adamant about restoring the property to how it looked a century ago. He gathered details about the architectural and historical aspects of the ranch, collecting a wealth of old photographs, private and government documents, and period furnishings over many years. He also reintroduced bison in an attempt to return the 30,000-acre ranch to its pre-pioneer condition.

In addition to its historical character, Cibolo Creek Ranch is committed to commissioning and collecting fine art. Original paintings and small sculptures by more than 30 well-known artists — including Paul Rhymer, Grant MacDonald, Gordon Brown, and Kent Wallis, to name a few — are on display in rooms and common areas. Large bronze sculptures by Scott Rogers and in-house museums also allow visitors to immerse themselves in artistic visions of the West.

For adventuresome guests, the ranch provides guided ATV tours, horseback riding, and shooting activities, with a target range, skeet shooting, and archery. Two small lakes offer fishing with all the necessary equipment provided by the ranch. Able to accommodate large groups, Cibolo Creek Ranch is often booked for corporate business meetings, family reunions, and is a favorite site for intimate weddings.

Sited in the southwest heart of the Lone Star State, the ranch's ideal location offers opportunities to enjoy Texas history beyond its borders. Attractions within a one- to two-hour drive include popular destinations such as Big Bend National Park, the McDonald Observatory, and Fort Davis National Historic Site, a restored frontier Army installation. Just 37 miles away, the town of Marfa served as home to Minimalist artist Donald Judd until his death in 1994. Today the Chinati Foundation houses 100 of his mill aluminum works. Visitors can also take in Marfa's surrounding countryside, where the movies "Giant" and "There Will Be Blood" were filmed.

After adventuring across the West Texas landscape, taking an artistic tour of the grounds, or exploring the regional attractions, guests retire to their quarters inside one of the three forts on the property, reminded of the saga of Western history and appreciative of the modern amenities that provide a restful setting in which to enjoy them.