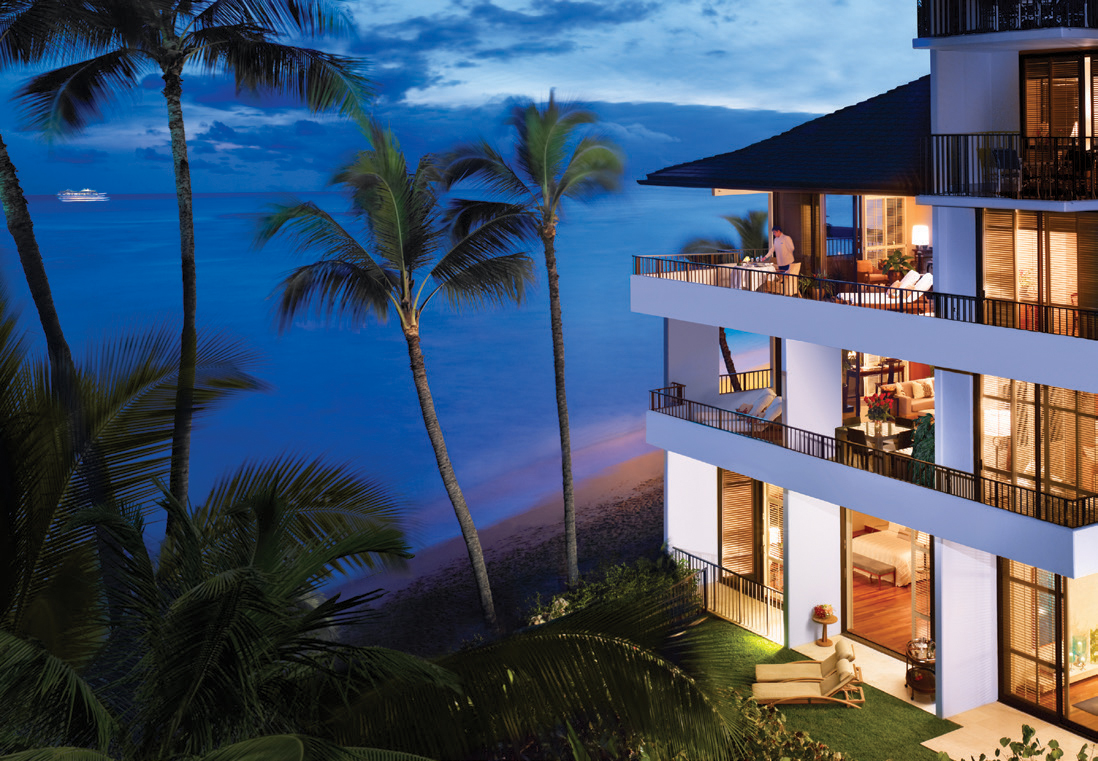 The luxury hotel features 453 rooms and suites.
11 Jan

Western Landmark: The Halekulani Resort in Honolulu, Hawaii

Quietly, softly, humbly. The beloved kiawe tree at Halekulani resort in Honolulu, Hawaii, toppled over on August 21, 2016. The culprit? There was none: no vandalism, no hurricane, no unusual weather. Sometime in the middle of the night, the 133-year-old patriarch simply fell. The towering giant that served as a backdrop for the hula stage was mythical. It had seemed invincible.

Hawaiian artist John Koga got the 5 a.m. distress call from hotel management that morning. "Our tree has fallen," he recalls them saying. "What should we do?" It was Koga's cue to turn his sculpting skills into action.

Like a surgeon, Koga examined the tree's status and cut carefully. He crafted a modern sculpture from a massive limb while the core and root system remained. Working with Koga, ikebana master Hiromi Sugioka created a flower arrangement that rose several feet high from the wooden sculpture. "My goal was to express the natural beauty of this tree that surrounded and touched so many people's lives," she says.
When the last bud was tucked into place, the lobby masterpiece gave everyone a relieved sense of hope and renewal.

Step into the vast, airy, white entry of the Halekulani, and you'll see why the name means "house befitting heaven." Calm and serenity pervade the premises. Select art pieces provide a sense of healing and grounding. Near the lobby are two red stone statues, over 7 feet high, by Charles W. Watson, called Mahiole (Feathered helmet). The world-renowned swimming pool features a glass mosaic bottom assembled with 1.2 million tiny tiles. Measuring 30 by 30 feet, it greets pilots flying overhead.

"Halekulani has an incredible platform to reach and inspire guests from all over the world," says Peter Shaindlin, Halekulani's chief operating officer. "We are committed to using it to promote the arts through every aspect of the hotel experience."

That said, a curated art schedule touts gallery receptions, art talks, and hands-on experiences. The "Halekulani Living" TV series features short-form documentaries of quilt artists, hula dancers, surfboard shapers, and more. Under their "For You, Everything" program, guests receive passes to the Honolulu Museum of Art, Bishop Museum, and access to historic homes.

In addition to art and culture, Halekulani's reputation for hospitality is legendary. In 1883, lumber magnate Robert Lewers built a home and bungalows on the site, which he used for hobnobbing with business elites and Hawaiian royalty. By 1907 it became an official hotel known as the Hau Tree.

A decade later, new owners would take over. Structures were torn down, and a luxury resort was erected. Named Halekulani, this hotel would raise the bar for impeccable service. One story from the early 1930s tells of how staff would paddle in canoes to meet guests arriving by cruise ship. They welcomed each one by name and greeted them with a flower lei.

Fast forward to 1984, and the hotel transformed under owners Mitsui Fudosan America Inc. It boasts skyscraping guest towers and opulent suites. Run by Halekulani Corp., the five-star resort birthed traditions, such as its nightly hula presentation and weekly reception with wine and appetizers. Locals flock to the signature afternoon teas on the veranda.

Since March 2020, when Halekulani shuttered due to the pandemic, there has been time to pause and reflect. The 453 rooms and suites sit empty, the 800 employees that once serviced the property have been furloughed — for now.

In July, the iconic resort will open its doors with refurbished interiors. Its standard guest rooms will remain among the island's largest at more than 400 square feet. Suites exceed the footprint of most residential homes. The layout for the Royal Suite, for example, spills over 3,300 square feet. The $6,000-per-night Halekulani Suite, designed by clothing designer Vera Wang, features her island-themed bedding, bath products, candles, and china. Even her favorite DVDs are rumored to be on the shelves.

Officials stress that the hotel will retain its "seven shades of white" design philosophy. Attributed to Patricia Tam, chief executive advisor of the Halekulani Corp., the neutral color palette frames the natural setting. She explains, "By using these subtle shades of white in the guestrooms, the focus is directed to the outside beauty of our environment: Waikiki Beach, Diamond Head, blue skies, and the tropical landscape."

Today, contractors are priming the grand dame for its renaissance. Even the beloved kiawe tree is showing signs of life with green shoots spawning from its ancient roots.

The sanctuary is looking forward to hosting lovers of all-things-Hawaii. Long remembered is Apollo 17 astronaut Eugene Cernan who traveled to the moon in 1972. After his hotel stay, he penned, "Thought I'd already been to heaven until I came to Halekulani." That quote has been savored by management ever since. Working hard to reopen, everyone is hoping similar compliments and even greater ones will emanate from guests this July.