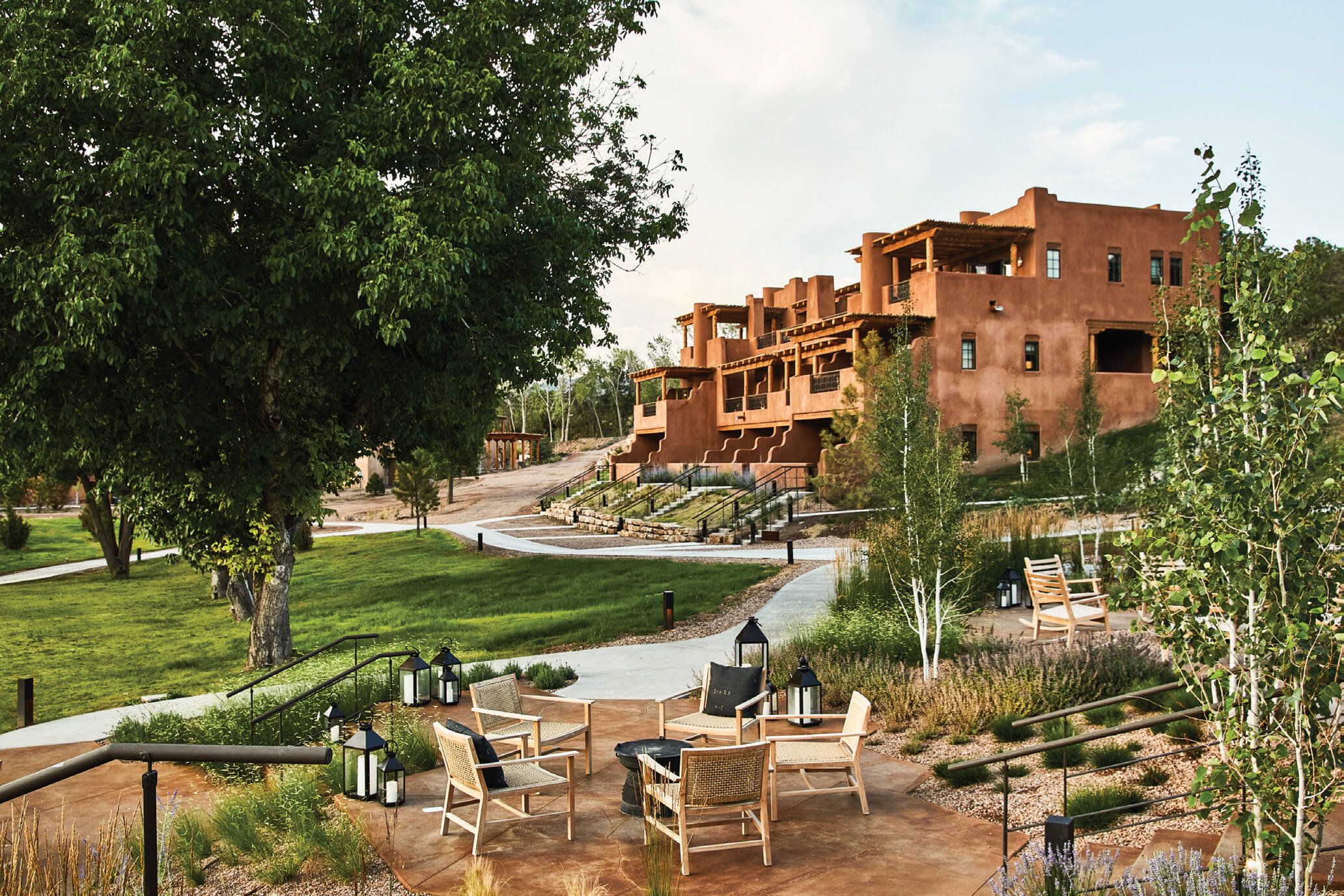 Its multilevel structure and materials evoking its origins in traditional New Mexican architecture, Bishop's Lodge gracefully commands its hillside location a short drive north of Santa Fe en route to the picturesque village of Tesuque, in an area filled with sweeping vistas and secret canyons.
06 Sep

Western Landmark: Villa Pintoresca

In 1743, farmer Urbano Mantaño was awarded a land grant by the New Mexico Governor for a parcel of land just north of the city of Santa Fe near the Pueblo of Tesuque. The locals referred to the area as Cañoncito de Tesuque for its lush expanse of hillside gently rising north to form a small picturesque canyon.

This bucolic piece of land, with verdant hills rolling down toward the town, and lush orchards reaching toward the Sangre de Cristo Mountains, changed hands several times over the next century until Santa Fe Bishop Jean-Baptiste Lamy purchased it in 1853. A deed book stored at the Santa Fe Historical Foundation described the land as follows: "On the east where the river joins the hill, following the river to where a little arroyo comes out of it; on the West, the lands of Benito Garcia; on the north to the cañada of Benavides; on the south the hill which divides the cañoncito."

On this spot, on top of the scenic hillside, Bishop Lamy built a small house which he aptly named Villa Pintoresca, or Scenic Lodge, consisting of two small rooms and a chapel. He planted a garden and tended a vibrant orchard. Bishop Lamy's chapel at the top of the hill stands today.

In his later years, Lamy, who had been elevated to Archbishop in 1875 — and was the inspiration for the protagonist in Willa Cather's classic novel Death Comes for the Archbishop — spent most of his time at the retreat until his death in 1888. 

Down through the years, the historic property went through a variety of owners and expansions, and stood in various states of disrepair, before it was purchased by Auberge Resorts Collection and underwent a $75 million renovation in 2021. Today, the property and grounds of this well-appointed resort and spa sprawl across more than 300 acres and border some 1.5 million acres of Santa Fe National Forest.

Visitors to Bishop's Lodge can choose between 100 accommodations including guest rooms, suites, casitas or a 12-room bunkhouse that sleeps up to 45 people. Guests are also able to participate in experiences ranging from trail rides, spa treatments and fly fishing to artist talks, lectures, one-of-a-kind curated dinners, musical performances, and tours of nearby cultural and historic attractions.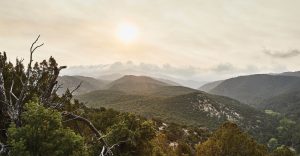 One favorite Bishop's Lodge activity includes a visit to the charming bar on the top level of the resort. After walking up a path that wends past the pool and winds through beds of flowers and green spaces that frequently include visiting deer and other wildlife, visitors end up at a long outdoor patio filled with comfy chairs, well-upholstered sofas, wooden benches, and several fireplaces, all overlooking the resort grounds. 
Inside, the bar is a wonderful Southwestern mix of comfort and casual elegance, with the real stars being several large paintings done nearly a century ago by Western artist Warren Rollins. The paintings were recently conserved and depict scenes of Indigenous life in the Southwest. The adjoining restaurant, SkyFire, offers dinner and lunch as well as a popular Jazz Brunch and art-centric dinners in summer and fall where artists collaborate with the chef for an unforgettable evening of culinary creativity. 
What was once a private sanctuary for Bishop Lamy is today a haven for travelers in search of Southwestern culture and beauty.
Joshua Rose has spent the past three decades writing about art and was the founding Editor for American Art Collector, Western Art Collector, American Fine Art, and Native American Art magazines.