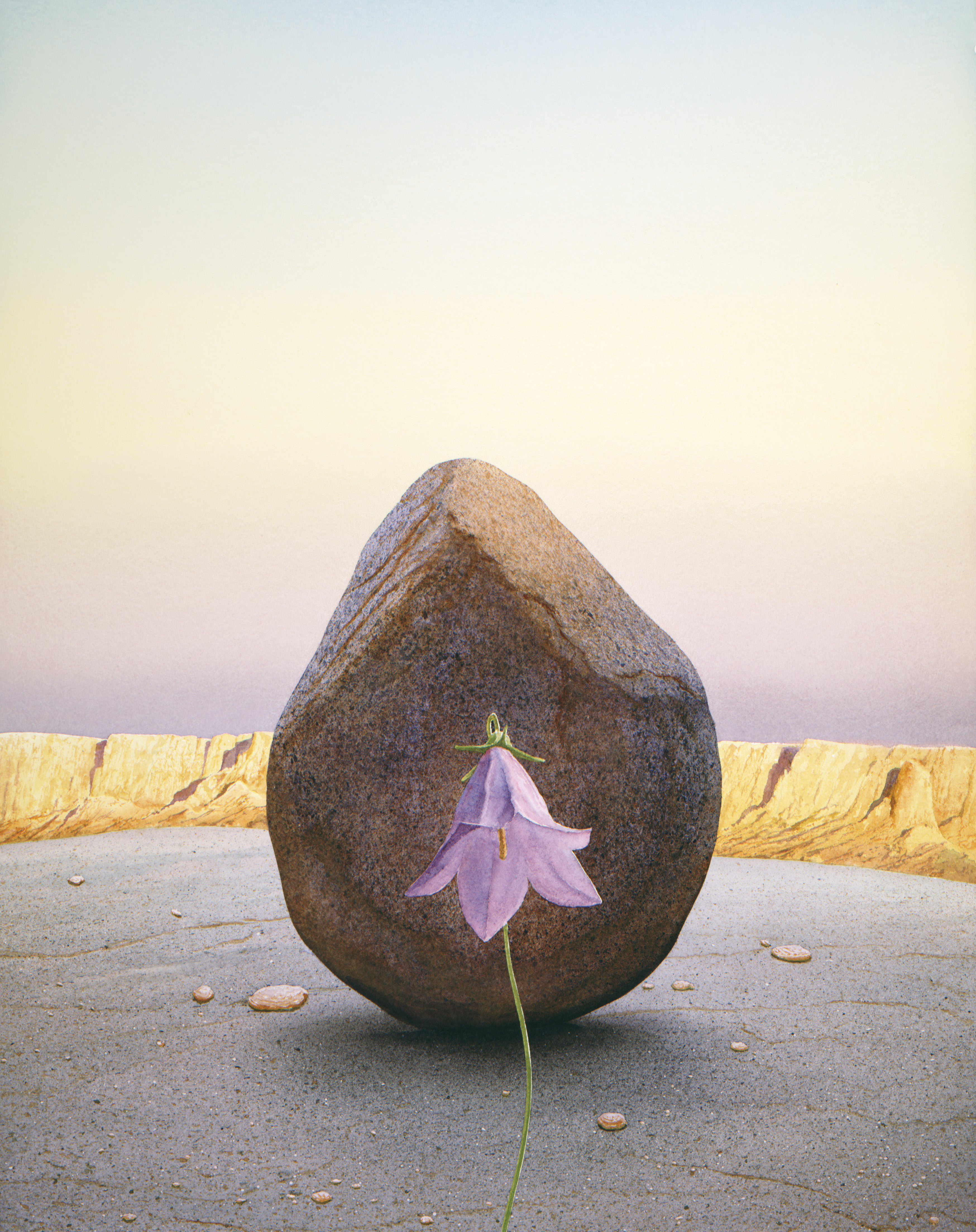 Canyon Morning | Watercolor | 24 x 18 inches
15 Jan

A Fresh Perspective

LANDSCAPE ARTISTS GENERALLY TAKE THE LONG VIEW — a panorama, a horizon at sunrise or sunset, a scene comprising nature's elements affected by light and shadow. Instead, watercolorist Gregory Strachov shows us the world from the ground up, highlighting the solid beauty of boulders, glimpses of distant surroundings, and often incorporating fragile, singular flowers blooming in the foreground. With only water, pigments, and his sophisticated understanding of nature's palette, Strachov plies his craft with mastery and confidence — and more courage than most artists ever have to muster.

Strachov chose his medium partly because he likes its challenges. "One mistake, and the painting is ripped up," he says. "Watercolor's exacting nature provides fuel for a higher level of concentration and awareness. 'No room for error' has always been a driving force for me. When [I was younger], I found that same drive for perfection as a downhill ski racer. I loved it!"

Strachov's signature is his ability to interpret and enhance realistic aspects of the landscape. Perhaps most striking are those compositions that showcase compelling arrangements of rocks in the foreground with glorious skies and vistas beyond. The artist spends two to three weeks camping, hiking, exploring, and creating source material with sketches and photography until the landscape gradually reveals itself and new ideas for paintings form in his mind. Back in his studio, samples of rocks and notes about his field experiences help bring his visions to life.

Strachov didn't initially set out to be a professional artist. His educational background is as immensely varied as his life has been, and his early goal was to become a doctor. In 1973, he completed a bachelor's degree, which included studies in biology, chemistry, and geology. Family financial issues meant he needed to re-evaluate his plans, and in 1979, he graduated with a degree in art and a teaching certificate. He continued to advance his skills, researching art at the Frick Museum's reference library in New York City for several years. As Strachov describes it, "the library was very exclusive at the time. Those with permission to study there were required to wear a jacket — even when they arrived on a motorcycle!" For the young artist, "It was an incredible room where one could see and — with gloves on — study original fine art by historical masters. I felt such peace there — that I'd been guided to my destiny."

According to Strachov, art is the "direct result of all one knows." He emphasizes that life experiences beyond what is learned in school are essential to creating original work. Among his many adventures, Strachov has been a ski racer, taught skiing in the U.S. and Courmayeur, Italy, salvaged parts and portholes from sunken ships, and prepared and installed enormous stained glass windows in various cathedrals.

As the years went by and recognition of the artist and his work grew, his lectures on art and theory garnered the respect of his peers and have been televised and used as instructional materials in museums and graduate studies. His work has been exhibited both nationally and internationally, and he's earned more than 60 prestigious awards. A high point came in 2011 when he was awarded the Butler Institute of American Art's Lifetime Achievement Medal, placing him among such other prominent awardees as John Singer Sargent, Robert Rauschenberg, and Thomas Hoving.

"Greg Strachov is an amazing man," says Louis Zona, the executive director of the Butler Institute of American Art. "Brilliant and talented, his work shows the power of art to magically move us. If there is a more sensitive human being on the planet, I'd like to meet him or her. His art constantly reveals that level of sensitivity to the world around us. His genius is in converting the wonders of nature to paint on paper. I have yet to see a single work by him that does not inspire or reward us."

A man of remarkable determination, Strachov could not have imagined how critical that characteristic would become as his life took a devastating turn in early 2018. Diagnosed with a meningioma brain tumor, Strachov was in surgery for 12 hours to remove as much of it as possible. Because of complications, he had to remain in the hospital for more than three months. The entire right side of his body was paralyzed. His left eye did not move and only faced left. He went from 188 pounds to 132 pounds; a hydraulic lift had to be used to move him from his bed to his wheelchair. With astounding grit and resolve, Strachov gradually began to move his leg and arm, transferred from the wheelchair to a cane, and finally to where both limbs were working well.

Robert Frost, one of Strachov's favorite poets, once said, "If you're looking for something to be brave about, consider fine arts." That has certainly been true for Strachov. He was not able to paint for more than a year after his surgery, until last February when he noticed with great joy that he could move his left eye enough to judge the distance between the brush and the paper. Untitled, created from a combination of sketches that he'd done previously in Maine and in Utah near the Colorado River, is a visual celebration. Although Strachov says his subject matter is "meant to offer no meaning other than the beauty of the objects themselves," this painting, with its delicate little blossom emerging in the midst of massive, immutable boulders, suggests survival against all the odds.

But Strachov's medical challenges were not over. During the same month as his first post-surgery painting, an MRI of his brain revealed the remains of the meningioma tumor were growing in an area where major nerves pass the spinal cord. He was told that without another surgery, he would lose control of his arms and legs within three to four years.

Following months of uncertainty and fear, on August 22, 2019, Strachov underwent his second brain surgery. Taking fewer hours and with no unexpected complications, his surgeon said he was able to remove the remainder of the tumor completely. Within hours, Strachov was sitting up, asking for chocolate cake.

These past months have been a time of reflection, gratitude, and physical therapy. And the artist enthusiastically looks forward to creating new works of art in the near future.