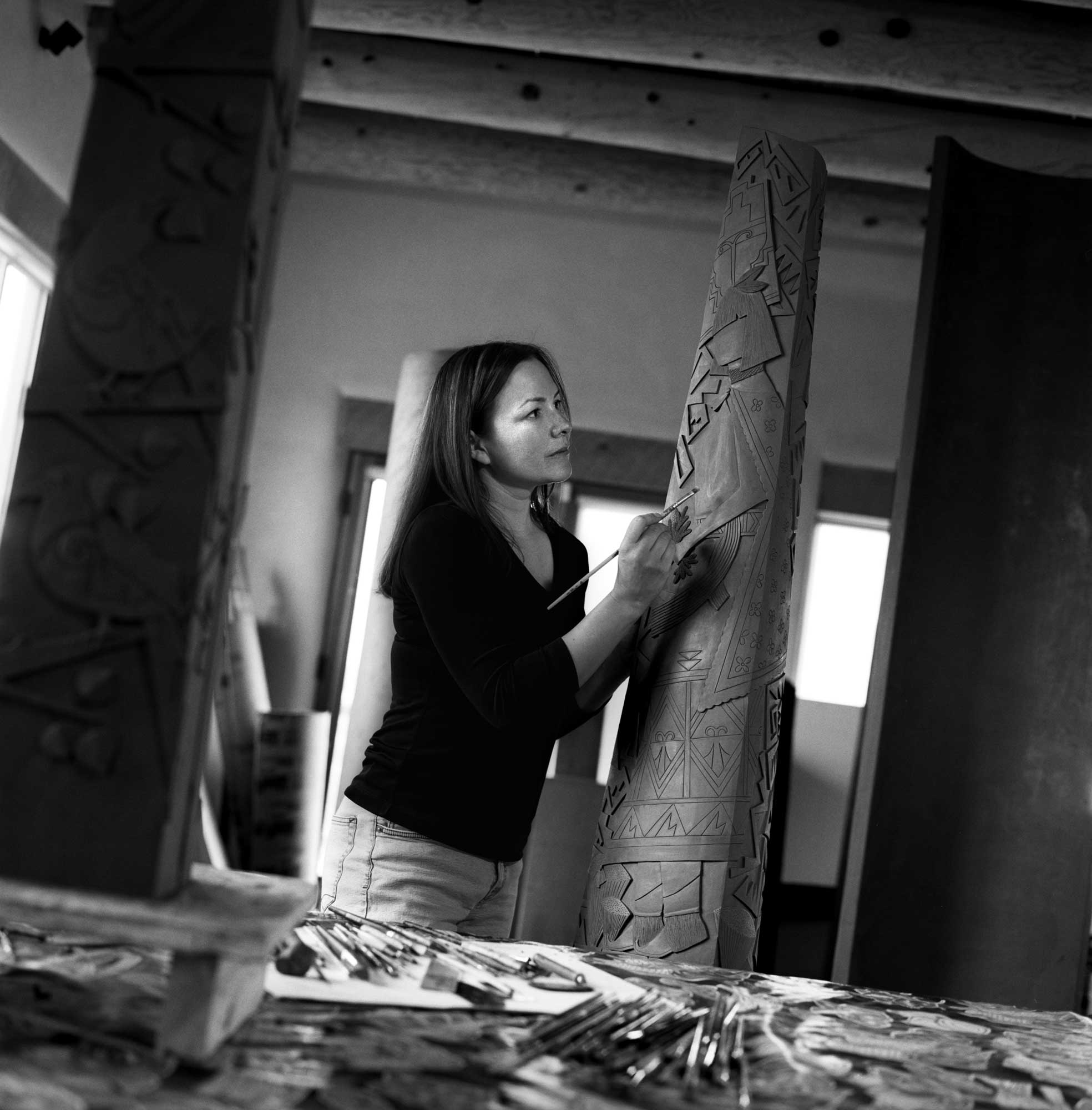 Tammy Garcia works on a clay sculpture titled Abundance in her studio in Taos, New Mexico. Photo: Dorie Hagler
24 Jul

A Never Ending Palette

TAMMY GARCIA HAS MENTIONED A FEW TIMES THAT SHE WORKS OUT OF HER HOME. Yet that fact doesn't quite register until she starts showing me around her workplace in the 6,000-square-foot house she shares with her husband, three daughters and two dogs in northeastern Albuquerque, New Mexico.

Sketch pads cover the living room table where she's working on designs for glass art projects. Over in the kitchen stand rubber-coated, blown-glass figurative sculptures by Shelley Muzylowski Allen, awaiting Garcia's designs, and Garcia's other pottery-in-the-works. Books are scattered downstairs and upstairs, and we haven't even gotten to her garage. Oh, and that sculpture in the living room? "

"It wouldn't fit in the cabinet where I fit all my dishes," Garcia says, and laughs. "I'm kind of spread out."

Spread out? Definitely. Have I mentioned the studio in Taos — she'll get there every couple of weeks — or Bronzesmith Fine Art Gallery & Foundry, in Prescott Valley, Arizona, where she does her casting and keeps her patina artist busy, or the Santa Fe gallery, Blue Rain, that her husband, Leroy Garcia, owns? Then there's her career itself, which has spread from traditional Santa Clara Pueblo pottery to contemporary pottery to bronze sculpture, bronze tile, glass sculpture (blown glass as well as panels), jewelry and collaborations with glass artists Muzylowski Allen and Preston Singletary … transforming Garcia into perhaps the face of the contemporary Pueblo Indian art scene.

"I think Tammy's the leader of innovation, refinement, execution, all those wonderful art adjectives," says Peter Stoessel, art director at Blue Rain Gallery. "I'm always blown away by her ability to do something new and different … and I think collectors respond to it."

Says Garcia: "All I need is a table."

You'll find one in her living room … and the kitchen … and ….

Born in 1969, Garcia grew up in Santa Clara Pueblo, about 90 minutes northeast of Albuquerque near Española, in a family of artists. Her mother, grandmother and great-grandmother were potters. Her great-great-aunt was Margaret Tafoya, whom The New York Times called "the matriarch of Santa Clara Pueblo potters." So it was only natural that Garcia started making pottery in the tradition of her people: native clays, coil-built, carved designs. Yet as her skills and confidence improved, she started experimenting.

"I think I was always pushing those limits," she says. "Each piece I made was kind of taking a step along the way. I think, being a teenager, we're easily bored. That was something naturally in me: the drive to see how far I can take this."

That drive pushed her from classical Pueblo jars to symmetrical and asymmetrical sculptural forms. In 1999, she dived into bronze.

"It seems like a really quick jump, but all the experience that I had in pottery came into play, and I was able to incorporate that," she says. "Working in this other medium allowed a whole new way for me to express myself."

She has expressed herself by translating her imagery onto jewelry, and over the past four years, has spread out into glass. "That was another very exciting thing," she says of glass. "Figuring out how colors work together, how it reacts to light, the way it absorbs light, reflects it. It really gave my style a whole new look."

Her works have been exhibited extensively, including a Tammy Garcia Retrospective at the Eiteljorg Museum of American Indians and Western Art in Indianapolis in 2005 and Beyond Tradition: The Pueblo Pottery of Tammy Garcia at the National Museum of Women in the Arts in Washington, D.C., which ended in February.

"She really has had, even at a very young age, a full career as a potter," says Susan Fisher Sterling, director of the National Museum of Women in the Arts. "The level of quality and expertise and innovation that she has shown in moving the (Santa Clara pottery) tradition in new directions but yet having a really strong connection to the design tradition was what really drew us to her. I've seen about five or six years of work," Sterling adds, "and I just think she's going to do great things in the next 10."

Garcia also tried a new look recently with Andrea, a three-dimensional, 30-by-15-by-15-inch bronze sculpture of a Pueblo Indian dancer — her first figurative piece — in an edition of 30. "She just nailed it," Stoessel says.

All of this spreading out isn't a case of reinventing herself.

"Basically, I just view whatever medium I'm working in as my canvas," she says. "I like the challenge and the flexibility that it gives me."

Her next challenge? "I have ideas of designing one-of-a-kind furniture," she says. "Right now, those three mediums (clay, bronze and glass) are keeping me busy, but you never know. Ideas come and go."

Sure, she's always busy, but with her family, dogs and career, "there's definitely a sense of balance that I have to have."

And, yes, there's even down time.

"I sleep well," she says.
---
Based in Santa Fe, New Mexico, frequent art writer Johnny D. Boggs is an award-winning author whose 1880s-set Comanche Indian mystery, Killstraight, was a Spur Award finalist this year for Best Western Short Novel. His Web site is www.johnnydboggs.com.