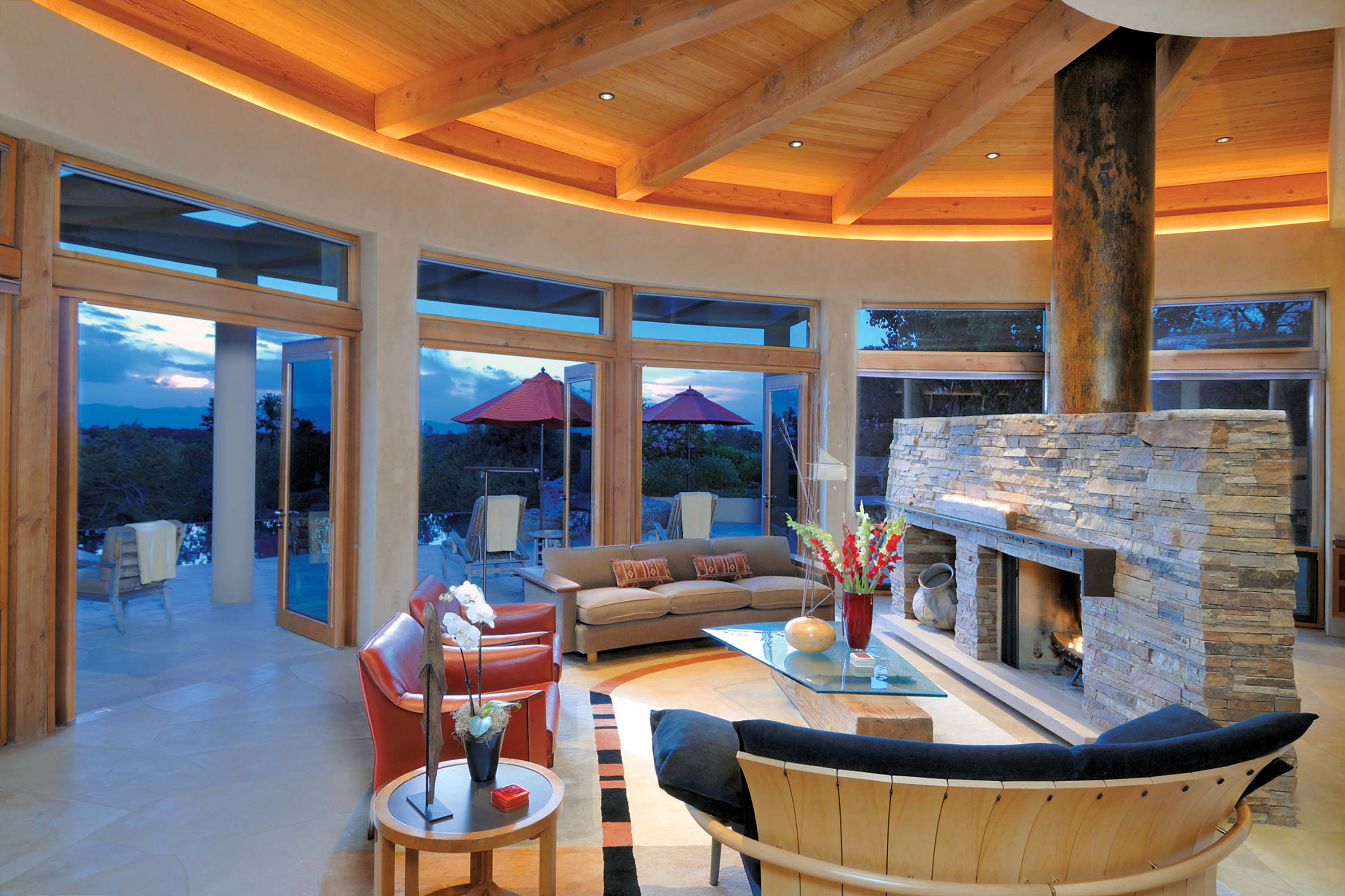 01 Feb

A Work of Art from the Inside Out

COMFORTABLY NESTLED IN A HILLSIDE above Santa Fe, New Mexico, at an elevation of 7,300 feet, sits the 7000-square-foot home of Scott and Rita Karns. The home reflects the combined efforts of the Karns, along with architect Howard Oxley of La Jolla, California, a specialist in creating modern homes with traditional comforts, and interior designer Barry Brukoff from Sausalito, California.

Scott Karns took two-and-a-half years off from his work to be the general contractor on their own dream home, nestled beautifully and seamlessly into its surroundings.

Located on a pinch more than 2.5 acres in a wooded area, the home fits naturally this piñon-studded environment. A stucco finish of warm tones blends the home into its surroundings.

The "nestling" quality was created, not by design, but rather by the City of Santa Fe's escarpment overlay ordinance, designed to preserve the natural environment on ridge tops. Excavation took them to bedrock and provided the stacked wall alongside the drive that is 12 feet tall at its highest point.

Sited off a radius point with curvature throughout, the use of pyramid ceilings in the home lends a spaciousness beyond its square footage. Indoor/outdoor features, too, add to the airiness of the Karns' home: Ceiling-to-floor windows and exterior-leading doorways with no thresholds create theatrical southwest views extending all the way to the Jemez Mountains. Doors that open up — and then disappear — blur the line between the indoors and out.

Built for their active family of four, the Karns wanted an open home suitable for entertaining as well as comfortable family living. Since their sons grew up and moved out, Rita says, "It is comfortable for just the two of us, and quite accommodating for large groups," adding that they have easily entertained up to 80 guests with doors open to the outside.

Each living space has its own complementary outdoor space: Outside the living room there are multiple seating areas, a swimming pool and spa, and a kitchen and dining area. The master bedroom has yet another, more intimate, exterior space wrapped around the entire suite. Just outside the kitchen is a large flagstone patio with an enormous stacked stone fireplace. The area is large enough for growing edible herbs and offers more than adequate space for entertaining.

Facing a rounded fireplace, Brukoff designed a curved banquette and a round table made from 2-inch-thick solid cherry butcher block with legs on casters, one with a break-lock caster that pivots the table out to seat 10 comfortably.

The Karns home is a work of art, as Brukoff is not only an interior designer but also an artist and award-winning photographer. His artistry is seen everywhere in details, including the French limestone floors throughout. Brukoff explains, "Scott was meticulous that the grout of the floors be even."

The house had rectangular elements spinning off at angles from the central curved section, and it became apparent that the only pattern that would work would be "random flagstone" shape, so the limestone slabs were cut and fitted together.

Catherine Clemens, New Mexico's first woman licensed as a landscape contractor, worked with Mark Licht, land-scape architect, to complement the home's design by bringing the curvature of the home outdoors. "Since the house was laid out off of a radius point with a series of curves, we extended those lines outside, bringing out the radius which turned into soft curves. The negative edge of the pool is on the line of one curve; it is the main dramatic viewpoint to the West. It is a gentle, disappearing curve," she offers.

Clemens explains further, "Some of the curves are stepped in and some further out into the landscape to separate areas. The entrance is intimate — you come by a sweet space with miniature fairy roses set in beds, leading to a fountain by the doorway; it's a dynamic transition, intimate, then pushing out. We kept the lines clean, punctuated with plantings to complement the piñon and tall pine trees."

All in all, for Scott and Rita Karns, this gracious and elegant home reflects their labor of love. The landscaping is a work of art — in constantly shifting colors and shapes — in every season. And indoors, generous doses of art — including Poteet Victory paintings, Star Liana York's sculpture, tapestry woven by the Columbian artist Olga De Amaral, and Rita's own custom art quilts — flavor the home.