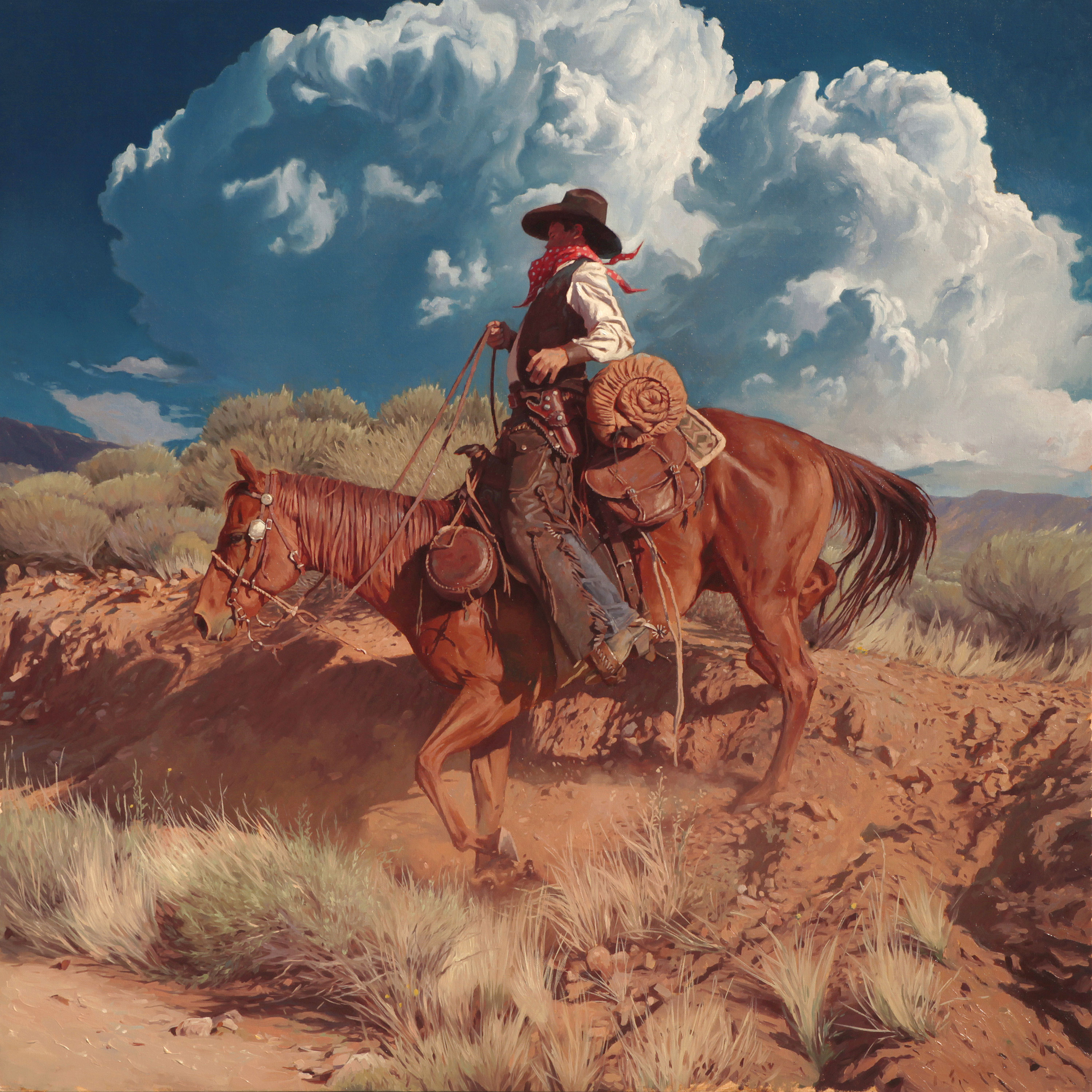 "Down the Wash" Oil on Linen | 40 x 40 inches
13 Nov

Alone in the Wild

THE LURE OF WESTERN PAINTING AND LIFESTYLE has called to artists the world over, but unlike Frenchman Mark Maggiori, few have picked up their lives and moved across the ocean to live and paint inside that dream. Ensconced in an Arizona studio surrounded by mountains, modern-day cowboys and Western landscape, Maggiori developed the theme for his first solo show at Maxwell Alexander Gallery, entitled Alone In The Wild.

Acquiring oil painting skills through observation at the Académie Julian in Paris, Maggiori had learned to examine and apply similar techniques of French masters at the Louvre and d'Orsay. He followed this study and application method with the works of his favorite Western painters, N.C. Wyeth and Harvey Dunn. The result is a style that echoes French painters whose light and color combinations create a pattern mystique of the hour and seasonal weather, but with a distinctive twist.

His work transcends his tools to lead us through his painted Western scenes. Maggiori's paintings suggest an understated movement, as if part of a larger story, but at the same time he reveres the magical wilderness domain of the Western art tradition with its infinite expanse for viewers to metaphorically roam.

For a time, Maggiori worked at Disney as an art director intern where focus on artistically creating time of day, weather and character portrayals were topmost priorities. When he shifted gears to direct music videos, the artist developed uncanny composition and storytelling skills.

In Up on the Kaibab Trail, Maggiori's luminous steely blue and red-tone mountains guide our eyes forward and back through the rocky paths. The vastness of the changing terrain beckons us into the painting and calls our attention to the way the horse moves and the miles-from-home expression of the cowboy.

"As far as the narrative, when I paint, I just like to imagine tons of different stories," says Maggiori. "And I like to know that people will have their own stories. A painting is a moment frozen in time. It is not known what was before or after. Only details can give us clues to design and build our own history. The color of a shrub, the wind direction, the height of the sun, clothes, a place, a mountain."

The idea behind the show's title, Alone In The Wild, has dual meaning. "Every time I go riding or follow cowboys to take photos, I find myself alone in the wild," he says. "Even though you are with other people, you are in the wilderness. Coming from Paris, it is a very special time for me. I always need time to adapt. Also I spent the last year and a half living in the desert, in Arizona and then in Joshua Tree in California. I spent a lot of time in the studio, 'alone in the wild' … I bet a lot of Western painters know what I am talking about," says Maggiori.

Mark Maggiori's first show at Maxwell Alexander Gallery was with Brett James Smith. His paintings are also represented by Gerald Peters Gallery in Santa Fe, and beginning in the winter of 2016, his work will be represented by the Mark Sublette Medicine Man Gallery in Tucson, Arizona.

"Since Maggiori's first piece entered the Western art market in our gallery, collectors have been responding favorably," says Alexander, who will curate the show that runs October 10 through 31. "But his work is advancing so quickly that it would be unrecognizable if you were to compare them to current-day paintings. We feel that Maggiori has reached a level in painting ability and style that warrants a solo exhibition," he says. Collectors can expect to see a wider range of subjects and more dialed-in brushwork in the solo show, says Alexander.

Next up for Maggiori? The past. The artist plans to paint historical scenes of American Western history from 1800 to 1900. Passionate about painting a specific time period without ditching contemporary elements, Maggiori's work is bound to shake up our views of what was, what is and the way his vision blends the two.

"By working as a music video director, I learned a lot about framing and efficiency in composition. But I have to say that painting is a total new world that I am experiencing now and I have so much to do still. It's exciting," he says.

Maggiori's passion for Western art sprang from a single image. "I fell in love with Western painting because of the cowboy figure," he says. "[The cowboy] was my first interest and fascination. It has such an iconic meaning and it's a legacy to America. I love the idea of the open range and the endless possibilities of a vast landscape. The fear and the excitement of the unknown."

Beau Alexander will curate Maggiori's first solo show and says collectors respond to the artist's singular take on the American cowboy. "Having been born in France and growing up there as well, his vision is completely unique. His experience of the American West started as an outsider, but his many years living in small, dusty, desert towns have made him an authentic Westerner, both in his art and his spirit. … His dedication to the West is seen in his work ethic as well as his many trips into the lonely deserts to find his subjects."

Maggiori plays with temporality in his works. He often portrays his subject as if in an anachronistic challenge between the traditional cowboy and the modern one. In Down the Wash, Maggiori subtly transitions from traditionally defined sections of a mountain range to a very modern bright blue sky. The scenic shifts include classical Western wardrobe colors and an iconic horse's mane juxtaposed with contemporary shapes and perspective. Hazy areas fall between distinct gestural shadows, clouds and shrubs that all give way to a subliminal experience with the cowboy and his horse moving in one cohesive movement.