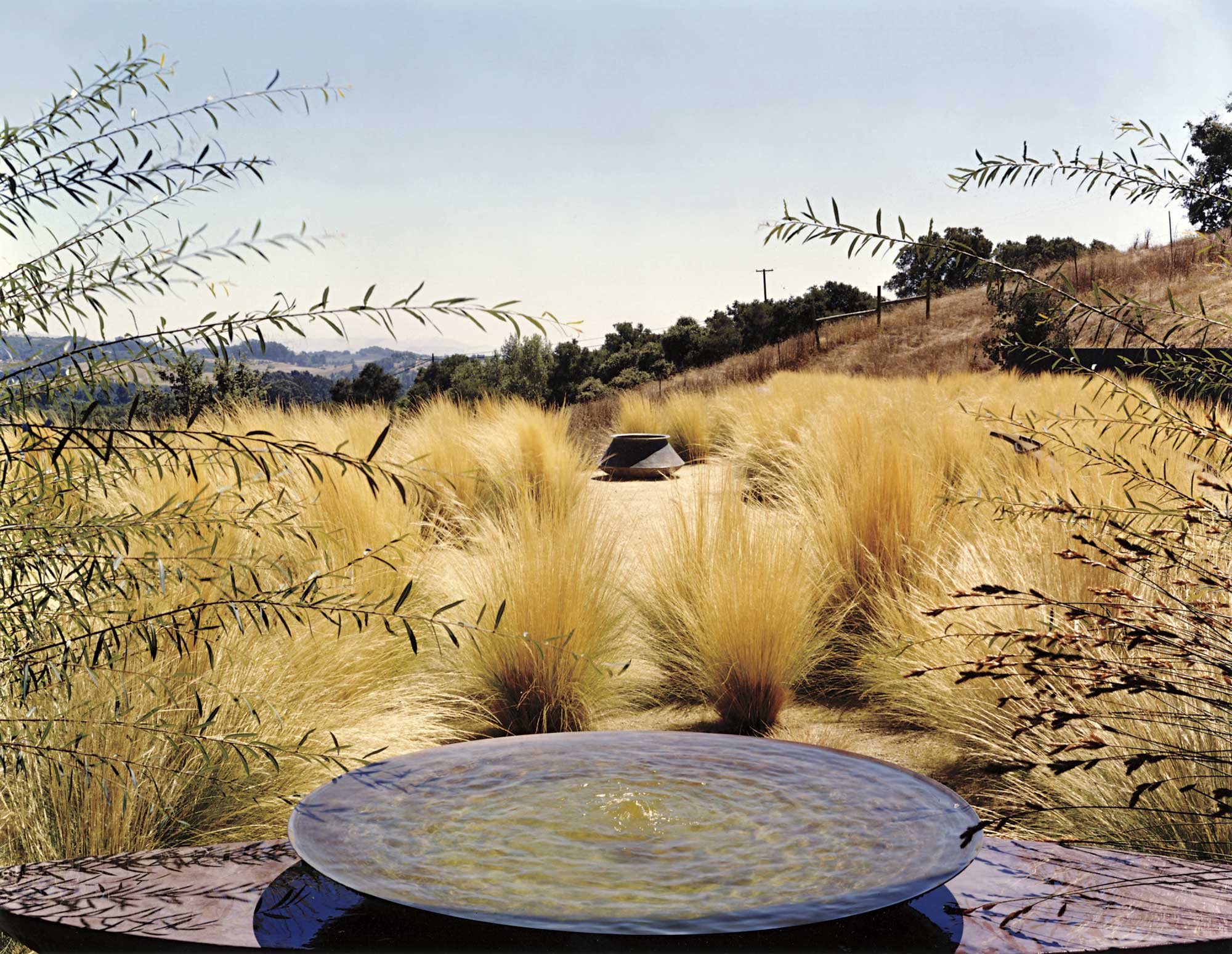 For a home in Napa Valley, Delaney designed the Lick & Lap Pool, which she calls "the largest dog bowl in the world." Made of stainless steel with an angel hair finish, "it sits in front of the window so that the air comes across it into the kitchen. It aerates the room and keeps it cool." The grasses, Stipa tenuissima, were selected for their hardiness as well as their kinetic movement in the wind. The garden, with its decomposed granite, requires very little water. Photograph by Raimond Koch.
24 Jul

Art of Landscape

TO CALL TOPHER DELANEY A LANDSCAPE ARCHITECT IS TO MISREPRESENT HER CALLING. She is an artist whose medium is landscape. She works with the natural world to heal, to teach, to illuminate, to surprise and to connect peoples' lives to the natural world.

For more than 30 years Delaney has been taking her cues from nature. Despite a landscape architecture degree from U.C. Berkeley, she is largely self-taught. On one of her earliest jobs, for instance, she taught herself to lay brick from a how-to book. This lack of formal training has allowed her artistic vision to flourish unencumbered by any dogma. As a result, the freshness and originality of her designs has led to awards, public, private and commercial commissions, an illustrated monograph on her work and museum exhibitions.

Delaney's projects have ranged from small rooftop gardens to 400-acre wine-country landscapes, from Connecticut estates to international public projects, from commercial plazas to a dining garden for the Portland Art Museum. She designed a boldly blue memorial garden for the San Francisco Police Force, and in recent years has become known for healing gardens. Delaney is noted for the innovative use of materials such as colored concrete, rubber, illuminated glass walls and recycled plastics. Her style ranges from formal and traditional to funky and modernistic. Revealing far-flung influences from Asia and Europe, her work is joyfully reflective of the lifestyle, climate and openness of the West Coast.

Two recent public projects — a medicinal garden at UCSF's new campus and a cutting-edge art installation at a park in Sweden — illustrate the range of her work. The UCSF Mission Bay biomedical research campus lies just south of downtown San Francisco; for that, Delaney designed a medicinal garden. She planted healing plants such as yucca, echinacea and salvia and identified them by their Latin names handpainted on 30-foot-long interlocking metal panels in various hues of green. Just inside the building visitors are greeted by a Voltaire quote, "Il faut cultiver notre jardin." The reference has triple layers of meaning: the garden as body, the garden as garden, the garden as the world. Delaney is fascinated by words and literature and often employs them in her art. "I'm interested in language and literature, and embedding narratives in the landscape."

Last summer saw the opening of a major public installation in Gothenburg, Sweden. Gunnebo, both a public park and historic site, had as its centerpiece an elegant Palladian-style conservatory for exotic plants; erected in the 1700s, it burned down in the 1800s. Delaney's Glasshouse is situated in the exact location of the original; scaffolding scribes the mass of the historic structure. The frame wears an armature of chain-link fencing through which Delaney secured thousands of glass bottles. The bottles came from a restaurant on site, which in turn serves food produced in Gunnebo's organic gardens. It's another example of Delaney's love of interconnected meanings and relationships: The chain-link fencing is suggested by the word Gunnebo (which in Sweden references this kind of fence); the scaffolding shape is dictated by the original structure; the glass bottles are a modern-day pun on the first Glasshouse, while the act of recycling bottles from the restaurant, which in turn serves produce from the Gunnebo site, comprises a perfect circle of use while creating multiple layers of reference.

Delaney was born into a remarkable childhood, an unusual combination of Bohemia mixed with Upper East Side sophistication. Her lawyer-father's clients included Franz Klein and Jackson Pollack; her French mother was an artist whose intimate friends included personalities like Dadaist artist Marcel Duchamp and actress Hope Reed. Delaney spent her first 10 years in the Hamptons. There it was common to see artists such as Larry Rivers, Fairfield Porter and Saul Steinberg painting on the beach. The family then moved to Greenwich Village, where visitors included artists such as Surrealist David Hare; her mother's best friend was the art critic for The New York Times. Summers were spent in France, Spain and Wyoming, where the multi-lingual Delaney sometimes attended a one-room schoolhouse. In Wyoming, Delaney and her siblings made cities out of hay bales and put on magic shows for their rancher neighbors; they kept a pet antelope and a magpie. In New York she attended upper-crust Spence School but had a boa constrictor and a pet pig.

Delaney attended Barnard College, then U.C. Berkeley's landscape design program. Upon graduating Delaney sent her resumes to design firms. After a few interviews she decided to strike out on her own. "I wanted to do art and saw that it was coming my way. I couldn't do it in a standard way. I wasn't interested in traditional landscape architecture. It's sort of a vocational field, and there was no discussion about the spirit of the land. I wanted to do work that had a civic nature to it. What I stumbled onto was a relationship of care of the land."

Cut off by a disapproving father, Delaney started by placing ads for her services as a gardener and embarked on a self-education program. "I went to horticultural meetings, and got seeds from the Royal Horticultural Society. I went on garden tours and visited botanical gardens. I started a construction company and hired union guys who had retired, and I started bidding on public work." Looking back, she explains, "I was an immigrant. I had no choice. I had no back-up plan."

Today, when not out checking on her works-in-progress in Napa or the East Bay, or traveling the world lecturing and designing from Sweden to Singapore, Delaney can be found with her design team at Seam Studios, an industrial concrete-block structure near San Francisco's Pac Bell ball park. The soaring three-story space is enlivened by music, a pink cockatoo and a pair of Airedales. It is filled with sculptural works, drawings, books and furniture of Delaney's own design such as Tablesaw, a table with a giant sawblade top.

Suspended are curtainlike pieces comprised of stones hanging on stainless steel cables. She has experimented with these forms in recent years; for an Architectural Digest Home Show in New York City she conceived them as works of Braille. In the installation, the works were hung against a wall which had the Braille text behind it as a key. One piece spelled out Raymond Carver's last poem.

Delaney is never short of ideas. "I have six or seven projects going on at once," she says. "I have all these ideas and I do things. I get enthusiastic and I get waylaid. It's like a river. I end up at a tributary then have to go back."

A bout with cancer in 1989 led Delaney to a new chapter in her work: medicinal and healing gardens. She has designed a healing garden for a cancer center at San Francisco General Hospital and a garden for the Children's Hospital of San Diego. A healing garden at the Marin Cancer Center combines water features with plants used in traditional Chinese cancer therapies. "Healing to me is about opening portals and gaining balance. When you're not well, something's not working. I think all gardens are healing gardens."

A private city garden for an elderly couple reflects the artist's very thoughtful approach to living with illness. "It was my third garden for this family and their last," she explains. "They moved from a beautiful place in the country to the city due to health issues. The woman was frail, but a fierce gardener who loved plants. Everything was designed for someone who is old. There were raised planters because she could not bend over. The husband was confined to the second floor, but he could look down and see everything. There was a ring of lights on big bamboo posts with clematis growing up them so he could see [better]. It's a very small space that feels large. But the real challenge was to make a space where you don't see the disabilities."

In recent years Delaney has been pondering how to make an impact that might have lasting and cumulative effects. She's exploring the prospect of large-scale urban agriculture in hard-hit Detroit, for instance. "I'm really interested in the big do-good vision," she says. "I'm not just interested in landscape. I'm not just interested in fixing things up. It's time for a huge change; we just have to do it."
---
Chase Reynolds Ewald has lived in northern California's Marin County long enough to be spoiled by its great climate and year-round gardens. Her books, though, cover the Northern Rockies. Her latest project with photographer Audrey Hall, The New Western Home, will be in stores this fall.