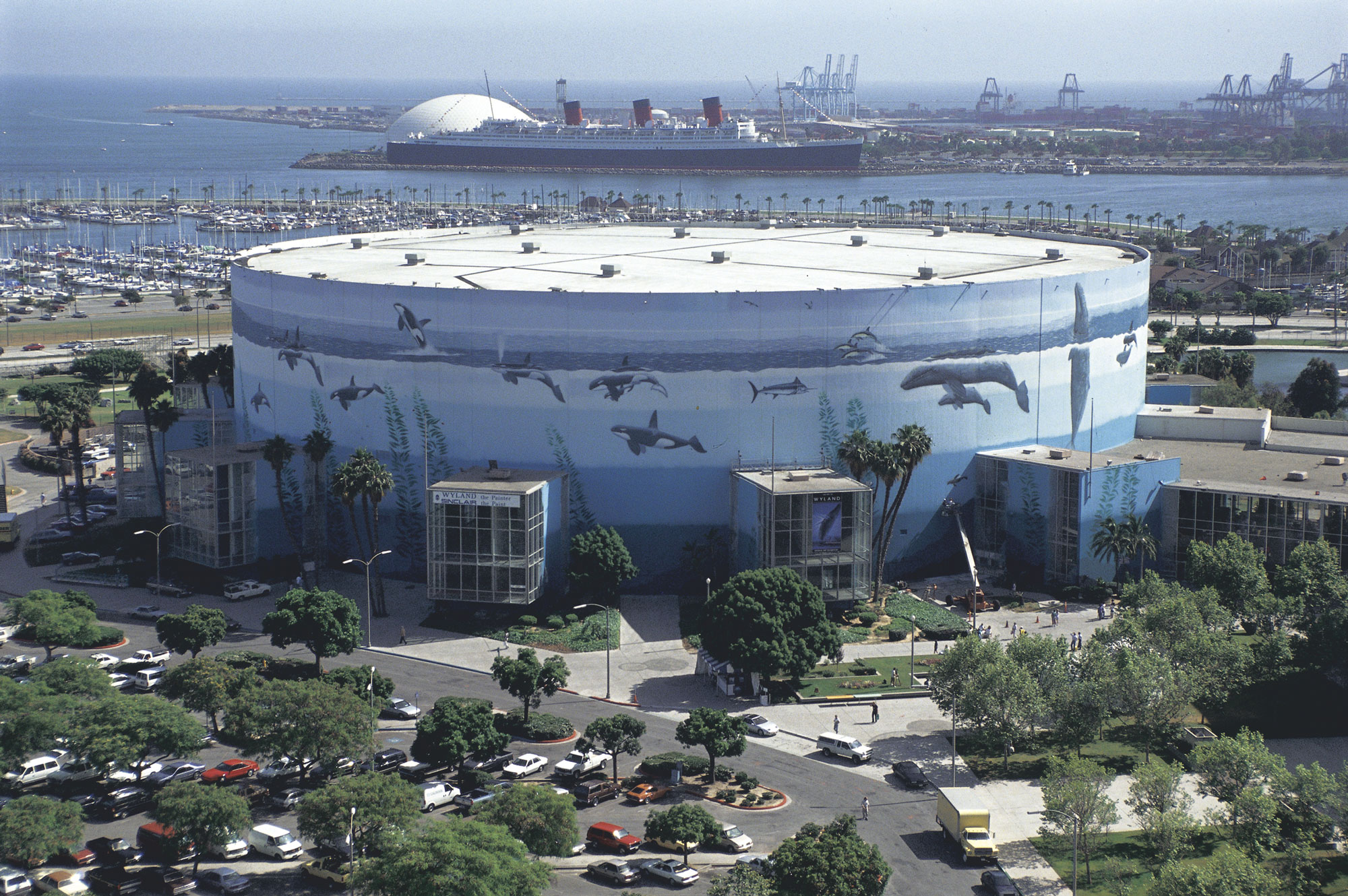 "Whaling Wall 33, Planet Ocean", Long Beach Convention Center, Long Beach, Calif., is the largest mural in the world, as listed, May 4, 1992, Guinness Book of World Records. 1,280 feet in diameter and 105 feet high.
30 May

Artful Conservationist

, Wyland is a man with a big message and an even bigger medium. For the last 25 years, the 51-year-old artist, who goes by his surname, has showcased the beauty of ocean creatures on traffic-stopping murals around the world. Wyland-rendered sea turtles, dolphins, manatees, rays, sharks and whales have made their way onto buildings, boats, trains and planes in 12 countries on four continents.

By their size alone Wyland's murals are impossible to miss, but it's the content that is mesmerizing. You can't help but stare at the image of a massive humpback whale, nose to the sky and water trailing from its fins, as it breaches a sapphire sea. Just try to suppress a smile when you see life-size Orcas diving into an indigo sea lit by a hot-orange sunset. And then there's that Aloha Airlines Boeing 737-700 — the entire fuselage is decorated with Wyland's whales, spinner dolphins and seals.

If the medium stops traffic, the message is subtle: Wyland is all about saving our oceans, rivers, wetlands and their creatures.

"I think if people see the beauty in nature," he says, "they'll work to preserve it."

Not content to merely create arresting public art and hope people glean the message, he established the non-profit Wyland Foundation in partnership with Scripps Institution of Oceanography in 1993 to promote environmental awareness through education, public art and community events. One of his primary targets is young people.

"Once you have conservation in your heart, it never leaves," he says. "If we catch kids early, we can have lifelong conservationists."

In a letter to Wyland, dated August of 1997, Vice-President Al Gore lauded the artist for his impact on youth. "Your organization is making an invaluable contribution to the effort to promote environmental awareness among our youth and to encourage them to continue their own efforts," wrote Gore.

In 2004, the Wyland Foundation launched Ocean Challenge, a five-year project to preserve the world's shorelines one beach at a time, targeting the East Coast the first year, the Pacific Coast in 2005, Mississippi River in 2006 and major cities across the United States in 2007.

In October, 2007, Wyland's "Every Drop Counts" mobile classroom began making its way to schools across the nation. The 43-foot expandable classroom with touch-friendly exhibits, free-flowing water and a 4-D theater takes the conservation message to an estimated 6,000 students each month.

Wyland grew up in Michigan, thousands of miles from salt water, but was captivated by Jacques Cousteau's undersea exploits on television. It took a family vacation to California when Wyland was 14 years old to irrevocably steer his art career seaward. Two spouting whales off Laguna Beach seized the young artist's imagination and set him on a path toward painting and sculpting sea creatures.

In 1977, after two years at the Center for Creative Studies in Detroit (where he now holds an honorable doctorate degree), the ocean's siren call drew Wyland to Laguna Beach, California. He understood the power of public art to raise community awareness and convinced city leaders to let him paint an ocean mural on the wall of Hotel Laguna. For free. Wyland's first Whaling Wall was completed in 1981 and he's been creating pro bono murals ever since.

"I get to tell stories through my paintings," Wyland says. "People ask all kinds of questions — what type of whale, where it lives. They're curious and want to know more."

Positive public reaction to his first Whaling Wall spurred Wyland to launch a most ambitious goal: to paint 100 murals around the world. As a result, airport walls, office buildings, aquariums and hotels in 72 cities have become undersea tapestries broadcasting Wyland's conservation message to an estimated 8 million people every day. Planet Ocean, encircling the Long Beach Convention Center, is 105 feet high and 1,280 feet in diameter, making it the largest mural in the world and landing Wyland in the Guinness Book of World Records.

Along the way, Wyland created an immensely successful commercial empire valued at more than $100 million. His sculptures and original paintings sell for thousands of dollars and his sea-life images and distinctive whale tail logo are tattooed on everything from hats and T-shirts to salad bowls and jewelry. The high-energy artist has hosted Wyland's Ocean World on the Discovery Channel's Animal Planet Network, written books, designed a boutique hotel in Waikiki and recently collaborated on a jazz CD titled Rhythms of the Sea.

While the United Nations, Sierra Club and Underwater Academy of Arts and Sciences give him thumbs up for helping spread the conservation message worldwide, art critics frequently claim his work is overly commercial and not serious enough to be considered fine art. But they cannot deny his mass appeal or the fact that his instantly recognizable work has made him a pop-art icon.

"Wyland's work is focused and very approachable," says Professor Zdzislaw Sikora, chair of the fine arts department at Wyland's former art school, the College for Creative Studies. "He is a skillful painter and technician who certainly knows how to create murals, and there is no denying his work impacts and influences more people than a lot of other artists. Wyland works in a specific alphabet that speaks to an audience that reads that alphabet well."

Prior to the 2008 Summer Olympics Wyland will create his 100th mural, in Beijing, China, with the help of hundreds of international schoolchildren. More than 200 canvases, each 50 feet long representing United Nations and Olympic member countries, will be linked together in Hands Across the Oceans, a three-mile-long installation in the Beijing Sculpture Park.

What's next for the painter, sculptor, photographer, TV host, author and conservationist? In the next 30 years, Wyland intends to create 100 bronze sea-life sculptures in 100 cities around the world, a goal he will undoubtedly reach.
An Artful Hotel
"Artists are always looking for new ways to express themselves and showcase their work," Wyland says. His latest expression is a 405-room hotel, the Wyland Waikiki, in the center of Hawaii's busiest visitor center.
Wyland was involved in all phases of the hotel's interior and exterior design and once again, the man with the murals has chosen to make his mark in obvious and subtle ways. Wyland prints, sculptures and paintings are displayed throughout the hotel and his fish drawings are stamped on bed linens. His influence brought in fiber optic cove lighting that imitates changing tides, ceiling cutouts that resemble air bubbles and floor tiles that mimic sand. And check the positioning of the palm trees at the Wyland Waikiki entrance. They curve ever so gracefully skyward, in the shape of a "W."
But Wyland's ego, and his hotel, have room for other artists. Several one-bedroom "art suites" will feature work by Hawaiian artists and photographers. The first showcases award-winning photographer Kim Taylor Reece, whose graceful sepia images of Hawaiian dancers wearing traditional dress honor and help preserve hula kahiko, ancient hula.
Wyland Waikiki | 400 Royal Hawaiian Avenue | Honolulu, Hawaii | 877-WYLAND8 | www.TheWylandWaikikiHotel.com
---
Linda Hagen Miller has spent half her life in Washington State and agrees with the maxim: "If you're lucky enough to live in the Northwest, you're lucky enough."