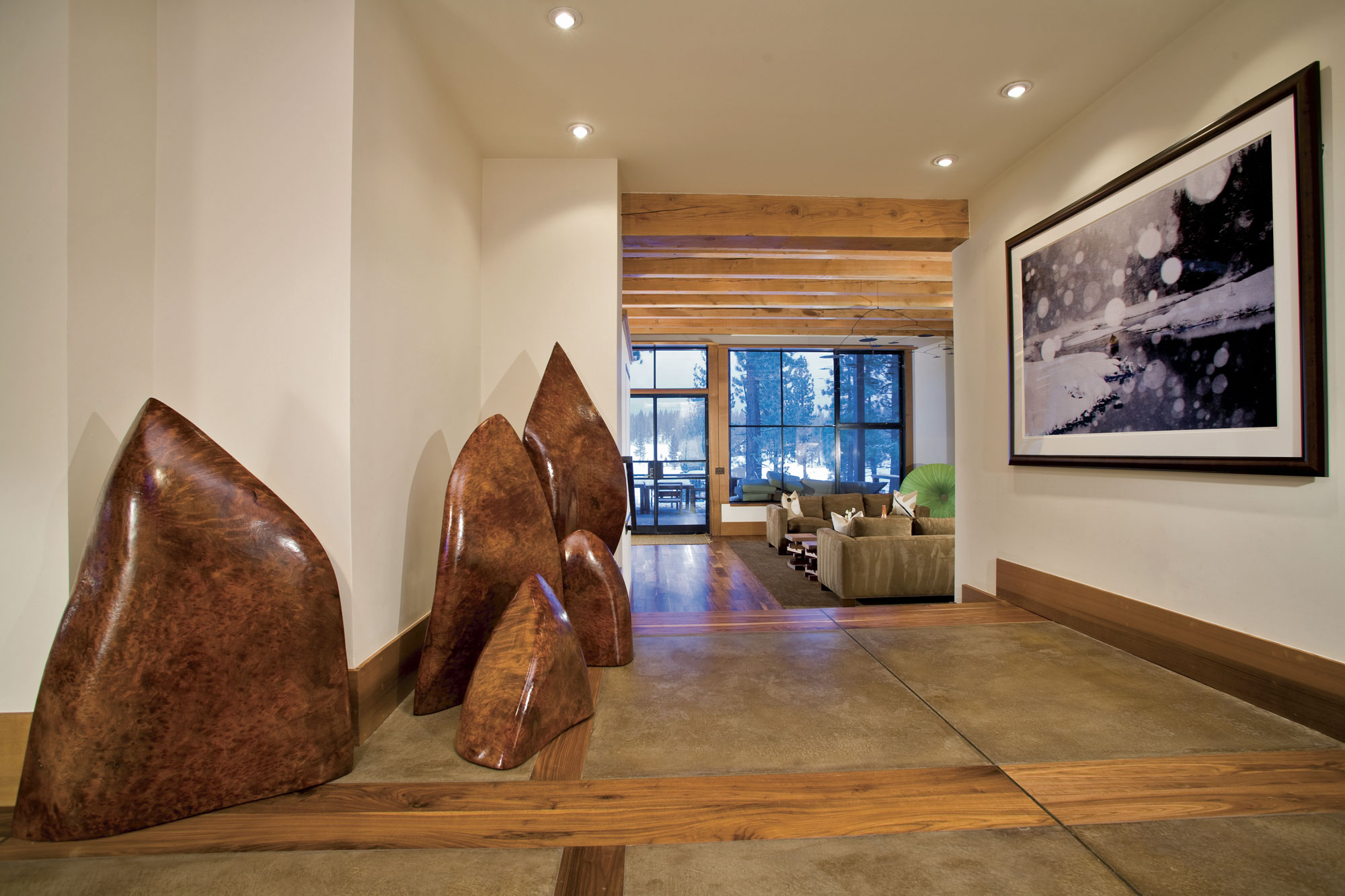 Wide halls and white walls serve as a foil for the family's organically inspired, and often tactile, art collection.
30 May

Artful Living

To some homes, art is an accessory; to others, it is architecture, with elaborate beams, spiraling stairwells and complex design parameters.

For the Lord family retreat in Truckee, California, art is comfort. It's a manifestation of ideals — and an expression of their family — bundled into sculptures, paintings and mixed media.

Perched on a corner lot in the Lahontan community, just miles from the North Shore of Lake Tahoe, the Lord residence is unassuming. Its low-pitched roof and Tahoe vernacular fit right in with the setting that mingles pines with sweeping meadow and mountain views. Inside, a simple, open floor plan is at once sheltering and liberating.

"We wanted everyone who walked in the door to let loose a big sigh — sort of how one would feel at a day spa, but not so quiet," says owner Coltrane Lord, who with her husband, Chris, bought the acre lot in 1998.

For 14 years, the Lords had been coming to Tahoe for family vacations with their large extended family and, more recently, their sons (their two boys, along with seven nieces and nephews, are all under the age of nine). The couple, whose primary residence is in San Francisco, lead very busy lives — Coltrane a couture designer, Chris working in finance — and wanted their Tahoe home to not only facilitate vacation antics but to serve as a space of utter retreat. Coltrane recalled their honeymoon resort when conjuring up the design parameters.

"We went to Amanpuri resort in Thailand for our honeymoon," she says. "Amanpuri was unlike any hotel I had ever been to — it very much respected the natural environment and culture, working with and around it. I'm hoping to do the same.

"We made a conscious effort to incorporate natural elements with a modern and comfortable slant, without going too overboard or typical of a mountain home (like a moose's head or antlers on the wall)."

So in lieu of taxidermy, you'll find a 20th-century wall-hanging from South Africa. Titled Women's Hats, it's a collection of five orange, circular pieces made from woven, henna-dyed human hair. Instead of carved wooden bears, you'll find more organic forms of the matter, such as Family, a stunning sculpture in the entry carved from naturally fallen wood by artist Steve Brown. Other lovely examples are the glass-topped dining room table, designed by Coltrane, with one leg a cluster of gathered branches and two sculptures created from driftwood by Chilean artist and family friend Pilar Ovalle.

"I definitely want all the art in the house to either have history, a spiritual quality or a little humor to it," says Coltrane. "It all has to work with the essence of my family. We also like to incorporate pieces that our kids can touch and live around. My kids play hide-and-seek behind Family all the time!"

Indeed, spaces for art and living blend seamlessly with one another. The home's architect, Greg Faulkner, of Truckee's Faulkner Architects, says this of his design: "Usually a home's hallways are strictly for going places. What I did here was treat them as stopping places, with enough space to sit and enough dimension to allow one to view the art from a distance. The ultimate result is there are no leftover spaces or hallways created just to get from room to room. It is all positive space."

These wide, open hallways, combined with a relatively low ceiling, spread out the 5,660-square-foot home's mass. Radiant heated concrete floors laced with lines of walnut and steel add a subtle touch of design to the entry. From here, a few steps lead down to the living area, adjoining dining room and the kitchen. This large, open space takes warmth from the wood tones of the Douglas fir ceiling and walnut floors, while steel-framed windows keep the look clean and modern. A nontraditional off-white plaster fireplace "has a big presence but makes a quiet statement," says Coltrane, and is coupled with a modern black mobile, Poem to Calder, by Jerome Kirk.

Massive south-facing windows open out to tiered patios, and the back roofline pitches up to the view. "Opening like a flower to the sun," says Faulkner, "the home responds to something farther away than the street."

This subtle roof raise is one of the many architectural features that shine without overstatement. "The architecture was treated in a quiet way," says Faulkner, noting that they maintained simple, white walls throughout and not too much detail to compete with the art.

Truly, art is not for the eyes alone in this mountain home. Just as another family would find relaxation in the comfort of a couch, the Lords are completely at ease with their art.