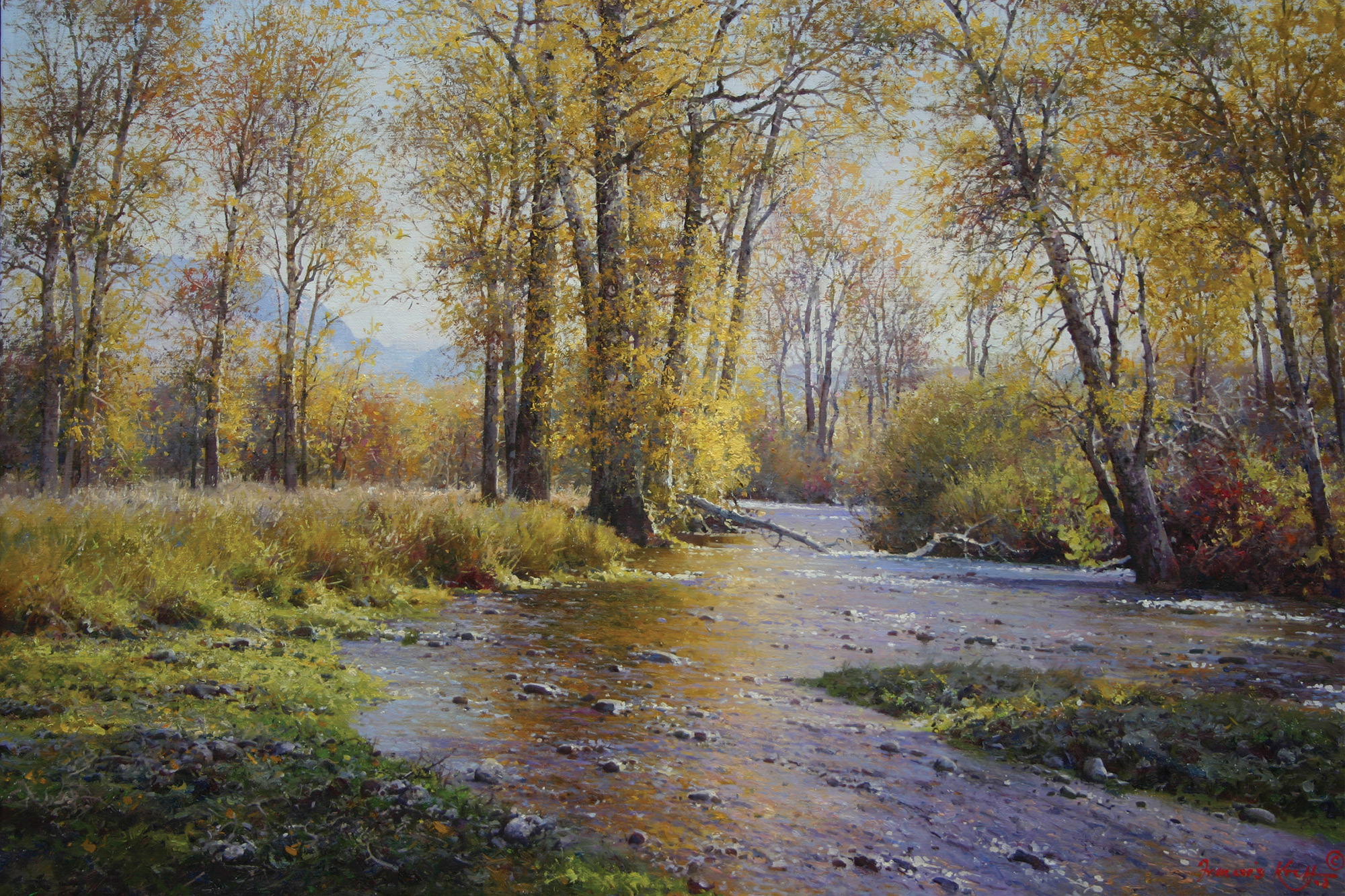 "Fall on the Red Fish" | Oil on Linen | 30 x 40 inches
12 Sep

Attending to Nature

THERE IS SOMETHING OF THE OLD WORLD about artist Francois Koch. The painter of landscapes found in the Northern Rocky Mountains and the American Southwest is, in one word, courtly. That quality is as appealing now as it was when celebrated in literature of another age. And it's especially noteworthy at a time when thoughts can be reduced to numbered syllables on social media, sometimes emptying expression of what is edifying.

What is edifying about Koch is not simply his manner; it's the value he places on portraying the grace of mountainous and desert landscapes or the nobility of wildlife in his native South Africa, conveyed brushstroke by brushstroke, painting by painting.

It is said of Koch that he has mastered the challenging art of depicting trees. There are the largely leafless ones guarding a rushing stream in October Morning, a 20-by-40-inch oil that compares with the autumnal grandeur of trees robed in their seasonal array in Fall on the Red Fish. What Koch has captured, after a thoughtful process of photographing scenes, sketching them and producing a number of preliminary drawings, is both a tree and, in fact, its essence.

Koch is a meticulous painter who leaves nothing to chance. He and his wife, Cilicië, immigrated more than 16 years ago to the United States, and his training at the Johannesburg School of Art and status as an established and acclaimed painter in South Africa made the transition to Western art in his adopted nation smoother than it might otherwise have been.

The story of Koch approaching Stuart Johnson, owner of Settlers West Galleries and partner in the Coeur d'Alene Art Auction, has by now become the stuff of legend. Koch presented himself to Johnson at the gallery in Tucson, Arizona, and proceeded to unfurl canvases he had rolled together to provide examples of his representational work tied to South Africa.

After examining one work after another, Johnson was sold.


"The paintings were terrific," says Mike Salkowski, manager of Settlers West. "Stuart has always said that if the art is good enough, he'll find a place for it. Francois is one of those artists who is singularly talented enough that he transcends his genre. His work has an otherworldly appeal that draws in a broad range of people, bridging the gap between new collectors and established ones."

Koch is among several dozen leading Western artists — including Howard Terpning, William Acheff, Scott Tallman Powers, Daniel Smith and Robert Griffing — selected to create works to be purchased by draw on November 19 during the gallery's premier annual sale, the Great American West Show.

The sale at the gallery's showrooms differs from many such events in that it showcases new works with prices set by the artists. Would-be buyers place their names and contact information in boxes from which the ultimate purchaser is drawn. Hundreds gather in person, by phone and by internet for a sale that Salkowski says is much like a reunion of extended family members who just happen to be talented artists and discriminating collectors. There is no pitting of collectors directly against each other, but the competition for a single work can still be stiff. The show allows just one slip per buyer, per item, indicating intent to purchase.

Asked to describe the buyer base drawn to the sale, Salkowski simply says, "Awesome people."

Koch says his career was uncertain in the United States until Johnson became a mentor and supporter, featuring his work in sold-out shows in 2000 and 2002. His work has since been represented by galleries from Wyoming to his adopted state of Texas, and his paintings have been in top Western art auctions, including the Coeur d'Alene, the Prix de West and Masters of the American West. Yet, Koch declines to speak of merit where he believes credit is due.

"Stuart Johnson is really the guy who opened the door for me. He saw something in my work," Koch says.

It would be improbable for anyone viewing Koch's work to take it for granted. Landscapes in the wrong hands can be static, the scenery stiff, the mood forced. By contrast, Koch's works are dynamic, with movement and light often linked to water features and underscored by his signature trees. A viewer can easily be overtaken by a desire to walk into one of his paintings, which are not merely realistic depictions of sites that exist but, instead, the happy union of nature and imagination.


Morning on Willow Creek, an expansive oil depicting a mountain stream in the Northern Rockies, is an example of one such alluring scene. The viewer can all but hear the sound of water as it streams over rocks and eddies against bankside rushes.

Koch, who began drawing as a child in a family of artists, invites the onlooker to attend to the elements of nature that are eternal and ever-beckoning. He expertly combines technique with talent, mixes what is seen in the mind's eye with what is perceived by the eye of the beholder to produce paintings that embellish reality but never reject it.

He makes judicious use of color with the understanding that viewers of his paintings deserve the best of his artistic judgments; it's the artist's job to inform the viewer of such components as focal point.

"Color is something that I generally feel you have to control carefully. You use it to your advantage and try not to let it overwhelm the painting," Koch says. "What it comes to is harmony."

Koch's respect for his audience and for his subjects also emanates from his canvases. Although he has created mostly landscapes for the Western art market, he is equally adept at depicting wild creatures, many of which anchor his works painted in South Africa. An heroic image of a lion pair is pleasingly muted in Vantage Point, where an arid hillock is flanked by scrub trees and a nearly cloudless sky.

Cilicië, Koch's partner in life and in the business of art for nearly 34 years, says her husband paints what he sees firsthand, often with her by his side.

"He is . . . my everything," Cilicië says.

Craig Macnab, an avid collector of Western art, was an early convert to Koch's work when it centered on the landscapes and animals found in their mutual birthplace of South Africa. Macnab, a real estate entrepreneur and strong supporter of the art museum in Steamboat Springs, Colorado, where he has a vacation home, first purchased one of Koch's South African paintings more than three decades ago.

"Francois' style is terrific," he says, "and I really respect that he adapted his subject matter to this marketplace while keeping his style."

Macnab sees in these paintings the skill of a formally trained artist who adheres to the fundamentals — detail in the foreground, broader landscape in the background — while seeking to employ that intangible quality, creativity, toward a polished end.