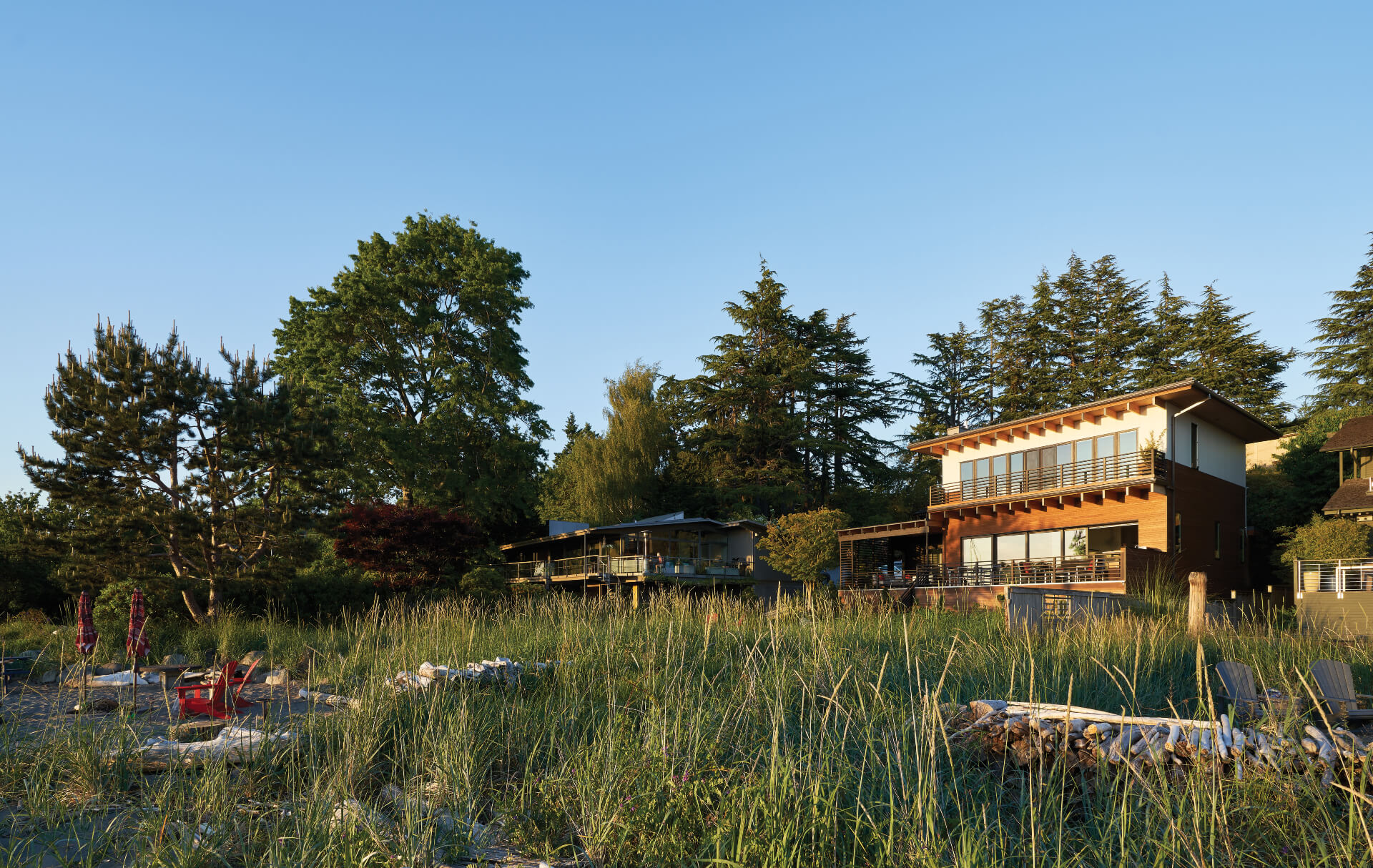 Most houses in the homeowner's neighborhood are built high on the embankments above the water, however, the Makai House sits level with 82 feet of private sandy beachfront — a rarity in the Seattle area. The property is landscaped with low-maintenance vegetation, including native seagrass, ferns, and Japanese maples that create a peaceful and private area outdoors.
03 May

Blurred Lines Near Puget Sound

It is said in Japanese culture that water bridges the past and present, tradition and modernity. Outside the bustling streets of Seattle, sitting at the edge of Puget Sound, lies a home that embodies the traditional Japanese mentality of water and life being blended harmoniously in the dichotomy of old and new. When homeowner Dan Valente set out to build his dream home, he wanted to encapsulate the essence of traditional Japanese architecture — natural muted colors and tones — with a modern twist. He first became interested in this style while living in Japan for three years on business.

Valente's house incorporates a mix of traditional Japanese shou sugi ban cedar and composite fiber cement panels that replicate authentic tatami mat ratios. The home was designed for Seattle Cedar Homes, a subsidiary of Lindal Cedar Homes, an American manufacturer of prefabricated post-and-beam homes since the 1950s. The architectural designer hired by Lindal Cedar Homes for the project, Sakshi Uomoto, was familiar with Japanese design principles and worked closely with Valente to bring his aesthetic vision to life. "We tried to use a lot of Japanese authentic materials and proportions when constructing the house," she says. "Even if the material wasn't necessarily Japanese, we still followed some school of thought that centered around that type of design."

In a conceptual essay to the architect, Valente expressed a vision of "blurred lines" — a house that seamlessly transitions between indoor and outdoor spaces. "I am an al fresco type of person, and I love being outside, so I didn't want any hard line between inside and out," Valente says.

Uomoto explains that the house was designed with three external-use spaces that flow from inside to out, creating dynamic expandable areas for any occasion. "There is a back screened patio for private use, which is sheltered from the weather and the neighbors for more intimate gatherings, and a covered porch on one side that is partially sheltered from the neighbors but completely sheltered from the Seattle weather," Uomoto says. And finally, the largest deck extends from the indoor kitchen to an outdoor cooking and dining area where Valente hosts dinner parties.

Though the contemporary beach home totals 3,500 square feet, its accommodations are designed just for Valente. "This house isn't a family-oriented house," he says. "It's built for an empty nester who likes to entertain." With technically four bedrooms, he uses the extra three rooms as a home office, a workout room, and a small guest bedroom.

On the upper floor of the home is the primary bedroom suite, equipped with a grand closet and bathroom. "If I were to pick one room that's my favorite, I think it would be the [primary] bathroom," Uomoto says. "Most of the spaces in the house are centered around entertaining and gathering, but this space was made to be a Zen area — a place to decompress."

Valente recalls staying at a bed-and-breakfast in New Zealand where the bathroom was oriented in a way that when facing the mirror to brush his teeth, the view of the waterfront behind him was reflected back. "I wanted that in my house," he says. "I wanted to have a water view even when I wasn't facing it." If one's feeling shy in the bathroom with wide-open windows, the flip of a switch releases a vapor on the windowpanes, creating a fog for additional privacy from the ferries sailing by. "There's a lot of features of this house that are happening behind the walls. Beyond the interior design of it all, this house is built to last," Valente says.

At the home's entryway, there is a compass rose hanging on the wall with the engraved phrase "Valente Makai," which translates from Hawaiian to "Valente toward the sea." The house has since been referred to as the Makai House, because it faces entirely west toward Puget Sound. The open concept floor plan of the home maximizes stunning views of the water and natural light that seeps in through the wall-to-wall windows. Bold shadows and lines dance throughout the home past the various window features, including the skylight above the staircase, which opens during the summer months to allow cool airflow into the home.

While the Japanese-inspired aspect of Valente's house remains the hallmark influence, he says the home is much more than that. To him, it's an embodiment of all his world travels, from Danish-inspired minimalism to the bathroom mirrors he experienced on New Zealand's Tasman Bay.

Uomoto agrees that she designed a home to feel like an extension of Valente. "Every house I design represents the people who are going to live in it," she says. From physical materials to sources of inspiration, when Valente walks into his home, he is brought back to the places he's spent his life exploring — perhaps another version of blurred lines that extend beyond brick and mortar.