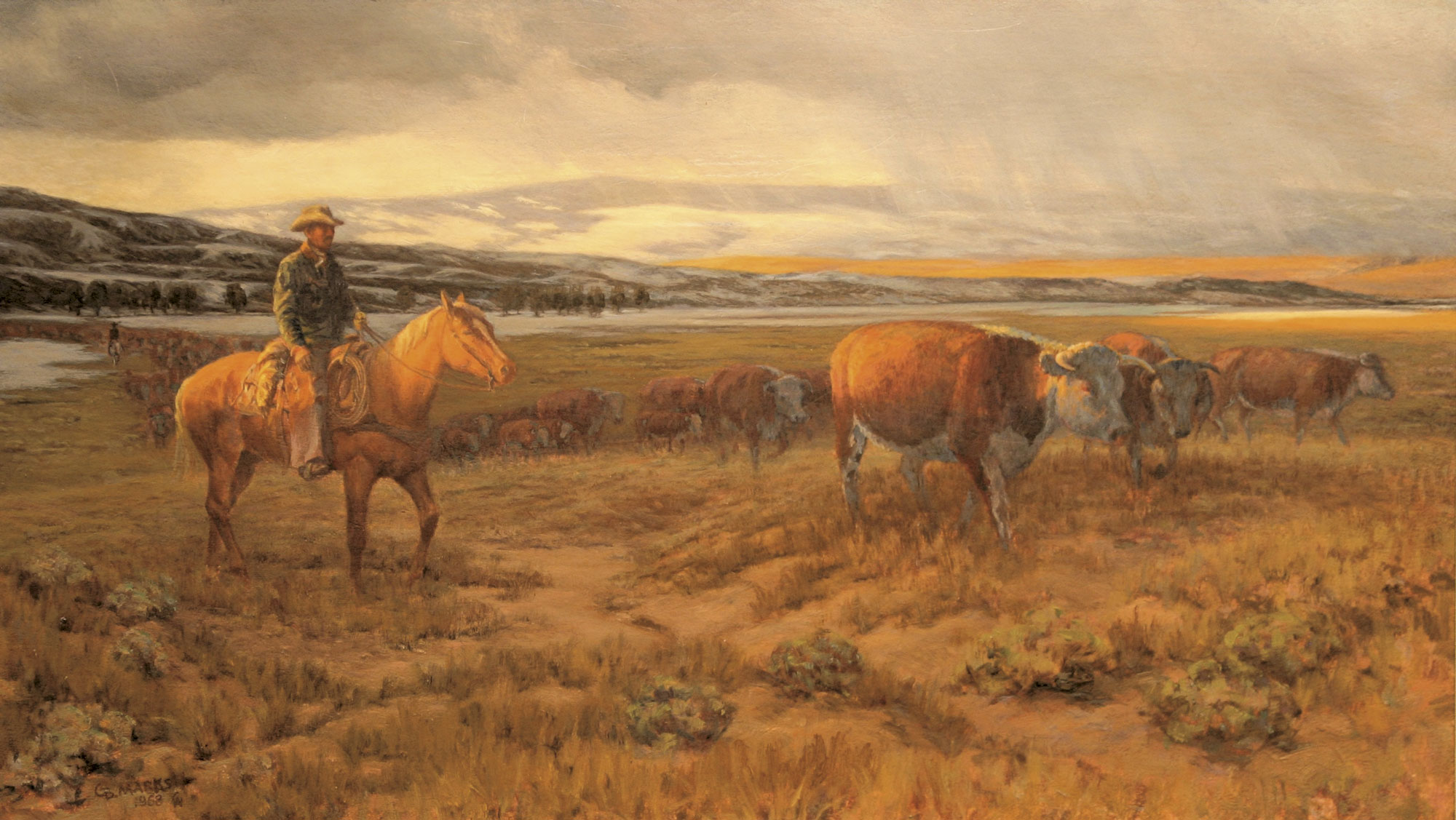 "Untitled", George Marks | Oil | 24 x 14 inches
24 Jul

Brand of the West

IT WAS A CHILLY MORNING IN AN OLD SONORA CANYON, November of 1964. Three Arizona cowboys shared a primitive cow camp with some vaqueros at a roundup south of the border. Warming their hands around tin cups of coffee, Charlie Dye, John Hampton and Joe Beeler swapped stories of horses and art over a campfire. A spark of an idea was conceived and fanned into what became the soldering of cowboys and art — the Cowboy Artists of America (CAA).

The pedigree of those old-time painters and illustrators was established officially when the three met with fellow artist and friend George Phippen at a tavern in Arizona in June of 1965. They agreed to perpetuate the memory and culture of the Old West in the spirit of Remington and Russell.

Just as a herd of horses is made up of unique animals, the Cowboy Artists of America is made up of individuals, each contributing his own talent, strength, experience and temperament to the group. Not all members are working cowboys, but each artist has an intuitive flair and unique personal style that allow him to reinterpret the Old West or paint the reality of today's West — some going backward and forward in time simultaneously.

To profile these painters and sculptors, many of the early members were cowboys and/or successful commercial artists illustrating magazines, books, posters and even comic books. Fred Harman, the first non-founding member, was the creator of Red Ryder, the fictional cowboy from the 1940s. Red Ryder became a syndicated comic strip, followed by comic books, radio shows, books and licensed products such as the Daisy Red Ryder model air rifle, immortalized in the classic film A Christmas Story. Founder John Hampton helped him with those comics.

Cowboy boots and branding irons, dust and horse sweat may seem incongruous with sculptors and painters. Not with these guys. In keeping with their roots, the CAA holds an annual trail ride and campout at a working ranch, most recently at the Diamond Trail Ranch in northern Colorado, where the members gather cattle, rope and brand, and eat meals from a chuck wagon.

After a day in the saddle, they swap tales around a campfire under the same big ol' starry sky that dazzled three cowboys on a roundup years ago. As the burnt orange and red embers ward off the chill and dampness of the encroaching night, so too sparks friendship and camaraderie. Further down the trail of life, when the somber responsibility of producing good work hangs heavily in the dust kicked up by the hooves that went ahead, the stories told around the campfire and memories of the ride become art, as they have before, and before that.

Mike Ingram, Arizona art collector and honorary co-chairman of the C.M. Russell Art Auction in Montana, says, "Of Western artists, some of the very, very best are in the CA. They're a tight-knit group and the quality of their work is well recognized." As is their brand. Burned into the hide of an animal, the CA brand is a powerful symbol of ownership and history in the West, and a powerful symbol behind a recognizable name, which has become a marketing tool for the artists as individuals and as a group. Each artist receives a branding iron when he becomes a member.

As with historic art groups, such as the French Impressionists, and the Taos Society of Artists, individuals were drawn together by similar aims and principles. In these prestigious groups, each artist has procured a permanent place in history and a marketing advantage because of the association. CA John Moyers, from Santa Fe, whose dad William Moyers, was one of the early members, says, "Before the CA started there was a limited art market in the West. When they started showing, it created a huge industry for Western art in a short time. The group broke ground."

Unlike the other renowned art groups, which stayed together for a relatively short period of time, the Cowboy Artists of America has been together for 43 years. Along with that duration comes the toughest of times — losing the founders of the group whose wisdom, experience and link to the past can't be replaced. But like a family whose patriarch passes on, someone steps forward and accepts the mantle of leadership. Joe Beeler, the last founding member, died helping a neighbor brand cattle in 2006. CA John Coleman said, "Joe's personality and philosophy were on as high a level as his art." Everyone took it hard, but their Western experience, marked by the seamless continuity of the group, lives on.

Cowboy Artist Dave Powell said it's daunting to replace those old guys. "Frank Polk cowboyed where a jackrabbit couldn't live. He rode through rock canyons with mesquite thorns that would tear a man up. But now there's guys like Bill Owen. He grew up tough — solid tough. Lost an eye, dusted off and is paintin' 'em good. He's a solid character."

In the end, history is a dynamic force changing with perspective so that what was is edited by what is, and the CAA has become an edited version of all that has gone before.

The Cowboy Artists of America, as with other historic groups, has encountered bumps along the trail. The Museum of Western Art, formerly the Cowboy Artists of America Museum, was built in Kerrville, Texas. It's the story of a small Texas town answering the cowboys' call to create a fine museum to archive and display their work. March of 2008 was the 25th anniversary of its Annual Roundup. In 2004 the decision was made by the CAA to separate from the museum and the archive was moved. It's a different day and different time and the business construct, or foundation, shifted so that it was no longer what both parties envisioned. Some Cowboy Artists still participate in the Roundup and their work is part of the permanent collection.

The CAA gathers formally twice a year — once to cowboy and once to exhibit art. Each event is like a big family reunion with backslapping, laughter and reminiscence. This year will be the Cowboy Artists of America 43rd Annual Exhibition & Sale at the Phoenix Art Museum. It's the only show in which every piece of art is fresh — never previously exhibited. The implication is that it has to be the artist's best work, which creates excitement among patrons of the arts, gallery owners and the artists themselves. CA Gary Carter says, "You see the best in Western art. It's Western realism painted with authority. We have an extreme interest in what each other is doing."

Twenty-five artists generate around $2.5 million in one night. The Phoenix Art Museum is a contemporary museum, but its biggest show is the Cowboy Artists show.

Phoenix Art Museum director Jim Ballinger, formerly the Western Art Curator for more than 30 years, says the Cowboy Artists of America is renowned among Western art lovers internationally and creates an energy and interest in Western American art. "They're dedicated to what they do and to each other. The group, by nature, is made up of individuals, but held together in a family sense, enjoying each other and working together to excellence."

CAA art hangs in galleries, museums, corporate offices and private collections around the world. J.N. Swanson said his art is collected by all types, from broken-down cowboys to famous celebrities, and that pretty much sums it up for most of them. President Reagan hung one of Swanson's oils in the Oval Office.

How did these artists get to be members? Steve Todd, Phoenix banker and director of marketing and public relations for the CAA, says, "It's an advocacy process in which they are introduced to the group by a member. They have to have a feel for, love for, passion for the West, and the quality of their art has to stand up. It's chemistry and art in the fullest measure because these guys are bringing a new member into the family."

Todd has been adopted into the family and, as Powell says, "He's taken us into the 21st century." He rides herd with them and rides herd on them. Todd builds the agenda for the business meetings and helps keep them on the trail. "They wander off in ways you can't imagine, but we get it done," Todd says.

John Coleman said when he became a member, "You realize you are a part of history when you become a part of this group. At least half the members were on my hero list — Riley, Terpning, Beeler … I never thought I'd even meet them. Symbolically I was on equal footing — the next step was to earn their respect."

Under the weight of the creative force, these cowboys and Western history aficionados wandered off the civilized path, picked up a paintbrush and eventually worked their way to the Cowboy Artists of America and a place in history.
Cowboy Artists of America 43rd Annual Exhibition | Phoenix Art Museum | Sale: October 17 | Exhibition: October 18 – November 16, 2008
Active Members: Wayne Baize, Harley Brown, Gary Carter, John Coleman, Tim Cox, Don Crowley, Loren Entz, Fred Fellows, Bruce Greene, Martin Grelle, David Halbach, Orland C. Joe, T.D. Kelsey, Mehl Lawson, Herb Mignery, John Moyers, Bill Nebeker, Gary Niblett, Jim Norton, Bill Owen, Dave Powell, Clark Kelley Price, R.S. Riddick.
Emeritus: William Moyers, Kenneth Riley, Tom Ryan, U. Grant Speed, J.N. Swanson, Howard Terpning, Fritz White.
Deceased: Joe Beeler, James Boren, John Clymer, Charlie Dye, Nick Eggenhoffer, John Hampton, Pat Haptonstall, E.E. Helbig, Fred Harman, Harvey W. Johnson, Robert Lougheed, Tom Lovell, George Marks, R. Brownell McGrew, George Phippen, Frank Polk, Bob Scriver, Irvin "Shorty" Shope, Ray Swanson, Donald Teague, Melvin Warren, Byron Wolfe.