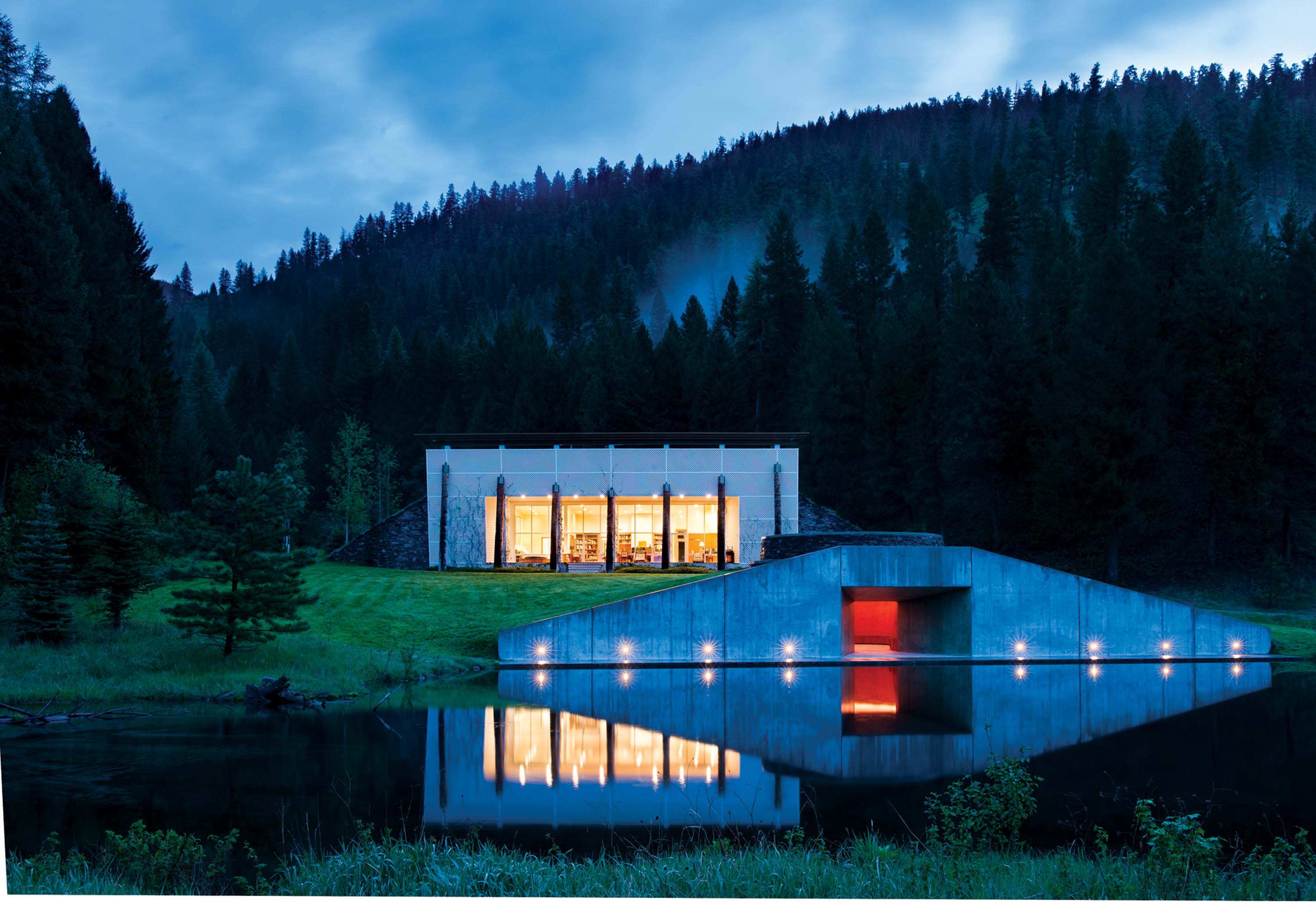 01 Feb

Buried Treasure

WHEN YOU ENISION A HIGH-END MONTANA HOME, what comes to mind?

Perhaps a glorified log cabin. Perhaps Western-chic furnishings and dark living rooms. Rustic barnwood mantels above river-cobble fireplaces. Leather sofas and wrought-iron sconces. Sweeping vistas of distant peaks.

Got an image in your head? Good. Now, take all of those ideas and throw them out the window.

In an isolated valley in Montana, an architectural delight lays hidden.

Tucked within the Sapphire Mountains, this house dazzles like the range's namesake. And, like the stone, this home is buried — literally — deep within the landscape. Without knowing just where to look, you'd never find it.

After several miles on forest-flanked dirt roads, an expanse of meadow emerges, edged by steep, larch-covered hillsides. The narrow valley seems uninhabited, when suddenly, as the road turns, a structure appears out of nowhere. And it is like nothing you've ever seen.

A white-latticed facade stands proudly, braced by massive wooden posts. Topped with a bronzed cornice, the entire structure glows in the sun. An inset porch is backed by a wall of windows, and ivy climbs the support posts. Stone buttresses fan out from the sides like wings.

Given this bold front, it would seem that the rest of the house should appear similar: A riot of lattice and bronze, more massive windows. And yet, when walking around to the side of the home, one finds … nothing. Or rather, one discovers a grass-covered earthen berm, which looks as though it's been a part of the landscape for millennia. It suddenly becomes clear that the facade is just that: A majestic mask worn by a dwelling that is, in fact, built entirely underground.

"That is what I do," says world-renown Argentinean architect Emilio Ambasz. He designed the main house on the property in the 1990s, and when the homeowner wanted to add a second home years later, his keen eye was called upon again. Ambasz's design was then tailored to the site by Honolulu-based architect Brigitte Hahn-Miller, who says she "leaned on his elements," and Kate Sutherland, a Missoula, Montana-based architect. While some group-design projects go astray, this collaborative effort was seamless.

"The buildings I design are just facade, because they are covered with earth on the walls and the roof, to provide insulation. It's certainly nothing new in that area," Ambasz says. Although this style is less common today, he's quick to mention that historically, earth was often used as insulation in homes in the American West. "It's very practical and pragmatic."

Pragmatic it may be, but there is also a touch of the fantastic in Ambasz's design. It feels at once ancient and modern, otherworldly and thoroughly organic. Ambasz says he was influenced by the landscape itself as he designed the home. "There are two long-running hills, to the east and the west of the valley," he says, which limit the hours of daylight. "The absence of sunlight depresses me, so I wanted by all means to do something that reminded people that the sun will return again tomorrow. That's why I made the cornices you can see on the buildings gilded, so they will reflect the last rays of sun."

It suddenly becomes clear that the facade is just that: A majestic mask worn by a dwelling that is, in fact, built entirely underground.

There's no scarcity of light within the home, despite being underground. The south-facing wall of windows proves ample, brightly illuminating the vaulted space. With its open floorplan and taste-fully eclectic decor, the interior can best be described in one word: comfortable. "That's the most important thing," says interior designer Hilary Heminway. "It's what we all want. And sometimes with these extremely modern, pared-down spaces, they don't look welcoming. But here, because of the colors, the furniture spacing, it is very comfortable."

Spare, modern lines meet warm furnishings in red, green and neutral tones. Wicker chairs pair with a walnut-burl coffee table. Skylights illuminate the slate-and-tile bathrooms, and a back entry, cunningly carved out of the earth, offers additional lighting from the rear. There is an abundance of books, and fine art reflects the taste of the homeowner, a highly regarded collector. Tucked away in the cozy, bright interior, you'd never know you were nestled beneath layers of stone and soil.

With different ownership, or a less perceptive architect, this property could have been sullied by what Heminway calls "another big brown house," the classic palatial log home. But taste and vision ruled the day, and the result is extraordinary. It is at once exuberant and subdued. Expansive and humble. Nothing is overdone, nor out of place. Truly, a gem buried in the hills.