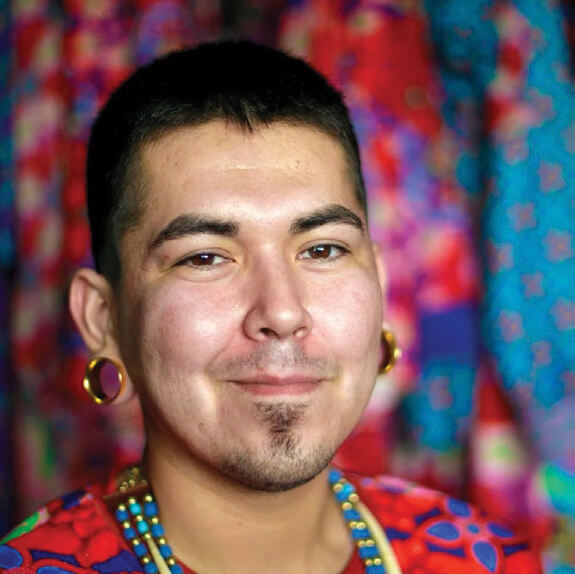 11 Jul

Celebrating a Centennial: Bead Artist Elias Jade Not Afraid
Booth PLZ 86
While collectors of Apsáalooke bead artist Elias Jade Not Afraid have unofficially put together several rules when it comes to buying his work at the Santa Fe Indian Market, the one that eclipses all others is to wake up before sunrise and quickly find your place in the line already forming in front of his booth. Although Not Afraid has only been participating in the market for six years, he has sold out every single show, and his last market offerings sold out by 7:30 a.m., only a half-hour after the show opened.
"I applied in 2016 and didn't know what to expect, but I got in, which was a surprise," says Not Afraid. "And then I sold out the second day. The next year, I stayed up all night making a few extra works, and [they] sold out by noon, so I just went back to my hotel and went to bed. The business side of making art was pretty new to me, but Jamie Okuma mentored me on all that, told me how to talk to customers, how to handle the market, how to price my work, and that all really helped." Okuma has continued to be a mentor to Not Afraid, and the two interact quite often during the creative process, from planning out new works to trading beads and materials.
Even with his early success in Santa Fe, Not Afraid's recent experience at the 2022 Heard Museum Guild Indian Fair & Market in Phoenix, Arizona, has quickly become the stuff of legends. His major piece for the show was a cradleboard — in form at least — but not many cradleboards include the extensive floral pattern he found in his grandmother's belongings juxtaposed against a blue rose with a bright red skull in its center, all done entirely in beadwork. The rest of the cradleboard was adorned with 200 elk teeth — 100 perfect sets, taken from 100 bull elk. The beads Not Afraid used date from 1850 to the early 2000s. The cradleboard, titled Life After Death, won the top prize for Diverse Art Forms at the show.
But what came afterward was a complete surprise to everyone, including Not Afraid. "I was driving in downtown Phoenix," he says, "and I casually checked my Instagram and got a message from Patricia Norby, a curator at the Metropolitan Museum of Art in New York City. I called her, and she let me know that the museum wanted to purchase the piece for their permanent collection." The cradleboard will be displayed later this year at the museum, adding to the list of institutions that already exhibit Not Afraid's work, including the Field Museum, the Heard Museum, the Minneapolis Institute of Art, and the Smithsonian.
Always one to challenge himself, Not Afraid has decided to create something completely different for this year's Santa Fe Indian Market. "I'm planning to do an elk's tooth dress, but there will also be a lot of beadwork sewn directly on the dress," he says. "I taught myself to sew recently, and I took a bunch of ermine pelts, layered them, and made a strip of fabric out of them. It will be something like a cape using the ermine fur, and then another piece will be a stole. The cape will have 100 or more ermine tails, and the beadwork on it will also include cowrie and dentalium shells. I wanted to make a whole ensemble, so I even ordered a mannequin for the booth. I love the idea of the royals from England and Europe wearing those ermine capes and jackets during the Victorian Age. And we have so many ermine here in Montana, so it made sense to me. Unlike mink fur, ermine is just so soft and smooth. I love sewing directly onto them."
Not Afraid, now in his 30s, began beading when he was 12 while living in the home of his great-grandmother, Joy Yellowtail. She was a schoolteacher and had amassed a large collection of beadwork and supplies during her lifetime. "She passed before I was born, but it was all there in her house, and that was the house I grew up in," says Not Afraid. "It was located between Lodge Grass and Wyola on the Crow Reservation in Montana. The winters were so cold, and it snowed constantly, so I found her beadwork and just started teaching myself how to do it. First out of boredom, and then once I started, I really got into all the designs and patterns and research I found around her house. Later, I began to take some of her beadwork apart and put it back together and taught myself two-needle appliqué."
Not Afraid sees the importance of using historic geometric and floral designs in his work, and he wants to help younger tribal members become interested in beadwork. "Beadwork is vital for our tribe's survival in these modern times to keep our traditions alive," he says. "Not just by teaching others how to bead, but also by always challenging myself and pushing the boundaries of beadwork along the way."