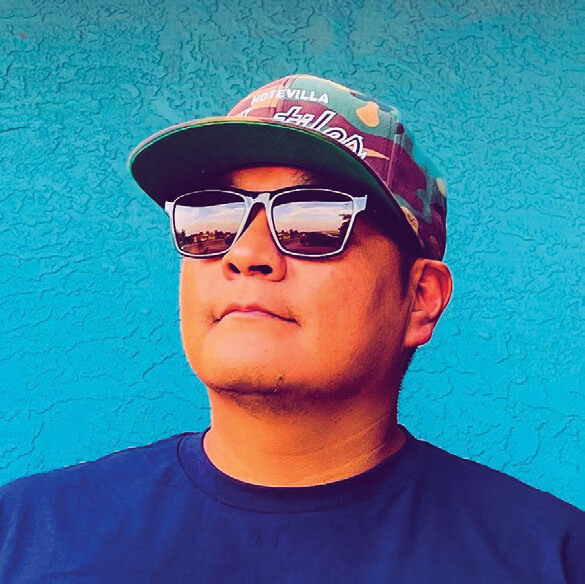 11 Jul

Celebrating a Centennial: Carver Mavasta Honyouti
Booth PAL N 201
Before Hopi carver Mavasta Honyouti started going to the markets, he first had to create a market. Honyouti comes from a family of katsina carvers and woodworkers, including his grandfather Clyde; his three uncles, Lauren, Richard, and Brian; and his father, Ron. However, early in his career, Honyouti realized that traditional katsina carving might be a bit limiting to his style, so he began creating wooden carvings unlike anything else produced.
His works in cottonwood include multiple figures shown in Hopi environments wearing traditional attire, but they reference movies, music, and popular culture. "I find this style just gives me more freedom artistically and intellectually," says Honyouti, who also teaches history at a middle school in Tuba City, Arizona. "I enjoy fusing popular culture and music references to what I am doing because it opens me up to other artistic influences and inspiration. I want to be able to capture current issues and events happening in my lifetime while also having fun with the work. A sense of humor is especially important to me, too."
While people were unsure what to make of Honyouti's work when he began, he is now a market favorite and has won many awards at both the Santa Fe Indian Market and the Heard Museum Guild Indian Fair & Market, including Best of Classification in his medium for three years running in Santa Fe; and three Innovation Awards at the Heard Museum in Phoenix, Arizona.
"Mavasta primarily makes two types of carvings: multi-figured katsina sculptures portraying diverse aspects of a katsina dance scene and flat, bas-relief plaques that often depict pop culture figures or portray multiple katsinam engaged in an activity," says Barry Walsh, a dealer in historical and contemporary katsina and the author of The Great Tradition of Hopi Katsina Carvers.
It is with these plaques that Honyouti lets his humor come out the most. One depicts "Star Wars" characters R2-D2 and C-3PO walking up the path on First Mesa toward Walpi. Another shows four katsina figures reenacting the cover of the Beatles' "Abbey Road" album, and still another depicts Kermit the Frog in the manner of a Paakwa (frog) katsina. He'll also carve plaques that look like iPhones with selfie-like photos of katsinas and other Hopi figures filling their screens. One titled When the Sand Gets Too Hot… depicts a butterfly maiden resting on an adobe bench and covering her feet with ankle-high yellow socks and flip flops. And he has also carved skateboard decks with images of Animal from "The Muppets," Boba Fett from "Star Wars," and He-Man.
"I've always been a 'Star Wars' fan, and there's a lot of symbolism and similarities in Hopi culture as well as Native culture as a whole," says Honyouti. "And now, since I am teaching middle school, there are a lot of similar interests I find in comics, superheroes, popular culture, and [movies]. My students like it, too."
While Honyouti enjoys adding these elements to his work, he is careful to honor the original carvers and the importance of the katsina to Hopi culture. "I want to make sure I'm being respectful to what they are and what they represent," he says. "They are here for a specific purpose, and I want to make sure I honor that message and that purpose and what they bring. I use the cottonwood root for all my carvings because that is what carvers have always used; it is soft and lightweight, and as a root, it comes from water, and anything that is associated with water up here is significant and important."