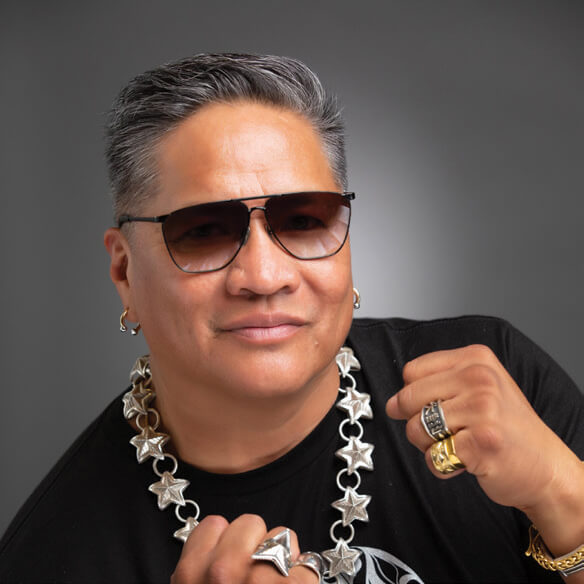 11 Jul

Celebrating a Centennial: Jeweler Cody Sanderson
Booth PLZ 11
In the unofficial hierarchy of artists at the Santa Fe Indian Market, the jewelers might be considered the rockstars — larger than life. The lines at their booths first thing Saturday morning grow long, and enthusiastic collectors eagerly scoop up pieces from stacks upon stacks of silver, gold, and turquoise-studded jewelry. Navajo artist Cody Sanderson fits this rockstar persona perfectly.
And how does one find him come Indian Market time? Just look for the hordes of stylish collectors, young and old, on the Plaza with bulky yet elegant silver stars, arrows, and skulls around their wrists, fingers, and necks, and on their earlobes. These designs have made Sanderson famous not just on the hallowed grounds of Santa Fe but also in Tokyo, Japan; Taipei, Taiwan; and Sydney, Australia. But make no mistake, Sanderson is where he is now through pure force of will, hard work, and an uncanny ability to not just endure, but succeed.
Born in Gallup, New Mexico, and raised in Window Rock, Arizona, Sanderson's "hardscrabble life" helped the artist develop the determination, perseverance, and work ethic needed to succeed. Today, his fans include musicians, actors, and luminaries across the globe. Several years ago, Lady Gaga was seen wearing one of his signature rings, further adding to his rockstar reputation. Other celebrities who have worn Sanderson's designs include A$AP Rocky, Luis Fonsi, J Balvin, Machine Gun Kelly, Jason Momoa, and Sophie Turner.
"I have seen my studio go from the kitchen table to a jeweler bench in the kitchen to the garage to an over-2,000-square-foot space now with multiple employees," says Sanderson. "When I started, I had six mouths to feed and $1,200 to my name, which I used to pay my first studio rent. It wasn't a case of wanting to be successful. I had to be. I had no other choice."
Some of Sanderson's pieces are engraved with his motto, "Evolving Navajo Silver," and the term relates not just to Sanderson's innovative spirit but to his enthusiastic embrace of new technologies and methodologies. "People have this view of Navajo jewelers," says Sanderson. "They want us to be sitting cross-legged, speaking with single syllables, using hand gestures, wearing bandanas on our head, hammering away at silver ingot, and doing every step of the process completely by hand. People accept the contemporary world in everything but want their Native jewelers to use 150-year-old techniques. I live in the 21st century. I use laser welders, microscopes, hydraulic press, electric rolling mills, 2-D and 3-D printers, whatever it takes to make my designs come to fruition."
His stars are what Sanderson is best known for: a five-pointed star, single stars, pairs of stars, entire galaxies even, on rings, bracelets, necklaces, bolo ties, pins, belts, and even shoes. "When I started making jewelry, I was married to Pilar Agoyo, who is from the Ohkay Owingeh Pueblo just north of Santa Fe," says Sanderson. "In Tewa, Agoyo translates to star, and that is what first inspired me to capture this iconic image in silver."
Besides silver, Sanderson also works in aluminum, copper, stainless steel, and 18-karat gold. Whatever the case, Sanderson wants his work to be associated with his happy and charming demeanor and to bring joy into people's lives. "My pieces represent good times and fun," says Sanderson. "They are not deep or hinged on political views. If it looks like a Lego piece, it's because it's a Lego piece. It doesn't look like a spider; it is a spider."