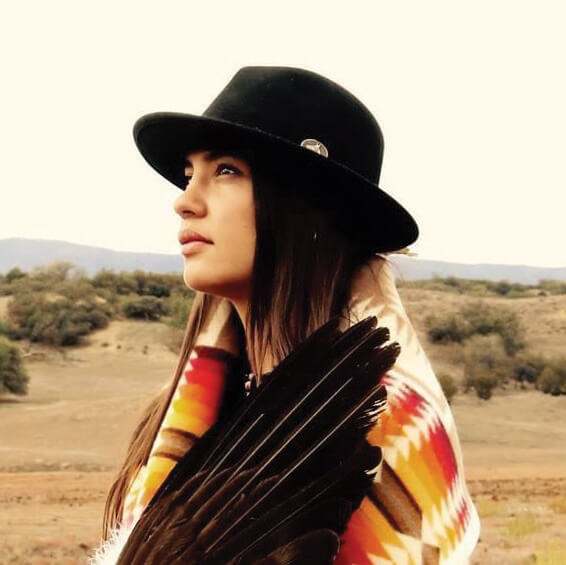 11 Jul

Celebrating a Centennial: Photographer Zoë Urness
Booth PLZ 8A
Zoë Urness had the "aha! moment" for her latest body of fine art photography at Christmas almost nine years ago when her father gave her a book of selections from The North American Indian, photographer Edward S. Curtis' landmark  project of more than 4,000 portraits of Native Americans. "I remember looking through it with nostalgia, wishing I could talk to these people," she says. "And then I thought: Wait! We are still here! And we still put on our regalia and hold our traditions together, especially through song and dance."
Growing up in Stanwood, Washington, an hour and a half north of Seattle, Urness felt steeped in the traditions of her American Indian heritage as a daughter of the Tlingit tribe of coastal Alaska and British Columbia and the Cherokees of the southeastern United States. As members of a Tlingit dance troupe, she, her sister, and their mom served as cultural ambassadors, even traveling with the company to a festival in France.
Urness first became enthralled with her medium as a grade-schooler through such gifts as a View-Master 3-D slide viewer and a photo-transfer kit that enabled her to make artistic images of leaves and other natural objects. "It was just magic to me," she says. She remembers a family trip in her early teens to the Grand Canyon, where she saw a Native woman "in a purple dress, with her blue turquoise, her rich skin, and beautiful sparkling eyes. I took a portrait photo of her, submitted it to the local fair back home, and won an award." After two years at a local community college, she went on to earn a Bachelor of Fine Arts degree at her "dream school," the now departed Brooks Institute of Photography in Santa Barbara, California, majoring in commercial photography and minoring in portraiture. After graduating in 2008, moving to Seattle, and finding work in a portrait studio, she came up against key life questions: "Who are you? Where do you come from? And what do you have to say?"
The Curtis book finally pointed to an answer. In 2014, Urness launched a Kickstarter campaign titled "Native Americans: Keeping Traditions Alive" with a selection of photos featuring friends from local and New Mexican tribes, including Raven Tells His Story in the Fog, depicting Tlingit dancer Gene Tagabon, posing on a giant fog-shrouded tree stump in his Raven regalia. Thus funded, she has continued to produce stunning images of Native Americans in traditional clothing and ancestral settings — and, in one dramatic departure, her image of Standing Rock Sioux tribal members protesting the Dakota Access Pipeline garnered a 2018 nomination for a Pulitzer Prize. "I was just happy it got so much recognition for their cause," she says.
Lately, Urness has begun delving into an even more deeply personal cause: motherhood, thanks to her now eight-month-old daughter, Violet. Her new offshoot of the original series, entitled the Indigenous Motherhood Project, features Native women posing either pregnant or with their children. "I want to focus on traditional practices," she notes, "and how they are kept alive in the modern world."
In addition to her booth at Santa Fe Indian Market, Urness' work can be seen at zoeurnessphoto.com. —Norman Kolpas